'DAYS'' Jen Lilley Discusses 'Rough Relationship' With Her Onscreen Parents!
Corday Productions, Inc.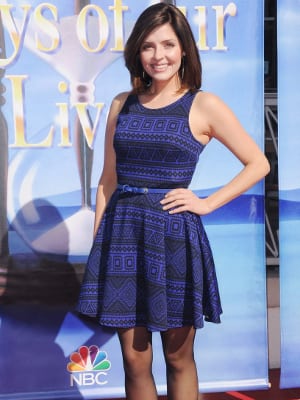 If you've been enjoying the dynamic between "Days of our Lives" Theresa (Jen Lilley), Shane (Charles Shaughnessy) and Kimberly (Patsy Pease), you're not the only one! Shaughnessy and Pease shared their thoughts on the parent/daughter relationship with Soap Opera Network last week, and Lilley is now weighing in on the dramatic storyline!
"Oh, Theresa is not happy about her parents dropping into Salem at all!" the Virginia native says with a laugh, explaining that Shane and Kimberly haven't exactly been the greatest parents of all time. "Kimberly had a sordid past… We've all made mistakes. I think if you're a human being, and you've lived under the sun, we've all done something we've regretted. And Kimberly did turn her past around. She became a child psychologist, [but because of that], she and Theresa have had a rough relationship. Kimberly was always trying to psychoanalyze her, she's always trying to diagnose her, which is really hard. Theresa felt like her whole life, she was Kimberly's patient and not her daughter. And then Shane was the dad who would swoop in randomly and be try to be like, 'You should listen to your mother!' And it's like, 'Dude, you're a spy, and I really don't even know you.' So I think she's uncomfortable with the weight of the world that's hit her."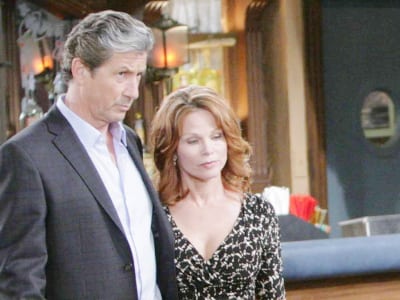 But even though Theresa isn't thrilled about Shane and Kimberly's visit, Lilley certainly enjoyed the pair's presence. "Patsy is a doll; I could not say a bad thing about that woman," she raves. "I think she's amazing. She's an actress who kind of chose to walk away from it for her family, but I think that she always had the stars and the moon available to her. She could have done anything, and she could even now. She could be a Helen Mirren. Patsy Pease could win an Oscar. She's amazing."
And of course, Lilley shares the same sentiments toward Shaughnessy. "I loved 'The Nanny,' and Mr. Sheffield is my dad!" she says with a big smile of the actor's previous role on the late 90s sitcom. "Growing up in Virginia, I never would have imagined! I think it's really neat. Clint Eastwood is the only other person who's had me star struck in my career. And now Charles Shaughnessy has also made the list."