Saturday, July 25, 2009 3:36 PM ET | By Venus Stone

---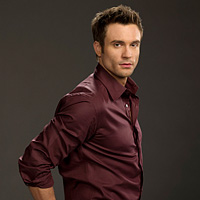 (SoapOperaNetwork.com) — Much needed support…
THIS WEEK ON: THE YOUNG AND THE RESTLESS
Daniel tears into Amber about her deceit, Monday, July 27. On that same day, Chloe's plot to use Chance to her advantage blows up in her face. Tyra witnesses Neil emotional outburst where he calls out someone else's name.
The Inside Story: Played For a Fool
Billy is none too pleased to learn that Cane, not only was invited to his surprised birthday party, but also that Jill and Katherine have forgiven him; welcoming him back into their lives. A furious Billy can't understand how Jill can be so accepting of Cane and doesn't hold back when he and the con man are face-to-face. Billy points out that no matter what he does, how many times he apologizes and how much everyone has forgiven him, he will never be a part of the family. Cane, not phased by Billy's attitude towards him, delivers a bitter pill to swallow. He announces when it comes down to it, Jill and Katherine instinctively turned to him to trust and confide in and the only reason why he has the CEO position to begin with was due to Victor. Billy quickly brushes his revelation off as another con but Cane points out that Jilll and Victor were in a plot together to take down Jack; and in an effort to do so, Victor pushed Jill into using Billy as part of the plan. Furious upon learning the truth, Billy leaves to put the pieces together and later confronts Jill. Unable to keep the truth from her son, Jill admits that everything that he was told is true. Angry, Billy lashes out at her, telling her that she'd rather love someone that isn't even hers than share her love and faith in him. Storming out, Billy heads over to confront the mastermind of everything: Victor Newman.
A Closer Look: Popping the Question…Again
Realizing just how much Summer needs both parents in her life, Nick readily settles back into being home at the tack house. Nick suggests that Phyllis start back at Restless Style so he can be hands on with Summer's needs. Phyllis realizes that Nick truly wants to be there and she departs to go to work, but later goes to Crimson Lights. While there, Phyllis spots a woman that resembles Mary Jane and immediately lunges for the woman. Sharon, who needs a much needed break from Jack's hovering, arrives and sees just how on edge Phyllis is. The two wind up talking and Sharon asks how Summer is doing. Phyllis tells her that Summer is progressing slowly and that Nick is really being there for both of them. Meanwhile, Summer and Nick are at home watching the DVD of their wedding. When Phyllis arrives home and sees it, she finds herself transfixed back into the happier times of their life together. After Summer has gone back upstairs, Phyllis and Nick begin to talk about their relationship. Laying down law, Phyllis tells Nick that she can't have him bouncing back and forth between Sharon and her; either he fully commits to her and Summer or he leaves them alone. Nick, caught up in the wedding video and conversation, pulls Phyllis into a seary kiss. Pulling away he pops the question: will she marry him again. A stunned Phyllis soon finds herself deciding if she wants to truly accept his proposal unaware that Sharon's startling news to Jack could change everything that Nick has decided upon.
What To Watch
Jack and Victor decide to team up; but who's playing who?
Chance sees just how much Nina misses Phillip
Victoria has to choose between her husband or her father
The Young and the Restless News and Headlines
Melody Thomas Scott ("Nikki Newman") will be staying with the show after some serious negotiations. Thomas, who's played in the role since 1979, will take a short scripted leave some time in August
Reya Meddine appears as the 'ghost of Sabrina' on Friday, July 31
Actress Vail Bloom, who plays legal eagle 'Heather Stevens' will make an appearance on the hit HBO series 'Entorage' Sunday, July 26.
Congratulations from the Soap Opera Network staff to Victoria Rowell (ex "Drucilla Winters") one her beautiful, Dublin, NH wedding to mixed-media artist, Radcliffe Bailey. The beautiful couple met July 2007 during Rowell's book tour for The Women that Raised Me. In attendance for the wedding was Samuel L. Jackson, whom Rowell worked with on the film, Home of the Brave and Alfre Woodard, Rowell's co-star from the short film Secrets Jackson did the hours of walking Rowell down the aisle.
On Friday, August 28, 2009, The Young and the Restless Fan Club Dinner will be held at the Sheraton Universal Hotel in Universal City, California from 6pm to 11pm. Fans will get the chance to get up close and personal with their favorite Genoa City residents. Pictures and autographs will be available along with some very special surprises planned for the evening. Tickets are available on a limited basis only so it is important to order now. The cost per person is $170. which includes dinner, tip, tax, photo autograph book and much more. The deadline is August 21st, 2009. Please visit Young and the Restless Fan Club Dinner for more detailed information.
SON Top 10: Who was the best of the best on "Y&R" during the week of July 20, 2009? You decide! The SON Top 10 is back! Voting begins Friday's at 4:00 PM, EST.
SON ALERTS: WEEK OF AUGUST 3, 2009
Nikki has doubts as her wedding approaches
Mary Jane takes desperate measures to get her claws into Jack
Another hallucination hits Ashley hard
"The Young and the Restless" airs Weekdays on CBS. Weeknights on SOAPnet. Check local listings .
---
Discussion: Y&R PreVUE: Week of July 27 Edition
---