Sunday, July 26, 2009 5:07 PM PT |
By Errol Lewis
---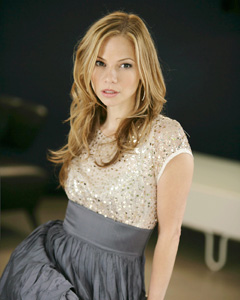 (SoapOperaNetwork.com) — Former "All My Children" and "General Hospital" starlet Tamara Braun lands a prominent role on hit TNT drama series "Saving Grace" starring Holly Hunter.
Braun will play the recurring role of Renee Ellen, who sparks an immediate attraction with Detective Ham Dewey (Kenny Johnson). Detective Dewey is the on-screen love interest of the shows main character Grace Hanadarko (Hunter). According to TV Guide.com, Braun will appear in at least two episodes of the series. Her first airdate is Tuesday, July 28.
Prior to"Grace," Braun was last seen as Reese Williams on ABC's "All My Children." Reese married Bianca Montgomery (Eden Riegel) in February, marking television's first lesbian wedding. In 2008, the actress had a story-arc on NBC's "Days of our Lives" as Ava Vitali, a character that attracted a huge fan following and provided Braun with her second Daytime Emmy Award Nomination. She's nominated this year in the Outstanding Supporting Actress in a Drama Series category. To find out if the actress wins the award, tune into The CW on Sunday, August 30 at 8:00 PM ET/PT for the live telecast of "The 36th Annual Daytime Emmy Awards."
From 2001-2005, Braun portrayed the role of Carly Corinthos on ABC's "General Hospital," a role which garnered her first Daytime Emmy Award nomination in 2004 for Outstanding Lead Actress in a Drama Series. The actress has also appeared in a number of Jerry Bruckheimer dramas including "CSI: Crime Scene Investigation," "Cold Case" and "Without a Trace." She enjoyed critical acclaim for her role in the independent film "Little Chenier" in 2006.
"Saving Grace" airs Tuesdays on TNT. Check local listings.
---
Discussion: Tamara Braun Does 'Saving Grace'

---
All My Children
Eden Riegel
Tamara Braun
Days of our Lives
SOAPnet
ABC
ABC.com
General Hospital
Daytime Emmy Award
Jerry Bruckheimer
Holly Hunter
Kenny Johnson
Carly Corinthos
Renee Ellen
Saving Grace
TNT
TNT.tv
Emmy