Friday, July 3, 2009 8:00 AM ET | By Scotty Gore
---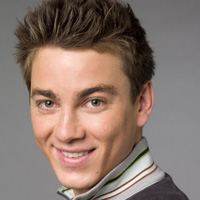 (SoapOperaNetwork.com) — Pardon the interruption.
THIS WEEK ON: ONE LIFE TO LIVE
Natalie makes amends with Jessica for being wrong about Brody. Bo urges Brody in apply for the Police Academy. Bo and Nora are there for Matthew, as he struggles with physical therapy on Tuesday, July 7. Shaun confesses to Destiny that he'd like to explore a relationship with Rachel. Schuyler and Rachel discuss their feelings for Gigi and Shaun. After receiving some important words of wisdom from Viki, Clint knows what he has to do on Tuesday, July 7. While admitting that their are risks associated with the procedure, Greg tells Bo, Nora, and Matthew that he is confident that the boy will walk again. After Nora voices her concerns over the surgery, Matthew becomes angry that his parents have changed their minds. Greg's attitude turns Rachel off. Shaun tells Rachel that he would like to spend more time with her. Elsewhere in Llanview, Noelle guilts Viki, Charlie, Moe, and Shaun into attending Dorian's dinner party with the Riveras on Thursday, July 9. Once the event is in full swing, Ernesto questions Dorian about pouring booze down Charlie's throat. Realizing the pain it caused the recovering alcoholic, Dorian offers Charlie a sincere apology. When Dorian fails to change Ernesto's opinion of her, Markko stands up to his father. Making is perfectly clear that he will not break up with Langston under any circumstances, Markko goes as far as to threaten to take Langston to her bedroom and have his way with her. Ernesto throws his son out of his home on Friday, July 10. While on their date at the Palace, Fish gets hot under the collar when Layla tells him that their waiter was flirting with him. Meanwhile, Cristian quizzes Kyle about Fish, and doesn't like what he hears. Heading home, Cristian arrives just as Fish and Layla are beginning to get close.
The Inside Story: Here Comes the Bride
Blair is beside herself when Todd shows up at their daughter's wedding with Téa at his side. Meanwhile Cole tries to ease Starr's fears, reminding her that they are nothing like her parents. The arrival of the Justice of the Peace on Monday, July 6, causes Blair and Todd to bite their tongues. Across town, John successfully attempts to persuade Judge Runyon to allow Cole to go undercover in lieu of jail time. Rushing back to La Boulaie, John arrives just as Starr and Cole are about to be pronounced man and wife. When John announces that Cole will not be going to jail, he and Starr ponder what to do next. Téa understands that Todd is bummed about Cole's newfound freedom. On Wednesday, July 8, Starr thinks she and Cole should wait to get married. Initially hurt by her decision, Cole soon sees Starr's point-of-view. Afterward, the pair announce that, while they have decided not to get married now, they will remain a couple and raise Hope together. John takes Marty and Cole to the police station, where he tells Cole that the two of them will be going undercover together.
A Closer Look: Scheming the Schemer
Rex gives Gigi the bad news that he was unable to locate the mystery bag of blood. Stacy's attempts to seduce Rex are thwarted when he rejects her advances. Schuyler decides to set on the news that Rex and Stacy slept together for the time being. Rex clues Gigi in on his new plan to get out of Stacy's orbit on Tuesday, July 7, explaining that they will pretend that Shane has suffered a relapse, and then follow Stacy when she goes to retrieve the extra bag of stem cells. Although reluctant at first, believing that they are tempting fate, Gigi gives in, but not before reminding Rex that they will have to tell Shane the truth. By Wednesday, July 8, Gigi fears her relationship with Rex will never be the same and is afraid that he no longer loves her as he once did. As Rex attempts to explain his feelings to Gigi, she regrets keeping the truth from him for so long. However, Rex reassures her that their love remains strong, and they become intimate. Later, Schuyler calls Rex to ask him why he hasn't confessed to Gigi that he slept with her sister. On Thursday, July 9, Rex asks Schuyler exactly what he believes Stacy is capable of. Meanwhile, a devious Stacy taunts Gigi with the claim that she and Rex made love. Later, however, when Gigi confronts Rex about Stacy's accusation, he says that she is lying. Stacy's nerves are rattled by Roxy's visit. Shane is happy that his little family is reunited on Friday, July 10, when Rex and Gigi let him in on their little plan. And Roxy has no idea that Shane's real stem cell donor is still alive.
One Life to Live News and Headlines
OLTL ALERTS: WEEK OF JULY 13, 2009
Rachel agrees to help Cole. (Canadian Cable Guide)
Rex, Gigi, Shane, and Michael all pull the wool over Stacy's eyes. (Canadian Cable Guide)
Greg's plan wounds his little sister Destiny emotionally. (Canadian Cable Guide)
Téa gets an eyeful when she walks in on Todd and Blair. (Canadian Cable Guide)
Brody learns of Rex and Gigi's scheme. (Canadian Cable Guide)
Todd and Blair's family breakfast with the children comes to a sudden halt. (Canadian Cable Guide)
Rex has Stacy right where he wants her. (Canadian Cable Guide)
"One Life to Live" airs Weekdays on ABC. Weeknights on SOAPnet. Check local listings.
---
Discussion: OLTL PreVUE: Week of July 6 Edition

---
One Life to Live
OLTL
Scott Clifton
Erika Slezak
John-Paul Lavosier
Robert S. Woods
Destiny
Melissa Archer
Bree Williamson
Schuyler
Rex Balsom
Shaun
Natalia Buchanan
Jessica Buchanan
Bo Buchanan
Rachel
Viki Lord Davidson