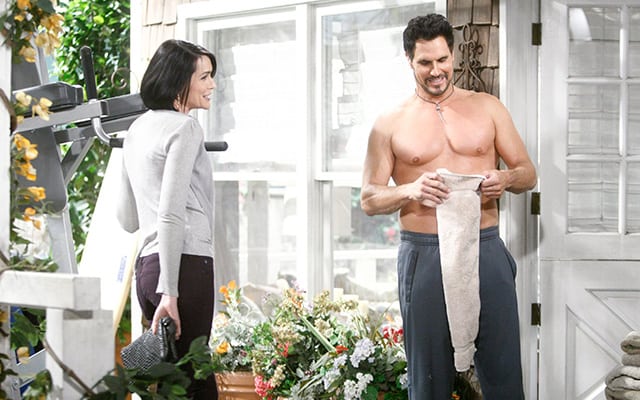 Love in the afternoon is about to take a provocative turn with "The Bold and the Beautiful's" latest storyline twist for Bill (Don Diamont): He'll be taking part in some risqué mattress mambos — complete with whips and delight — with none other than the town's psychotic villainess, Quinn Fuller (Rena Sofer)!
"We're not cable, but we certainly take it as far as we can — and I don't think there's ever been anything like it in daytime," teases Diamont to TV Guide, who first reported the news of the sexy, S&M story that kicks off Friday, February 21.
But for those who'd rather see Bill with Brooke (Katherine Kelly Lang), have no worries: Diamont says the turn of events is strictly about freaky sex, absolutely not about love. "He's not getting anywhere in his attempt to win [Brooke] back, and he's a man with needs," he explains. "Quinn suddenly shows up at his house. Bill's feeling sexually vulnerable. The party's on! He's gotta get laid, and he makes no bones about it.
"He knows she's an obsessive whackjob and this is nothing to him but a booty call," he continues. "But it could open up a Pandora's box of trouble!"
For more on the story, check out TV Guide's original report here.