Friday, March 9, 2007 1:47 PM ET |
By Errol Lewis
---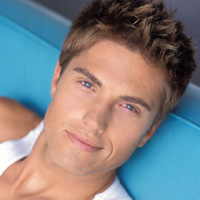 (SoapOperaNetwork.com) — Former "Days of our Lives" heartthrob and "Wildfire" cowboy, Eric Winter, has signed on to star in the Hugh Jackman produced CBS drama pilot "Viva Laughlin!"
"Laughlin!," tells the story of Ripley Holden, played by Lloyd Owen ("The Young Indiana Jones;" "Coupling") and his family as they try to a run a casino in Laughlin, Nevada. Winter has signed on to play Det. Peter Carlyle. Character description is unavailable at this time.
Also set to star in the potential series are Carter Jenkins ("Surface;" "Everwood") as Jack, D.B. Woodside ("24;" "Buffy, The Vampire Slayer") as Marcus, Ellen Woglom ("The O.C.;" "Wendy Wu: Homecoming Warrior") as Cheyenne, Mädchen Amick ("Freddie;" "Joey") as Mrs. Holden and P.J. Byrne ("The Game") in an unknown role.
Since leaving "Days of our Lives" in 2005 after playing Rex Brady for three years, Winter has guest-starred in five episodes to date of ABC Family's "Wildfire." He has also appeared in such shows as "Love, Inc." and "Pepper Dennis."
Along with serving as an executive producer, Hugh Jackman, who got his start in television starring in the Australian series "Correlli" as Kevin Jones, is set to guest-star in the series. His character is not yet known, but it is said that his character will play a pivotal role in the direction of the series.
Bob Lowry and Peter Bowker created the project and will serve as executive producers. Paul Telegdy and John Palermo will also serve as EP's along with Gabriele Muccino, who will direct the pilot.
BBC Worldwide Productions, CBS Paramount Network Television, Seed Pictures and Sony Pictures Television will produce the project for CBS.
Days of our Lives
Hugh Jackman
24
Buffy
The Vampire Slayer
Joey
The Game
Eric Winter
Viva Laughlin
Wildfire
Lloyd Owen
The Young Indiana Jones
Coupling
Carter Jenkins
Surface
Everwood
D.B. Woodside
Ellen Woglom
The O.C.
Wendy Wu: Homecoming Warrior
Mädchen Amick
P.J. Byrne
Freddie