Thursday, June 4, 2009 10:43 PM ET |
By Errol Lewis
---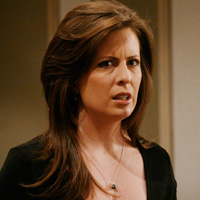 (SoapOperaNetwork.com) — After exiting CBS' "As The World Turns" after tough contract negotiations, Martha Byrne is ready to hit the ground running this month when she debuts as Andrea Floyd on ABC's "General Hospital." Andrea is the wife of the town's prestigious Mayor Garrett Floyd, played by Jon Bolger.
In an exclusive interview with TV Guide Canada's Nelson Branco, Byrne reveals how lucky she is to have not only found a job on "GH," but also how her interest in writing has led her to a writing position at CBS' "The Bold and the Beautiful."
Playing the role of Lily Snyder on "World Turns" off-and-on for 23 years in New York, Byrne found herself looking for a challenge. She found that challenge when the she started writing scripts for California based "B&B" Head Writer Bradley Bell. "I feel very blessed that Bradley Bell gave me a chance to write. It's what you do with that kind of opportunity that makes you shine — or fail. I'm still ready to fail," said Byrne.
Since her first episode aired on April 14, the actress-turned-writer has penned three scripts to date for the soap. Her second episode aired on May 5, the same day Douglas Marland, the famous Head Writer of "As The World Turns," would have celebrated his 74th birthday. What would Marland think of Byrne's new endeavors? "I think Douglas would be very happy that I'm embarking on all these new adventures."
Her work with "B&B" led to an offer from "GH," after her former colleague at "ATWT" asked her via Facebook if she'd be interested in a role on the ABC soap. "Lisa Kaseff, who works at 'GH' in production, asked me if I would ever consider a role on 'GH.' She used to work on 'World Turns' for a long time and we've always maintained our friendship," stated the actress. "A week before she asked me that, I had signed with [Talent Manager] Michael Bruno to see if any soaps had any interest in casting me."
While holding the title as the longest running television series on the west coast, what sets "GH" apart from other other shows, in particular the remaining daytime soaps? "At 'GH,' writers write, producers produce, directors direct, and actors act. There are so many jobs to undertake putting out a daily soap, so why take on more responsibility? If you hired a capable and talented cast and crew, there is no reason to interfere," Byrne stated firmly.
When Martha makes her debut on the Thursday, June 18 episode of the soap, viewers can expect to see a "a very in-your-face, full of attitude, and opinionated character. Andrea's the opposite of Lily right down to the clothes. Andrea is the wife of a politician. She's the woman behind the man, and she needs to be heard — and boy, is she ever! A scandal brings Andrea out from the shadows. She's busy trying to troubleshoot the situation with Robin [Kimberly McCullough] and Patrick [Jason Thompson]. Andrea doesn't take no for an answer."
For the full interview, head on over to the TV Guide Canada website.
"General Hospital" airs Weekdays on ABC. Weeknights on SOAPnet. Check local listings.
---
Discussion: It's Martha's 'World' on 'General Hospital'
---
General Hospital
As The World Turns
Bradley Bell
Sarah Brown
Laura Wright
Martha Byrne
Jon Bolger
Douglas Marland
Michael Bruno
Lisa Kaseff