Saturday, June 13, 2009 7:06 PM ET |
By Angela Rosa
---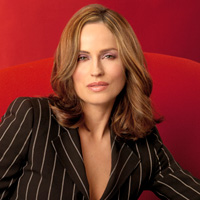 (SoapOperaNetwork.com) — Crystal Chappell returns to "Days of Our Lives."
On Thursday, June 11, TV Guide Magazine broke the news that Daytime Emmy Award winner Crystal Chappell has inked a deal to return to the daytime drama that put her on the map, NBC's "Days of Our Lives."
On "DAYS," Chappell played popular heroine Dr. Carly Manning from June 1990 to October 1993. Carly enjoyed a major romance with former-widower Bo Brady (played by both Peter Reckell and Robert Kelker-Kelly), a not so happy marriage to Bo's father Victor Kiriakis (John Aniston) and an unusual relationship with Lawrence Alamain (played by real life husband Michael Sabatino), the father of her son Nicholas Alamain. In 1993, former "DAYS" Head Writer James E. Reilly penned a storyline that found Chappell's character buried alive by Lawrence's disapproving and not quite sane aunt, Vivian Alamain (Louise Sorel). The storyline was so popular and daring that "DAYS" ratings rose from a 4.6 to a phenomenol 6.4 in the matter of just several weeks. In a shocking move, just months after that story came into play, the NBC soap decided they no longer needed the actress and she was shown the door. Probably the most visually stunning actress on daytime television at the time, Chappell earned a 1993 Soap Opera Digest Award for Hottest Female Actress.
Chappell has enjoyed roles on ABC's" All My Children," "One Life to Live" and NBC's "Santa Barbara," but it was "DAYS" that made her a daytime superstar and CBS' "Guiding Light" that gave the one-time underrated actress respect for her contribution to the craft of acting.
On "Guiding Light" Chappell has played anti-heroine Olivia Spencer Lewis since July 1999. The character has gone through a lot of the shows top men, but it's the loss of her current romance with Natalia Rivera Aitoro (Jessica Leccia) that will break the hearts of a lot of "GL" fans. For her part, in her TV Guide Magazine interview with Michael Logan, Chappell reports that she was completely open to moving over to "GL's" sister-soap "As the World Turns" to carry on the love-story but nobody who could have gotten it done showed any interest in getting it done.
The actress has earned four Emmy nominations for her work on "Guiding Light" – two for Lead Actress and two for Supporting Actress, Chappell took home the Supporting Actress trophy in 2002.
The 43-year old actress will bring Dr. Carly Manning back to Salem in October, one month after the current daytime drama she's on, "GL," goes off the air.
"Days of our Lives" airs Weekdays on NBC. Weeknights on SOAPnet. "Guiding Light" aires Weeksdays on CBS.Check local listings.
---
Discussion: 'DAYS' Snags a Major Return
---
Days of our Lives
Crystal Chappell
Guiding Light