Sunday, March 15, 2009 11:35 PM ET |
By Venus Stone
---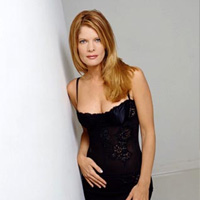 (SoapOperaNetwork.com) — Falling apart…
THIS WEEK ON: THE YOUNG AND THE RESTLESS
Victor has a serious change of heart on Wednesday, March 18 when he gets Adam released into his custody. Katherine still plagued by not only the loss of her memory but those she cares for, decides to leave home for good. The show will be pre-empted Thursday, March 19 and Friday, March 20 for the NCAA Basketball Tournament.
The Inside Story: Caught in the Act
Hoping for alittle one on one, Sharon contacts Billy via text message telling him to come on over. Unfortunately for her, the message never goes through to him but to Nick's phone which Phyllis quickly intercepts. In the meantime, Billy calls Sharon to see how she is and she tells him that she sent him a text message. Billy quickly tells her he never got it, which confuses Sharon. Peeved once again at Sharon focusing her attentions on Nick, Phyllis hightails it over to the G.C.A.C and heads up to Sharon's suite. The two women immediately get into it over Phyllis' accusations of Sharon wanting Nick in her bed. Sharon, angry of the accusations tells Phyllis to get out of her suite. When Phyllis does however, she sees Billy's arrival and gets a good look at Sharon and Billy in a heated lip lock before her door closes. Not wanting to pass up the opportunity to ruin Sharon, Phyllis hustles to find a bellboy to do her dirty work, asking him to phone Nick to come to Sharon's room right away. By the time he gets there, Billy is long gone and Sharon figures out that she's been set up, Later that day, Sharon heads over to the tack house and confronts Phyllis on her scheme. Phyllis begins to taunt Sharon by asking if Jack would be happy knowing that she's with his brother, and even tosses out that she can't wait for Nick to know exactly what Sharon has been up to. In tears, Sharon breaks down and begs Phyllis to keep quiet about her and Brad. Phyllis soon questions Sharon as to what she's talking about and when she turns her back, Sharon instantly reaches and pockets the 'See No Evil' figurine and leaves. Shaken up, Sharon calls Billy and tells him that it's over. Phyllis, meanwhile, notices that the figurine is gone and instantly realizes that Sharon took it. Jack, on the other hand, still wanting to have a part of himself in Sharon's life, offers her to stay at the Abbott mansion. Sharon quickly accepts and things soon take a turn when the divorced couple wind up in bed. Things however get even more awkward when Sharon learns that Billy has moved back at the Abbott mansion.
A Closer Look: Downward Spiral

Still stunned that Kevin is the one masked as the 'Chipmunk Bandit', Jana, Daniel and Amber quickly take the video of Kevin to Michael, who can't believe his eyes. Unfotunately for them, they aren't able to try to figure out where he could be when the authorities show up with a lot of questions. Jana is ready to talk to the police but Michael blocks her by quickly covering telling them that Kevin took a trip to Mexico and that he's unsure when he is to return. Daniel soon receives an email that states there has been another robbery. Meanwhile Kevin is losing his grip when Clint suddenly has a heart attack. He instantly wants to get help but Clint tells him not to do it or else the police will come to arrest him. Unable to help him, Kevin begins to slowly unravel back into 'his painful childhood' when Clint dies, instantly pushing him to the breaking point into believing that he's killed his father, Tom.
What To Watch
Things get nasty in the battle for Cordelia
Devon gives Neil a piece of his mind about his tryst with Tyra
Nikki does what she can to help Katherine
The Young and the Restless News and Headlines
Judge Karen Mills-Francis appears on the show Monday, March 16 as a process server
Roscoe Born will come back to Genoa City to terroize Kevin as the Ghost of Tom, Tuesday March, 31
Stacy Haiduk, as mentioned in previous 'Y&R' PreVUEs will come to the show as Mary Ann Benson beginning Wednesday, March 18 as a public relations executive. Haiduk played 'All My Children's' Hannah from 2007-2008
As previously mentioned on SON, Tom Casiello has joined the writing team of Y&R. His first scenes begin airing April 20 and April 28, May 12 and May 19.
Clementine Ford will be soon joining the cast as Mackenzie 'Mac' Browning beginning April 1.
Viewers can say good-bye to James Michael Gregary, who stirred up trouble as Clint Radison. His last day is Wednesday, March 18, when he finally meets his maker.
Daniel Goddard is featured in the current issue of Soap Opera Digest in a segment titled 'You Sexy Things!' where he is more than happy to discuss the many things he finds 'sexy'.
Fans can 'get restless' by participating in the Get Restless in Jamaica Sweepstakes. A fan could win their chance of a lifetime to have a 4 day/3 night vacation. Those interested can visit Get Restless in Jamaica
SON Top 10: Who was the best of the best on "Y&R" during the week of March 9 – 13, 2009? You decide! The SON Top 10 is back! Voting begins Friday's at 4:00 PM, EST.
SON ALERTS: WEEK OF MARCH 23, 2009
Katherine finally gets a 'helping' hand.
Amber finds who she's looking for.
Cane's request has Lily uncertain.
"The Young and the Restless" airs Weekdays on CBS. Weeknights on SOAPnet. Check local listings .
---
You may not reproduce content without written permission from author.

© 2009 Soap Opera Network. All rights reserved.
Discussion: Y&R PreVUE: Week of March 16 Edition
---