Wednesday, February 25, 2009 8:20 PM ET |
By Scotty Gore
---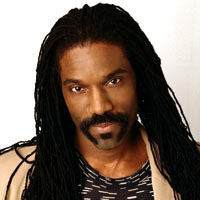 (SoapOperaNetwork.com) — The latest Llanview comings and goings.
Who's Returning?
Timothy D. Stickney brings R.J. Gannon back to town later this spring to bond with brother Hank and niece Rachel, who are slated to return to Llanview in early April. Stickney has portrayed the gangster R.J. Gannon on and off since originating the role in 1994; he was bumped from contract to recurring status with "OLTL" in 2006. R.J. was last seen in June 2008 following his break-up with girlfriend Lindsay Rappaport. No first airdate has yet been announced.
Tuc Watkins leaves Llanview on March 2nd, only to return again the following month. Watkins', who has left "OLTL" almost as many times as his onscreen grandpa Asa took a new bride, has recently been performing double duty for ABC with recurring roles on both the daytime drama "OLTL" and the primetime sudser "Desperate Housewives." Watkins' latest departure comes only weeks after his character David Vickers learned that he was a Buchanan. According to the actor's co-star and onscreen wife Robin Strasser (Dorian Lord), David heads for Los Angeles, where he will attempt to jump start his acting career, and that Dorian will continue to wear his wedding ring.
Who's Going?
Former "I Wanna Be a Soap Star" competitor BethAnn Bonner has been fired from "OLTL." Look for her character, Talia Sahid, to soon exit Llanview in a "dramatic fashion." The news comes on the heels of Bonner's co-star and on-screen love interest Kamar de los Reyes (Antonio Vega) announcing that he has chosen not to renew his contract with "One Life." The soap has given no final airdate for Bonner, but has hinted that de los Reyes, who last airs in early March, may briefly return as Antonio to help escort Talia out of Llanivew. Bonner joined "OLTL" in December 2006.
Jacqueline Hendy last airs as Vanessa Montez during the week of February 23rd, when the character is sent to prison for framing her ex-husband Ray for murdering his first wife.
Florencia Lozano, whose short-term contract with "OLTL" reportedly expires in April, is rumored to be considering extended her stay in Llanview for a few extra weeks in order to wrap up her storyline. Lozano reprised her role as Téa Delgado last December.
Who's Coming?
Robert Miles has been cast in a dayplayer role, scheduled to air on March 17th and 20th, according to the website Internet Movie Database. Miles, not to be confused with the musician with the same name, has made his rounds on the daytime circuit, having appeared in bit parts on several of the soaps already this year. According to the IMDb, Miles' soap credits include "The Young and the Restless," "As the World Turns," "Guiding Light," "The Bold and the Beautiful," and "Emmerdale Farm." In addition, he has co-starred in several films, including "The Kings of Appletown," "Soundcheck," and "17 Again." Aside from acting, Miles has also explored his talent behind the camera, directing episodes of "As the World Turns" and "Guiding Light," as well as producing four episodes of "Guiding Light" already this year. Other daytime credits include producing an episode of "As the World Turns" and assisting with continuity for the March 6th, 2009 episode of "One Life to Live." Miles also appeared as himself in the January 16th edition of "Good Morning America" and provided several of the voices for the 2008 video game "Resident Evil: Degeneration." IMDb incorrectly lists Miles' "OLTL" dayplayer character as 'Eric Lord,' a role he portrays in upcoming episode of "Guiding Light." However this is most likely an error, with Miles portraying an entirely different dayplayer role on "OLTL." For more information on Robert Miles' filmography, click here.
Brett Claywell made his "One Life" debut on February 24th as LPD Lab Technican Kyle Lewis. The role is recurring.
Look for another dayplayer role coming up in the April 3rd episode.
Miscellaneous Information
Could Thorsten Kaye be headed back to Llanview as the presumed dead Patrick Thornhart, or perhaps even as his doctor brother Ian, who was last seen in Port Charles? Speculation continues to escalate given Kaye's recent stalled contract negotiations with "All My Children," where he has portrayed Zach Slater since 2004. Adding fuel to the fire is the fact that Kaye's wife Susan Haskell recently reprised the role of Patrick's wife Marty Saybrooke on "OLTL," and that a spokesperson for the soap recently stated that someone from Marty's past would be returning to Llanview this spring. However, at this time, Kaye remains in negotiations with "AMC."
"One Life to Live" is currently in the process of casting two new roles. The first appears to be either a dayplayer or recurring role, while the second looks more like a recurring role. Both casting calls, released earlier this week, continue the sudser's policy of confusing fans by changing names of the existing characters interacting with the newcomer. The first script is for the role of "Ellen." In the script, Ellen informs 'Dan' that he and his sister 'Zelda' will be able to visit 'Mr. Rosner' since they are related to him, but that the man has never had any visitors before. Ellen goes on to inform Dan that Ms. Rosner is typically sedated, restrained to the bed, may not respond very well to visitors, and that he may not even be able to remember his two cousins. As the scene ends, Zelda assures her that she and Dan will be careful, and Ellen reminds them that they can only visit them one at a time.
The second script is for "Veronica," who regales 'Bobby' with wild tales of her past. Her tall tales include skinny dipping in a fountain in downtown Paris because it was a hot day and then passionately kissing a boy while the water poured over them. Bobby soon grows tired of Veronica's exaggerated tales, and wishes she would just be herself for once. Veronica fires back at him claiming that it's not her fault, but is the result of being stuck alone at a boarding school during holidays, while all the other kids visited family and friends. She claims the loneliness forced her to find other outlets for her pain. Bobby reassures Veronica that he could never hate her for making up such lies, but wishes she would promise to quit making up stories and be the girl that he loves.
According to IMDb, the production crew for the upcoming March 6th episode of "OLTL" is as follows: amy Boutet (production assistant), Robert Miles (continuity), and Amy Venta (assistant director/production coordinator). Most or all of these crew personal have been working on "OLTL" for some time now.
"One Life to Live" airs Weekdays on ABC. Weeknights on SOAPnet. Check local listings.
---
Discussion: 'OLTL' March Casting News
---