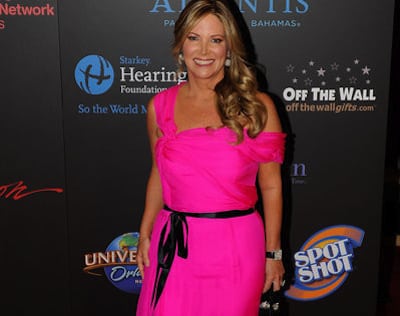 Maria Arena Bell, who was let go as Executive Producer and Head Writer of CBS' "The Young and the Restless" earlier this year, was honored on Wednesday, December 12 with a Humanitarian Award for her dedication to arts advocacy during the 14th Annual Women's Image Network (WIN) Awards, which recognizes and honors exemplary men and women in the entertainment industry including those from the television, film and advertising worlds.
The ceremony took place at the Paramount Theater at Paramount Studios in Los Angeles, CA. Those expected to have attended the ceremony include Lisa Kudrow ("Web Therapy," "Friends"), Christopher McDonald ("Boardwalk Empire"), supermodel Beverly Johnson, photographer and filmmaker Timothy Greenfield-Sanders, internationally acclaimed artist Jeff Koons, businessman and philanthropist Eli Broad, producer and organ donation activist Ann Serrano Lopez, Nadine Velazquez ("Flight"), Ace Young ("American Idol"), Judith Hoag (Nashville), jewelry designer Tarina Tarantino, writer Rob Thomas ("90210"), fashion courtier Aries Milan, GRAMMY, Emmy, Tony and Webby award-winning and nominated Allee Willis (Iconic Songwriter – theme from Friends, Earth, Wind & Fire smash "September"), actress and social activist Tanna Frederick, Daytime Emmy Award winners Eric Braeden and Jeanne Cooper (The Young and the Restless), Lauralee Bell ("The Young and the Restless"), Jamie Luner ("All My Children"),  Angeline Rose-Troy ("Ever Last"), Steven Cojocaru (correspondent, Entertainment Tonight), and Genie Francis ("The Young and the Restless"), among others.
About / More Information
The Win Awards are a production of Women's Image Network, a non-profit charity that since 1993, has honored outstanding individuals in music, film, television advertising, sports, politics and business who promote gender parity through their creativity and leadership.

Maria Arena Bell is a philanthropist and an Emmy Award winning head writer and recent executive producer of The Young & The Restless. She is the founder of Vitameatavegamin Productions, a multimedia production company based in Los Angeles. Ms. Bell was recently nominated by Mayor Antonio Villaragosa to the Los Angeles Cultural Affairs Commission where she will be a Commissioner.

Maria channels her relentless creative magic serving on numerous nonprofit boards in the arts, including: P.S. Arts where she serves as president and is integral in their goal to provide arts to 11,000 low-income, Los Angeles public school children, Americans For The Arts, for whom she chairs The National Arts Awards and The Museum of Contemporary Art, Los Angeles (MOCA) for whom she has co-chaired the Board of trustees for the last three years and through chairing the last four MOCA Galas has raised more than eleven million dollars to support MOCA and its programs. She also sits on the boards of Center Dance Arts, Dicapo Opera Theater and the American Friends of The Musee Des Arts Decoratifs Paris. In addition to her television work, Maria has been an essayist for "T" the Style section magazine of The New York Times, C Magazine, Aspen Magazine, Aspen Peak Magazine and Women's Wear Daily.
Bell's award was presented to her by Lisa Kudrow.
Check back with Soap Opera Network through out Thursday for more details on the event.