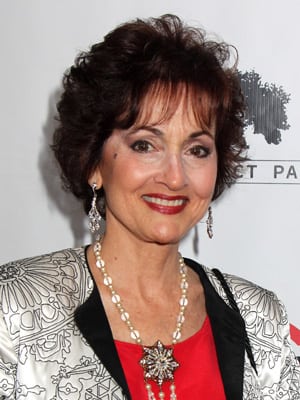 The news that "All My Children" and "One Life to Live" have gone into early hiatus due to a union dispute with the International Alliance of Theatrical and Stage Employees (or I.A.T.S.E.) was a bit unsettling for fans of the sudsers. And as Robin Strasser (Dorian Lord, "OLTL") reveals in her latest hotline message, the actors were just as surprised as the viewers about the drama!
"I was already in a state of deep concern, and I've been tweeting about feeling off-center but trying to keep it obliquely upbeat. Not untruthful, but just, 'Okay, this seems a little odd, [two weeks ago] we were told we would close down production on June 15 and then not resume until September 8,'" she says. "Now, if it is to fine-tune and make the already existing shows that Prospect Park has made of 'One Life to Live' and 'All My Children' and make them better and better and better, well that's wonderful and I really look forward to that possibility and sure, coming back to work."
But the actress says she has little more information to add, other than it would be unfair to blame to show's producers, Rich Frank and Jeff Kwatinetz, for the perceived instability of both shows. "I want to take every opportunity I can to thank the people who've been involved in making the revived 'One Life to Live' episodes. When you watch them on Hulu and iTunes and they're edited together, they look like movies. They look like these groovy regeneration of the concept of the multi-generational storytelling," she says. "Prospect Park spent a fortune and enormous energy making those shows. So anger placed at them is misplaced. Absolutely misplaced, alright? And those two wonderful men [Frank and Kwatinetz] have a set up where they can produce shows, entertainment and create jobs and let's all say 'Thank you'. I'm gonna and that's my recommendation."
For more from Strasser, you can call her hotline at 212-414-5300.