Saturday, February 28, 2009 9:22 PM ET |
By Venus Stone
---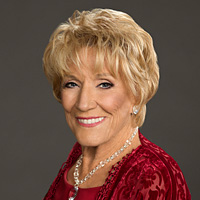 (SoapOperaNetwork.com) — In the danger zone…
THIS WEEK ON: THE YOUNG AND THE RESTLESS
When Billy can't commit entirely to her and baby Cordelia, Chloe decides to turn him away. Jack and Victor put Ashley in the middle of their heated argument.. Clint trips Amber and Kevin up in their attempt to find Katherine. On Wednesday, March 4, Sharon just can't seem to keep her hands off things that don't belong to her.
The Inside Story: In the Hands of a Madman
Esther, still reeling from the news that her new husband Roger only wanted to marry her for her money. Unfortunately for her, she doesn't have much time to do something about when Clint shows up and kidnaps her and puts her face-to-face with Katherine. Esther can't believe her eyes but soon realizes that they are in grave danger. Clint heads back to the hotel and demands that Esther writes her daugher a letter telling her all is well and that she is enjoying a wonderful honeymoon with Roger. Clint soon hits the roof when he learns that his plan to get Esther's fortune was for nothing when he discovers that Esther is only the owner of Katherine's estate, rather than all of the money she has. Realizing that they are in serious danger, Katherine advices that Esther try to get Jill to buy her portion of the mansion. When Esther goes to Jill with her offer however, Jill turns her down flat. Meanwhile Murphy shows Amber and Kevin a letter that Katherine left. After looking over it again, they realizes that Katherine has left a clue for them: the name Clint. Amber later finds herself talking with scheming Clint who approaches her with a load of questions about the 'woman' she's trying to find. Gina, witnessing Clint pressing Amber for infomration, waits until he's gone. Once alone with Amber she warns her that Clint is nothing but bad news and to steer clear. Amber soon realizes that he is the man that Katherine clued them in on. Returning back to the hotel, Clint's presence stirs up more memories for Katherine who remembers more of his kidnapping her and that of her late husband Rex. This time however Clint soon believes that he is in fact dealing with Katherine and not Marge. Using Esther, Clint sends her to Jill with a ransom note but Jill, still thinking it to be a con, dismisses her. Furious and running out of options to get what he wants, Clint decides it's just best to get rid of Katherine and Esther. Meanwhile, Amber, Kevin and Daniel are hot on Clint's trail and are at the hotel. Kevin, separating from Amber and Daniel, goes snooping on his own and has a nasty run-in with Annie.
A Closer Look: Who Do You Love?

Turning his back on Chloe and preparing to start the divorce proceedings, Cane finds Lily and tells her that he and she can finally be together, no questions asked. The two again become engaged and celebrate by hitting the sheets. Chloe, however, becomes disappointed when Billy won't make a full commitment to her and Cordelia. Jack wanting to make sure that Billy takes his advice in making Cordelia a part of the Abbott family decides to pay a visit to his new niece and Chloe. Later that day, Chloe warns Billy that Cane is set to do whatever it takes to get custody of their baby. Jill, still fuming over Chloe deception realizes that Billy is the one that she's falling in love with.
What To Watch
Holding Cordelia brings Amber bittersweet moments
Victor prepares his mystery lady for her big debut
Annie, Katherine and Esther prepare to flee
The Young and the Restless News and Headlines
Karen Hensel makes another appearance as Sharon's mother on Friday, March 6
The new little bundles of joy playing Chloe and Billy's daughter, Cordelia are that of Riley, Olivia and Isabelle.
'The Young and the Restless' is mentioned in the currrent issue of Soap Opera Digest in the Thumbs Up & Down section, where the magazine gave thumbs up for the show bringing the Abbott family back to the forefront where they belong.
Fans can 'get restless' by participating in the Get Restless in Jamaica Sweepstakes. A fan could win their chance of a lifetime to have a 4 day/3 night vacation. Those interested can visit Get Restless in Jamaica
SON Top 10: Who was the best of the best on "Y&R" during the week of February 23 – 27, 2009? You decide! The SON Top 10 is back! Voting begins Friday's at 4:00 PM, EST.
SON ALERTS: WEEK OF MARCH 9, 2009
Adam's eyes are 'deceiving' him.
Karen demands Neil make some serious choices.
Kevin gets caught up in drama…AGAIN.
"The Young and the Restless" airs Weekdays on CBS. Weeknights on SOAPnet. Check local listings .
---
You may not reproduce content without written permission from author.

© 2009 Soap Opera Network. All rights reserved.
Discussion: Y&R PreVUE: Week of March 2 Edition
---