Wednesday, December 31, 2008 12:47 AM EST |
By Errol Lewis
---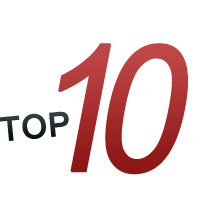 (SoapOperaNetwork.com) — After a two year absence, the Soap Opera Network Top 10 poll returns just in time to ring in the new year.
Who is Daytime's Top Actress? Actor? Couple? Only you can decide as SoapOperaNetwork.com is proud to return to you the SON Top 10.
When the last Top 10 ballot was cast on Wednesday, November 15, 2006 and the last results chart posted on Thursday, November 16, 2006, ABC's "One Life to Live" was dominating the charts. Renee Elise Goldsberry (ex-Evangeline Williamson) was Daytime's Top Actress for the 34th week (out of 96 weeks) and David Fumero was Daytime's Top Actor for the third time in 31 tries. While he ranked a distant number 2 in vote counts at the time, "General Hospital's" Maurice Benard (Sonny Corinthos) held the record of most weeks in the Top 10 (169) and most weeks spent at #1 (91). Only "All My Children's" Alicia Minshew (Kendal Hart) and "One Life's" Michael Easton (John McBain) came close as each held on at 131 and 105 weeks on the chart, respectively. "General Hospital" was daytime's Top soap as it ranked #1 for a record 73 weeks. "All My Children" was second with 66 weeks spent at #1.
With so much history behind it, it is anyone's guess as to why we decided to pull the plug on this once popular feature. Look for the SON Top 10 to begin accepting new votes on Friday, January 2, 2009 for episodes covering the week of December 29, 2008 – January 2, 2009.
Discussion: SON Top 10 Returns!
---