Friday, January 16, 2009 8:43 PM EST |
By Errol Lewis
---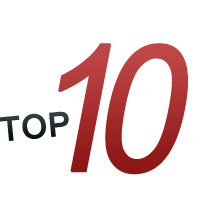 (SoapOperaNetwork.com) — After a minor delay, the SON Top 10 Poll for the Week of January 12-16, 2009 is now available.
After delays held back the posting of the new Top 10 poll, we have decided to extend the voting period by five hours in order to give everyone an equal amount of time to vote for who they thought was the best for the Week of January 12-16, 2009. Polls will now close on Thursday, January 22 at 4:59 AM, ET/1:59 AM, PT. The Top 10 chart will be posted later that day.
Additionally, we have added Scott Clifton (Schuyler Joplin) to the "One Life to Live" Actors list, and removed Justis Bolding (ex-Sarah Roberts) from the Actress list. Bolding last aired on January 7. We have also added Eileen Davidson (Ashley Abbott) and Hayley Erin (Abby Carlton) to the Actress list for "The Young and the Restless." Davidson was previously not listed due to an oversight. We welcome Natalia Livingston back to "General Hospital" and the Actress list as she re-joins the soap as Rebecca. Lastly, we have added Bridget Forrester and Owen Knight to the Couples list for "The Bold and the Beautiful" and Natalia Rivera and Olivia Spencer to the couples list for "Guiding Light."
If you find someone missing from the poll or anyone still listed that shouldn't, please let us know by emailing us.
Voting for the Week of January 12-16, 2009 is now open.
Eligibility: In order for an actor or actress to be eligible for the SON Top 10, the actor or actress must be on-air during the week covering the voting period. If they do not appear on screen during this period, their votes are not included in final Top 10 Rankings. This includes their eligibilty in the couples category. Couples do not need to be on-screen together, however, to be eligible.
---
Discussion: 
---