Tuesday, December 30, 2008 2:17 PM ET |
By Errol Lewis
---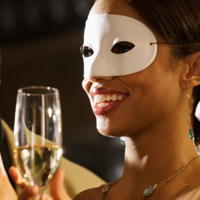 (SoapOperaNetwork.com) — While we ring in a new year and anticipate more drama filled soap opera on daytime's remaining eight soap operas, we won't soon forget how much has happened in the year gone by.
With 2008 almost but a memory, each of daytime's broadcast networks have filled up on what you can expect to see on their schedules between New Year's Eve and New Year's Day.
 What you won't see on New Year's Day on ABC, CBS or NBC is a soap in sight. The day before, ABC makes us relive Tornado's ("All My Children") and Game Shows ("One Life to Live"), while 2007 comes to life again courtesy of "General Hospital" and its look back at the Nikolas and Emily engagement party that ended in tragedy. Of course, it would appear that ABC is gearing fans up for the return of Natalia Livingston to the soap (she first airs as a new character named Rebecca on Thursday, January 15). CBS and NBC bring us fresh episodes of "The Bold and the Beautiful," "Days of our Lives" and "The Young and the Restless." "As The World Turns" and "Guiding Light" are pre-empted. 
Wednesday, December 31: New Year's Eve

AMC: Repeat – Another tornado hits as Jake is operating on Kendall and he pushes her gurney out of the way of falling debris. Greenlee is surprised to see Bianca with a baby. Bianca tells Zach she will keep the baby's paternity a secret until Zach can tell Kendall that he is the father. Angie operates on Natalia and it is revealed to Tad and Frankie that Natalia is Jesse's daughter. JR agrees to marry Babe. Babe admits to Krystal that she knows she is dying but doesn't want JR to know that she knows and she says goodbye to Little A. Annie searches for Emma at the Chandler home and runs into Ryan. Pete and Colby search the tunnels for Adam and Erica (episode #9985; original air date 10/22/08).
ATWT: Pre-empted.
B&B: Fresh Episode – While airing a fresh episode to the east coast in its regular timeslot, the soap will air latenight on CBS' West Coast (Pacific

time

) affiliates. Otherwise, the days episode will be made available on CBS.com.
DAYS: Fresh Episode.
GH: Repeat – Episode begins with a flash forward of Nikolas waking up and discovering a body and this is followed by a flash back to the beginning of the ball where Nikolas proposes to Emily. Nikolas announces their engagement to the guests and the couple shares a waltz. Sam and Liz have a catfight over Jason. Johnny sneaks into the ball to track down Anthony. Spinelli accidentally reveals to Lulu that he has feelings for her while Lulu tries to enjoy her time with Logan. Jason goes into action mode when he finds out that Anthony has escaped his home and is on the loose

(

episode #11420

;

original air date 10/31/07

).

GL:

Pre-empted.

OLTL: Repeat – Rex fights for his life in surgery and dreams of being on a game show where he competes against Brody for his life and for Shane. Rex flat lines. Gigi tells Shane the truth about who his father is and he reacts badly. Gigi fights for Shane's forgiveness and asks him to wait with her for Rex to come out of surgery. Roxy gathers everyone in a group prayer for Rex. Natalie offers Tess a deal; if she is allowed out of the Secret Room to see Rex she will agree to give up Jared

(episode

#10281; original air date 10/1/08

).

Y&R:

Fresh Episode.
Thursday, January 1: New Year's Day (Welcome to 2009)
ALL: Pre-empted due to parades and sports activities on the broadcast networks.
Friday, January 2
ALL: 

Fresh Episodes of all daytime soaps.
---
Discussion: New Year, Old Memories: Welcome to 2009
---
The Bold and the Beautiful
All My Children
One Life to Live
The Young and the Restless
Days of our Lives
General Hospital
As The World Turns
Guiding Light