Friday, December 26, 2008 2:05 PM EST |
By Errol Lewis
---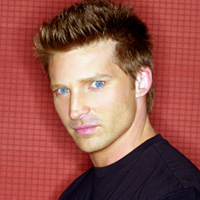 (SoapOperaNetwork.com) — It is a time for forgiveness and a time when families come together. Will the new year bring changes to "General Hospital?"
THIS WEEK ON: GENERAL HOSPITAL
Sonny won't end his allegiance with the Zacchara's. Jason has a warning for Sonny. Battle lines are drawn between Sonny and Jason. Robin and Patrick's wedding goes off without a hitch. Anna and Robert are filled with emotion over their daughter's happiness. Sam tips Jason off over Agent Rayner's interest in Spinelli. Someone is watching Spinelli through Cyberspace. Sonny and Carly visit Michael's hospital room on Monday, December 28 (actor Dylan Cash appears as Michael). Jax knows how hurt Carly is feeling on Michael's birthday. Sam answers Jax's questions about Jerry's last moments.
A Closer Look: Looking at you 2009
On Tuesday, December 30, the power is out at the MetroCourt and Jax and Carly find themselves closer than ever. Jax can't deny the power of love he feels for Carly and is drawn to her. Johnny and Lulu watch as the first snow of the new year falls. Nikolas lovingly tells Nadine that she is the best thing to happen to him all year. Tracy and Luke spend a romantic evening together. Spinelli misses the boat with Maxie. A kiss at midnight brings couples together.
What To Watch
Sonny catches Claudia in the act on Friday, January 2.
Johnnny starts looking for a job.
Spinelli meets Winifred, his female counterpart.
Sam and Lucky are at odds.
A new storyline kicks off for Nikolas and Nadine beginning Friday, January 2.
General Hospital News and Headlines
"General Hospital" will air an encore presentation on Wednesday, December 31 (10/31/07) and will be pre-empted on Thursday, January 1.
SON ALERTS: WEEK OF JANUARY 5, 2009
Monday: Jax is certain Carly's heart will always belong to Sonny. Maxie grows suspicious of Winifred. Johnny accuses Ric of setting him up.
Tuesday: Carly and Claudia battle it out over Sonny. Maxie is on the right track. Jax gives Olivia an offer she can't refuse.
Wednesday: Carly has a warning for Sonny. Maxie is getting too close. Luke is there for Johnny.
Thursday: Olivia staves off Jax's advances. Spinelli and Maxie grow closer. Lucky and Sam hit a roadblock in their relationship.
Friday: Jax and Carly finally see the light. Lulu is suspicious of Johnny and Claudia. Nikolas saves Nadine, again.
"General Hospital" airs Weekdays on ABC. Weeknights on SOAPnet. Check local listings.
---