Sunday, July 20, 2008 12:23 AM|
By Scotty Gore
---
(SoapOperaNetwork.com) — Victoria Lord meets her maker.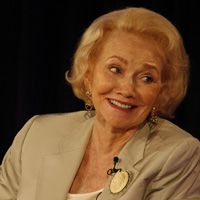 THIS WEEK ON: ONE LIFE TO LIVE
"One Life to Live" kicks off their 40th anniversary celebration by revisiting three classic storylines. Bo and Rex awaken to find themselves transported to the year 1968 after being struck by lightning. Struggling to make sense of the events unfolding around them, Rex and Bo work to understand what has happened to them.
The Inside Story: History Repeats Itself

In Mendorra, Carlo places his dastardly plan in motion. Tina is forced to watch in horror as Carlo sends Sarah sailing toward a deadly waterfall. Fortunately, Cristian is able to overtake the guards in an attempt to rescue Sarah. He manages to swim to her raft in time for he and Sarah to proclaim their love, before plunging to their doom.
A Closer Look: Viki Comes Face-to-Face with God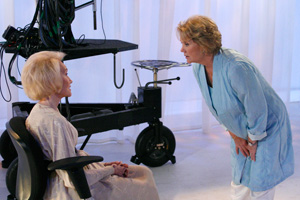 Upon dying in a car crash, Viki is transported to heaven by her Guardian Angel, an adult version of her stillborn granddaughter Megan. While in heaven, Viki is reunited with a number of familiar faces including Niki Smith, Asa, and her beloved Ben. Meanwhile, back on Earth, the late Mel Hayes pays Dorian a visit from beyond the grave. Mel belittles Dorian for what she did to Charlie, and warns her to quit living in Viki's shadow. Back in heaven, Viki is greeted by God, who looks strangely like "OLTL" creator Agnes Nixon. Later, Viki shares an emotional reunion with Ben, who informs Viki that she still has life left to live, and urges her to give Charlie a second chance. Although heartbroken at the realization that she will have to leave Ben once more, Viki decides to return to her life. Meanwhile, Mel urges Dorian to save Viki's life. At the same time, David wonders by and promises to divorce Addie if Dorian will save Viki. Dorian, meanwhile, is successful in her attempts to resuscitate Viki. After being taken to the hospital, Michael informs Dorian and David that it appears Viki will make a full recovery. Fearing he may go back on his word, Dorian forces David to sign annulment papers. Dorian wrestles with a guilty conscience, and later makes a confession to Viki. Afterward, the two long-time rivals form a truce.
What to Watch
John talks to Marcie about her decision to adopt Starr's baby and the impact it's having on Michael.
Clint decides to offer David $10 million to divorce Addie, as part of his plan to return BE to Buchanan control.
Markko has his concerns about a Cole/Todd partnership.
Starr is short with Langston when she encourages her to talk to Cole.
Clint presents David with a tempting offer.
Brody wants to be a better man for Gigi and Shane's sakes.
Todd reluctantly informs Marty about being raped the night of the Spring Fling, while carefully leaving out his role in the attack.
Blair tells John that she's tired of being Todd's doormat.
John and Blair are drawn into a kiss.
David quickly works to save his assets.
SON ALERTS: WEEK OF July 28, 2008
Monday: John and Blair get physical; Viki confesses to Charlie that she misses him; Brody agrees to Gigi's demands; Carlotta's years of hard work go up in smoke.
Tuesday: Rex makes a long distance call 40 years into the future; Todd discovers that John and Blair had sex; Talia has no choice but to do Carlo's dirty work.
Wednesday: Todd fumes as he observes Blair kissing John; Rex and Gigi have their signals crossed; Antonio's life is on the line.
Thursday: Clint receives a visit from an old flame; Cole grants Starr's wishes; Dorian throws David out.
Friday: Cole and Starr end their relationship; Todd continues to badmouth John to Marty; Antonio and Cristian plan their next move.
---