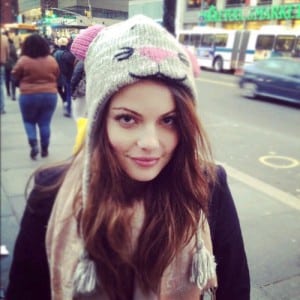 UPDATE 1:30 AM ET: Looks like Jordan Price will be portraying an aged Miranda Montgomery!
PREVIOUS 12:13 AM ET: "All My Children" and "One Life to Live" casting director Alison Goodman and assistant casting director Michael Morlani have been busy these last couple of weeks casting pivotal roles for the reboots of our beloved daytime soaps. Now comes word that one pivotal role may have gone to daytime newcomer Jordan Lane Price, who tweeted just a short time ago, "Soo I'm pretty much beyond excited to start work. #PineValley, here I come 🙂 #AMC." Both Goodman and Morlani responded to Price's tweets with Goodman saying, "I couldn't be happier! Just remember me when you are a big freakin star!" Morlani added, " SO excited. Me too….remember me as well!"
Which role did Price get? We'll soon find out, but keep in mind that it was recently revealed that "AMC" was looking to recast a number of its young characters with more age appropriate actors and actresses. The phrase "fresh faces" comes to mind.
You can get a sneak peek at Price's acting skills via an excerpt from the 2010 short film "Double Fault" below: