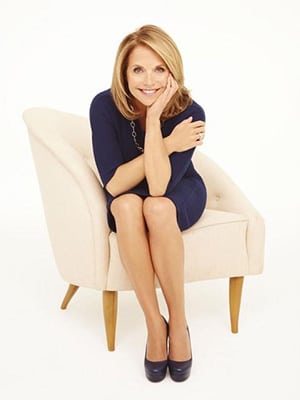 According to a report by FOX News, Disney/ABC Domestic Television might be looking to replace Katie Couric and her talker "Katie" just as the show gets ready to wrap its first season in July.
"While all television is going through a difficult time and programming is having a hard time finding its niche, Katie's new talk show does not live up its expectations," a source closely connected to the ABC show told FOX411's Pop Tarts column. "Whatever constraints Katie experienced anchoring 'Evening News' [it is] certainly taking its toll, and her return to daytime has backfired."
"One of the biggest failures ever in syndication," says a reported studio exec to FOX411. "Terrible ratings, no growth, shouldn't be on the air. Where did it miss the mark? Let's start with her, she is dreadfully boring. The show offers nothing new to the audience, nothing to say."
Per FOX411, "When 'Katie' launched in September 2012, and many expected that Couric would fill Oprah's shoes as the ultimate talk show Queen, and although the show is number one in the ranks of first-year talk shows in terms of ratings, it has endured an erratic, overall underperformance. Nielsen Media Research reported that in mid-May Couric's show averaged a 1.6 rating/5 share average in households, down 30 percent from the same time period last year."
According to a press release sent out today by Disney/ABC, "Katie" finished the May 2013 Sweeps period as the number one freshman talk show in households and total viewers (1.7 rating and 2.101 million viewers, respectively). "Katie" ranked sixth overall for the just completed 2012-2013 television season in both categories (1.8 rating and 2.352 million viewers).
It was reported in August of last year, just weeks before "Katie's" debut, that Disney/ABC had spent roughly $80 million just to get the Katie Couric hosted talker off the ground. Disney/ABC renewed "Katie" for a second season in January of this year, but the show may not see life beyond that. "There is zero chance is goes to a third season," said a Fox411 source. "It might not even finish the second."
"They (staff) are desperately running around approaching talent and offering to train them to replace her as a new daytime talk show host," revealed another FOX411 source. "It's a number one priority."
For more on the alleged turmoil surrounding the future of "Katie," click here.