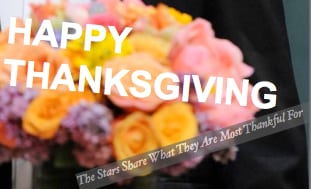 The rest of the country may have been preparing for Thanksgiving by sending out dinner invites, planning menus, buying turkeys, selecting table settings and betting on the day's big game, but Soap Opera Network has been getting ready for the celebratory day in a different way: Reaching out to several of your favorite "Days of our Lives" stars and getting the scoop on what they're most thankful for! Read on for their answers and then join in on the fun by leaving a comment below telling us what you're most grateful for this holiday season!
When Ted Corday and Betty Corday watched "Days of our Lives'" NBC debut on November 8, 1965, they couldn't have known that the soap opera they created would garner so much success. Now, 48 years later, the show not only is coming off of an Outstanding Drama Series win from the National Academy of Television Arts and Sciences, it's comprised of a talented and close-knit cast who all have very special memories regarding their time with the popular show. Soap Opera Network spoke with a few said castmembers, and in celebration of the show's 48th anniversary, they were all too happy to share some of their favorite moments from the early days and beyond!
Deidre Hall (Marlena Evans)
"Oh my god, Wayne Northrop [ex- Alex North, Roman Brady] and I [used to pull pranks on each other all of the time]. It was merciless! Merciless! Nothing was sacred. At one point, he was sleeping in my foster child's bed, so before my take, I said to my prop man, 'Give me a bucket of warm water.' And before he had to jump into bed, I poured it all over like the kid who wet the bed. He jumped into bed, and I had finished my part of the scene, and I began to run. He didn't even finish the take! He hit that bed, came off that bed and came after me. The race was on, and I got thrown in the shower! I mean, it was crazy, crazy, crazy. But it's a show filled with moments, and that's what you remember with daytime. It's been really wonderful, being a part of so many magical moments."
During a recent "Days of our Lives" fan event, actor Drake Hogestyn (John Black) told Soap Opera Network that he'd signed a new contract with the sudser, but that's not all the actor revealed! He's got a pretty good idea of upcoming story for his alter ego, and he assured us that loyal viewers just might get exactly what they wish for when it comes to the popular pairing of John and Marlena (Deidre Hall).
First thing's first: Hogestyn admits that it's sometimes tough to justify the actions his character takes — like John's choice to break apart Brady (Eric Martsolf) and Kristen (Eileen Davidson) by convincing people that Kristen wanted him for herself — but he says his job isn't to justify them at all. "You are called talent, and you don't write the show. Your responsibility is to pick up a script and to the best of your ability, you bring [the writers'] vision onto the screen, regardless of what your interpretation is," he explains. "You can't change plot logic or character shading. Even if you develop a character for 25, 28 years, your job as talent is to look at the story and take that story and move it forward in the vision of the writers. And that is the respect that every actor has to have. Once you start blurring that line or changing plot logic, character shading, it just muddies the water and nobody wins."
On Thursday, October 17, several LGBT (Lesbian, Gay, Bisexual, Transgender) organizations and individuals celebrated Spirit Day, which asks people to take a stand against bullying and show support for LGBT youth by wearing the color purple. NBC's "Days of our Lives" took a stand and showed its support as cast members donned purple shirts, jackets and even ties.
Those taking part included James Reynolds, Kate Mansi, Casey Moss, Lauren Koslow, Eric Martsolf, Chrishell Stause, Deidre Hall, Meredith Scott Lynn, Galen Gering, Greg Vaughan, Arianne Zucker, Kristian Alfonoso, Camila Banus, Freddie Smith and "DAYS" newcomer, Guy Wilson.
For more on Spirit Day and on how you can take a stand to support LGBT youth, visit glaad.org.
It seems everyone is hopping aboard the healthy living train these days, and the cast of "Days of our Lives" isn't excluded: Several of the sudser's stars have opened up and shared their secrets on how to live a healthier and more balanced life for the show's newest book, 'Days of our Lives' Better Living: Cast Secrets for a Healthier Balanced Life, which hits newsstands on Tuesday, September 24! And with just 19 more days to go until the big day, several of the stars featured are gearing up for a national tour to promote the book that they're hoping will change your lives forever!
Rule #9 - Never give your boundaryless mother a key to your own private Idaho
She's back! Actress Devin Mills returns with a second season of "Dating in the Middle Ages," a series that follows a woman named Samantha (Mills) who is searching for her modern day Cary Grant. In the new season, which debuted on Tuesday, July 30, the online series brings "Days of our Lives" stars Deidre Hall (Marlena Evans) and Matthew Ashford (ex-Jack Deveraux) on a ride for the "Ages."
For weeks "Days of our Lives" fans have been asking that question after actor Drake Hogestyn (John Black) tweeted he last taped an episode of the NBC Daytime drama series on March 18 (scheduled to air Wednesday, July 17). In his tweet he said, "Given a chance off the bench, I'm sure I could hit a homer for J&M. #putmeincoach." Fans were given some hope when Soap Opera Digest reported in its June 24 issue that the actor "has reported back to work after a brief hiatus from the show." The report was found under the "Stuff We Know (and shouldn't tell you)" section. Sadly, the mag didn't actually know as Digest semi-retracted its reporting per the Tuesday, July 9 issue citing comments from Hogestyn's daughter, Alex, who took to Facebook to say that her father was not filming again. "[The] report is not true. My dad has not been back filming, I wish he was though!"
In a posting last week on its Facebook page, shortly after word that the Supreme Court of the United States had found the Defense of Marriage Act (DOMA) unconstitutional, the NOH8 campaign displayed a photo compilation of "Days of our Lives" cast members posing in support of the charitable organization whose mission is "to promote marriage, gender and human equality through education, advocacy, social media, and visual protest." The photo included actors Blake Berris, Eileen Davidson, Greg Vaughan, Kristian Alfonso, Bill Hayes, Lauren Koslow, Deidre Hall, Suzanne Rogers, Freddie Smith, Joseph Mascolo, Nathan Owens, Kate Mansi and Galen Gering, among others.
As noted in our recent interview with Greg Meng, co-executive producer, "Days of our Lives," the NBC Daytime soap opera is releasing "Days of our Lives Better Living: Cast Secrets for a Healthier, Balanced Life," a new book that delves into five better living topics – nutrition, exercise, style, inspiration and balance.
The Hollywood Chamber of Commerce has announced the 2014 recipients of the Hollywood Walk of Fame, which includes "Days of our Lives" actress Deidre Hall (Marlena Evans) and "General Hospital's" Rick Springfield (Noah Drake), among others.