(SoapOperaNetwork.com) — "General Hospital" Episode Recap – Thursday, September 15, 2011.
IT HAPPENED TODAY…
Johnny pays Kristina a visit, and Sonny loses it when Kristina sends her father away.
Spinelli visits a recovering Jason with news of Luzetta's and the engagement ring! Later, Jason asks Spinelli an important question.
Patrick and Matt discuss surgery and have a negative run-in with Anthony.
Carly stumbles in on Shawn, just out of the shower.
Kate and Olivia discuss their Falconeri past and Sonny Corinthos. Will Sonny and Kate cross paths again?  
 
On the Next General Hospital…
Sam's wedding gown arrives.
Sonny and Kate come face to face.
Lulu and Ethan discuss their missing father.
(SoapOperaNetwork.com) — "One Life to Live" Episode Recap – Thursday, September 15, 2011.
IT HAPPENED TODAY…
Téa can't get dressed but Blair pulls her together and helps her get ready. At the church, James helps Sam cope and Starr admires him. Meanwhile Jack calls the LPD to find out if Todd has been arrested. Shaun hears him. He pulls Dani aside and tries to get her on his side about Todd. Jessica helps with Sam. Téa sees a man in a suit looking at Victor's picture and believes it is him.
Rex tells Echo about the Gigi sighting and the messages she gave Delphina. Echo wonders if the message from Gigi means that Rex should try to forge a relationship with Clint.
Viki hears Clint on the phone making an inquiry about Kim's hospitalized friend and Viki is concerned that he is getting involved in illegal business for Kim. But mostly she doesn't want him to get hurt. They share a close moment. Clint calls the hospital again but is interrupted.
Roxy showing up at Cutter's room demanding he give her Morris. Kim hides in the bathroom and Roxy tries to persuade Cutter to give her the porcupine, but Cutter holds out. Kim thinks Cutter should blackmail Rex but he is trying to keep his promise to Aubrey. Kim tries to get him to drop that idea but he won't. He goes and Kim breaks into his room. Echo shows up.
On the Next One Life to Live…
Someone is arrested for Victor's murder.
Destiny admits she talked to Greg.
Echo urges Rex to give Clint back his money.
(SoapOperaNetwork.com) — "All My Children" Episode Recap – Thursday, September 15, 2011.
IT HAPPENED TODAY…
Liza reaches out to a self-loathing Jesse at Ellie's grave. She tells him that if Maya isn't ready to be a mother to Lucy she'll encourage her to take a second look at her decision. Tad advises Jesse not to give up on Angie. Jesse assures Tad he won't. Frankie and Randi run into Lucy and Maya at Krystal's. Liza finds Maya struggling with taking care of Lucy while attending school and working. Maya drops out of school. Frankie picks Angie up from the station and takes her back to the loft. Angie is shocked as she begins to literally see light again.
Angie reaches out to David on an emotional level and pleads with him to be the good man she knows he is under all the pain and scars. She tells him to stop playing God for fun and reveal who else he has saved because it's the right thing to do. David is affected. Cara and Griffin discuss her relationship with David. Cara reveals she's pregnant with David's baby and has every intention of keeping the child. Griffin advises Cara not to tell David about this development. Cara visits David in jail to say goodbye … and reveals that she is pregnant with his child.
Madison asks Scott for a second chance. The former lovers reunite.
Tad and Dixie enjoy being together again.
Colby asks JR for help in going through their father's belongings. JR takes out a gun from Adam's collection. Colby once again calls Adam for help with JR. JR manipulates Dixie. Dixie allows JR to see AJ without supervision. AJ reveals to Dixie that JR has plans to take him out of town. Dixie confronts JR and tells him he's not going anywhere with or without AJ. She reveals to her son that Baby may be alive.  Colby reveals to Scott that Adam is returning to Pine Valley soon.
On the Next All My Children…
Zach surprises Kendall.
Julia Barr returns as Brooke English.
(SoapOperaNetwork.com) — When the 15th annual Prism Awards are handed out later this month in Los Angeles, two of daytime's leading drama series will be honored for recent storylines involving drug abuse and lung cancer. Both "One Life to Live" and "The Bold and the Beautiful" will be recognized at this year's ceremony for the awards, which "honors the creative community for accurate portrayals of substance abuse, addiction and mental health in entertainment programming."
"One Life to Live" beat out "Days of Our Lives" and sister soap "All My Children" in the category of Daytime Drama Series Storyline. While the "DAYS" storyline submitted was not listed on the official Prism Award website, "AMC" received a nod for its J.R. (Jacob Young) alcoholism storyline. "One Life " won with its "Paying It Forward" storyline, which featured Cole Thornhart (Brandon Buddy) saving Hannah O'Connor's (Meghann Fahy) life after she overdosed on pills last fall, and then proceeded to help her kick her drug habit.
"The Bold and the Beautiful" was given the organization's Inaugural PRISM LUNGevity Award for accurate depictions of lung cancer, in recognition of Stephanie's (Susan Flannery) battle with the deadly disease. According to a statement, "The new award was created in partnership with LUNGevity Foundation to encourage accurate depictions of lung cancer – its diagnosis, symptoms, effects, and treatment – in movies and television programs. In 2010, 'The Bold and the Beautiful' introduced a continuing storyline dealing with the character of Stephanie who is diagnosed with Stage 4 lung cancer, despite being a non-smoker, and is undergoing treatments."
The awards will be handed out in a nationally televised ceremony on Sunday, September 25 at 4:00 pm ET on FX. The broadcast will then re-air on a number of other cable/satellite networks through Wednesday, September 28, and will be available on Video On-Demand through the end of October. Click here for a complete schedule and listing of winners in other television and film categories.
(SoapOperaNetwork.com) — This morning on "Good Morning America," commentator and long-time "All My Children" cast-member Cameron Mathison (Ryan) announced that production company Prospect Park has officially started approaching the actors on his show with offers to continue on the new version of the 41-year old daytime drama that ends its run on network television on Friday, September 23. Mathison made it apparent that he is eager to commit to the show in whatever format it takes, but are his co-stars on board?
On the same day, Alicia Minshew, who joined the cast of "AMC" in 2002 as Kendall Hart, reported to the The Hollywood Reporter that she would not be able to commit to a contract run to continue as Erica Kane's (played by daytime icon Susan Lucci) first-born if that was the only offer placed on the table from Prospect Park. The popular actress, who reportedly turned down an offer to star on one of the four remaining network daytime drama's as of 2012, is open to remaining with "AMC" on recurring status. Like co-star Chrishelle Stause (Amanda), Minshew wants to spend some time dabbling in the different genres of television.
In the same report, the actress reports that as far as she has heard, at this point, the reports of Lucci declining Prospect Park's offer to continue with "AMC" are accurate. Lucci, who has remained mum about her status with Prospect Park since the initial reports of negotiations falling out, may speak to the matter herself in the coming days. The superstar is scheduled to appear on "CBS Sunday Morning" on Sunday, September 18 to discuss "AMC" and she will co-host an "AMC" tribute on "The View" on Friday, September 23.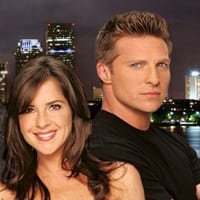 (SoapOperaNetwork.com) — "General Hospital" DVR Alerts for the Week of September 19, 2011.
GENERAL HOSPITAL: DVR ALERTS
Monday: Elizabeth and Maxie are separately in danger. Kate eggs Sonny on. Tracy is unaware that Luke is watching her.
Tuesday: Franco makes a decision to return to Port Charles. Sam catches Jason as he practices walking down the aisle, Johnny takes care of his father's mess.
Wednesday: Maxie has her hands full with wedding disasters. Spinelli tries but fails to come clean. Dante gets some advice from his mother.
Thursday: Sam and Maxie both begin to freak out at the obstacles before them. Dante and Lucky discuss next moves. Something strange happens at Wyndemere.
Friday: Jason and Sam share some big news with their family and friends. Anthony makes a dangerous decision. Lucky's addiction continues to haunt him.
(SoapOperaNetwork.com) — "One Life to Live" DVR Alerts for the Week of September 19, 2011.
ONE LIFE TO LIVE: DVR ALERTS
Monday: Todd needs Téa's help. Brody pops the question to Natalie. Cutter realizes the gun is missing.
Tuesday: Todd has an encounter with Irene. Shane tries to get under Jack's skin. Baz works to convince Starr to give Rick a chance to produce their single.
Wednesday: Someone discovers the identity of Kim's friend in the Kentucky hospital room. Echo still doubts Rex's innocence. Dani pays Todd a visit.
Thursday: Roxy questions John about his feelings for Natalie. The Ford brothers talk about their love lives. Blair gives Starr some bad news.
Friday: Blair thinks she knows how to get Jack to tell the truth. John confides in Bo. Natalie has something she needs to tell John.
(SoapOperaNetwork.com) — "All My Children" DVR Alerts for the Week of September 19, 2011.
ALL MY CHILDREN: DVR ALERTS
Monday – Friday "All My Children" celebrates the rich history and legacy of Pine Valley's favorite families including the Kane family, the Hubbard family, the Martin family and the Chandlers. Special guest appearances include Sarah Michelle Gellar (Patient), Eva La Rue (Dr. Maria Santos), David Canary (Adam Chandler), Julia Barr (Brooke English), Ray MacDonnell (Dr. Joe Martin), Lee Meriwether (Ruth Martin), Justin Bruening (Jamie Martin) and Alexa Havins (Babe Carey).
"All My Children" last airs on ABC Daytime on Friday, September 23.
(SoapOperaNetwork.com) — With the Prospect Park era about to begin for "One Life to Live," the show appears to be in better shape than its sister soap "All My Children."
"OLTL" fans have reason to be optimistic about the show's future after it leaves the ABC Daytime line-up in January. Ratings for the show continue to be solid and holding steady above "AMC" and "General Hospital." Casting wise, the soap is an upswing. Hot on the heels of Roger Howarth's return to Llanview, comes word that several others, including Andrea Evans (Tina), John Loprieno (Cord), Kathy Brier (Marcie), Chris Stack (Michael), and possibly Tonja Walker (Alex) are on their way back as well. Rumors are flying that Prospect Park may be focusing more on "OLTL" than "AMC," something which "One Life" never really experienced under ABC. And four of the show's leading stars, including grand dame Erika Slezak (Viki), have already agreed to remain with the show when it transitions to the online distribution company in a few months (the others being Kassie DePaiva [Blair], Ted King [Tomas], and Michael Easton [John]).
Meanwhile, "All My Children's" future seems less certain. Aside from strained negotiations between Prospect Park and "AMC" leading lady Susan Lucci (Erica Kane), there have thus far been no confirmed reports of any members of the show's cast either being in serious talks with the company or signing on the dotted line to continue with the show. Furthermore, it appears increasingly more apparent that "AMC" may get the same treatment from Prospect Park that "OLTL" has gotten for years now from ABC.
Speculation on the matter was fueled last week by two separate incidents. First, Deadline Hollywood's Nellie Andreeva reported that "I hear that Prospect Park may reevaluate its short-term strategy for the two soaps and put its muscle behind the higher-rated 'OLTL,' while moving 'AMC' to the back burner." That was followed up by a Soaps.com interview with "All My Children's" Vincent Irizarry (David) who commented that "As far as I know, no, there hasn't been. I've spoken to numerous actors from the show over the last few days and nobody from our show has been in contact with them. Except for Susan [Lucci, Erica], which we all assumed that awhile ago. So, that's basically it. They're moving [forward] with 'One Life to Live' right now and that's certainly their right. That's what they're doing and for whatever reason that's how it happened."
Furthermore, unlike "One Life to Live," "All My Children" will have a nearly four month gap between the airing of its last episode on ABC and its first episode of Prospect Park. "One Life" on the other hand, is said to be debuting on Prospect Park the Monday after its airs its final ABC episode on Friday, January 13, therefore maintaining the status quo for "OLTL," while leaving "All My Children" fans in suspense and impatiently waiting for weeks for their show to return.
Personally, I find all of this extremely interesting, especially since there seems to have been a complete role reversal between the two shows. "One Life to Live" has always reminded me of "The Little Engine That Could," endlessly trying to make its way up the hill to the top of the mountain (i.e. ratings), while all the more powerful engines (or in this case, the better known soap operas) just keep passing them by until one day when the little engine finally made it to the top after years of chanting "I think I can." In a sense, it is uncharted waters for many "One Life" fans who aren't used to their show doing so well. It makes me proud of the soap I have grown up watching for more than two decades now.
However, its one thing to get to the top, but it is quite another thing to stay there. And with the show's writing, production, and directing crews under Prospect Park still up in the air, it leaves me feeling somewhat concerned, especially given the fact that current head writer Ron Carlivati still seems on track to join the writing staff of "General Hospital" once "OLTL" up production of its TV run in November. Granted, Carlivati isn't exactly daytime's best scribe considering "OLTL's" overabundance of useless characters in idiotic storylines (e.g. the Nate/Deanna/Rick porn plot), and treatment of women characters, but he must be doing something right for the show to be climbing in the ratings as it has been. But like him or not, he does bring stability to the show and often draws upon the soap's rather rich history (even if he usually twists it to fit his own agenda) when penning tales. Throwing in someone new, especially if they are not very familiar with the show could cause problems. The same can be said for Executive Producer Frank Valentini. For several years now, he has managed to keep "OLTL" under budget while running a tight ship. Finding a suitable replacement may prove difficult.
That being said, I think the show is in good hands with Prospect Park, and believe that it will continue to do rather well. Even so, I am well aware of the potential risks involved in moving an established 43-year-old soap opera from a television slot it has held for more than 30 years to the uncharted waters of online-only distribution. If it works, then wonderful, soaps will have found a new way to live on. If it fails, then at least soap fans can say they tried, and "OLTL" and "AMC" will be remembered for going where no other soaps have gone. Either way, it gives new hope for the daytime serial genre, proving that there may still be some life in the old "stories" yet.
Moving on, congratulations to "CBRVA83," who correctly guessed the answers to my trivia questions from last time. In case you missed the clues, here they are, along with the answers:  1. What current "OLTL" cast member was the youngest soap star ever placed on contract with a daytime drama back in 2001? Answer: Kristen Alderson. 2. In college, what subject did Ted King get his undergraduate degree in and from what school? Answer: Business from UC-Santa Barbara. 3. What foreign language did Erika Slezak grow up speaking before learning English at five-years-old? Answer: German.
Now it's time to shake things up a bit and do some more trivia. See if you know the answers to these questions about some of the current and former cast members of "One Life to Live." 1. Kassie DePaiva (Blair) appeared on what game show before joining "OLTL" and who was the daytime celebrity (and future co-star) was she paired up with? 2. What two wars did the late Phil Carey (Asa) serve in? 3. What is John-Paul Lavoisier's (Rex) real last name? I'll have the answers in the September 30 edition of My View of Llanview.
Now, before I wrap up this column, I'm going to look into my crystal ball and give you a quick sneak peek at a few things coming up a few weeks down the road. Someone turns up dead. One man risks his life to save others. An unlikely person is put in jail. And one sister makes a shocking discovery about her sibling.
Well that's concludes yet another column. Have a great week everyone! Stay safe!
Take care, and until next time remember, we only have "One Life to Live"…
(SoapOperaNetwork.com) — "One Life to Live" Episode Recap – Wednesday, September 14, 2011.
IT HAPPENED TODAY…
Rex visits Gigi's grave where she is once again interred and her date of death has been replaced on the headstone. Despite the evidence that she's truly gone, Rex still has trouble saying goodbye, especially when Gigi again appears to him. Rex later asks Delphina what Gigi is trying to say.
Clint calls Kim to him with a solution to the problem with her sick friend. Although he has no money, he has connections at Llanview Hospital and could arrange to have the friend moved here for treatment. After Kim leaves, Clint remains determined to do something for Kim and takes it upon himself to call the Kentucky hospital.
Roxy meets with Delphina in a desperate effort to find Morris and the gun hidden inside him, fearing it can be linked to Rex. Cutter assures Aubrey he turned the gun over to the police, but privately reveals he still has it hidden in Morris. When Aubrey leaves, Kim shows up and tells Cutter she had to turn down Clint's generous offer. Still desperate to help her friend, Kim asks if Cutter has some idea how she can get money.
Tomas is concerned about Téa, who has yet to come out of her room. Blair presents Tomas with another issue; she knows Baz was suspicious about him and that he was questioned by John. Tomas admits to his initial lie about his whereabouts the night of the shooting.
Wanting to comfort Dani at her time of need, Nate decides to break his agreement to stay away from her. James similarly comforts Starr.
Starr also shares the good news that a producer wants to record her song … but the bad news is that the producer is Rick Powers. Unbeknownst to them, however, Baz speaks with Rick on the phone and promises to work on Starr.
On the Next One Life to Live…
Blair supports Téa.
Viki is concerned about Clint.
Roxy confronts Cutter.