(SoapOperaNetwork.com) — "All My Children's" replacement show "The Chew" debuts today, just three days after "AMC" aired its final episode on ABC, and I can't help myself in wishing it would just go away. No, it isn't the show or what it is all about. In a perfect world I'd care to watch it from time to time, after all we all have to cook good and healthy meals don't we? But it is the way the network went about handling "The Chew" which included non-stop advertising during "AMC's" final weeks on television along with non-stop advertising on soap opera centered websites including Soap Opera Network that I find myself saying "what a way to spit on your audience."
Of course daytime has changed according to ABC's own research and their viewers were really tired of watching soap operas so it makes sense to promote your new shows to your audience, but the only audience you had were watching soaps, so who is going to watch "The Chew" if not soap fans? "The Chew" is being promoted everywhere you look. On TV, on billboards, in magazines and if I recall correctly (or IIRC) and not mistaken, it's also being promoted in movie theaters with pre-show clippings. Where was this type of advertising for daytime soap operas?
Do I wish the show failure? If I were being honest with myself I'd say yes just so ABC can be proven wrong in their presumptions, but I don't think it will bomb. No matter if it lands itself below "All My Children" in every ratings category from here on out, it will still be a success for ABC because the network is spending 30-40% less than they did on "AMC." Ratings no longer matter, it's all about the bottom dollar and just like Jeff Zucker, who has joined the network as it gets ready to launch a Katie Couric hosted daytime talk show next year, said when he ran NBC  "we're managing for margin, not for ratings. So it's the expense of our shows, the consistency of our shows being on the schedule. It's not determined by the size of the ratings, because the size of the ratings of a show we cannot afford is not going to do us any good anymore." Right or wrong, that's just the new reality.
(SoapOperaNetwork.com) — The 25th Annual Broadway Fleamarket sponsored by Broadway Cares/Equity Fights AIDS took place today and several of daytime's biggest stars were on hand as celebrity guests including stars from "One Life to Live" such as Kristen Alderson (Starr Manning), Andrew Trischitta (Jack Manning), Gina Tognoni (ex-Kelly Cramer), Sean Ringgold (Shaun Evans), Ilene Kristen (Roxy Balsom) and even former cast member Judith Light (ex-Karen Wolek). Also in attendance was former "Guiding Light" actor Ron Raines (ex-Alan Spaulding), who is currently appearing in previews for the Broadway production of "Follies." Raines' former "Light" co-star Marj Dusay (ex-Alexandra Spaulding) was scheduled to appear but had to cancel due to illness. Also scheduled was "As The World Turns" actresses Eileen Fulton (ex-Lisa Grimaldi) and Ellen Dolan (Margo Hughes). Soap Opera Network spoke with a few of the stars and learned some interesting tidbits, one of which being that Ringgold received his offer from Prospect Park on Friday and he's since decided to continue with the show when it moves to the web in January along with "All My Children."
"You know what's funny, I was making up my mind cause I got the offer to come over on Friday [September 23] actually and I didn't give them my response, but after speaking with a couple of hierarchies, I just said 'you know what? I'll give it a year!' Why not? So I'm going to come over to Prospect Park." As for what the new version of the soap may look like and what fans can expect, Ringgold emphasizes that "There's going to be more of a free reign to do more things on the internet than you could normally do on network. It could get quite interesting. I'll leave that open for the imagination." As for the chance of new faces popping up and where they'll find their new filming digs, the actor says "I'm sure there are going to be new characters who are going to be brought on and I hope the studio goes to Brooklyn because I live in Queens. Although coming into Manhattan wouldn't be a bad thing – I'll miss Manhattan – but to just be able to wake up out of the bed and drive 10 minutes over to the studio. I'll be in heaven."
What is Ringgold looking forward to most for his character as the soap transitions from ABC to Prospect Park? "As long as Shaun is there for Destiny, and being supportive of his sister with her decision, whichever way we'll see how that turns out to be… just to be there for [my] sister and to make sure she's good and also my mom. They're going to bring my pops back and it'll be great if Greg [Terrell Tilford] popped up as well." Speaking of Destiny, particularly her portrayer Shennell Edmonds, can we expect to hear news of her continuing as well? While Ringgold couldn't confirm it as fact, he does hope it turns out to be the case.
Lastly with "One Life to Live" being canceled in April by ABC only to be picked up in July by Prospect Park, what happens to the planned series finale that was scheduled to air in January? "I'm sure they are changing the story a little bit because we're going to continue on with Prospect Park."
(SoapOperaNetwork.com) — This week has been full of well deserved tributes, accolades and goodbyes to a 41-year old television institution, "All My Children." Lost in the avalanche of interviews with the actors who have contributed their talents to the popular soap opera may have been several of the shows most popular actors sharing if they have been asked to follow it to the internet and if they're willing to. The production company that has licensed their soap opera, Prospect Park, has recently stepped up talks with "AMC's" cast members locking in deals with Cameron Mathison (Ryan) and Lindsay Hartley (Cara). Where do "AMC's" other popular stars, including their biggest star Susan Lucci (Erica), stand on moving to the net? Continue reading to find out.
Fans may have felt a renewed sense of doom when Deadline.com turned up with a scathing report about Lucci and Prospect Park failing to come to terms due to the superstar trying to "gouge" the production company thus endangering the daytime drama's future. Coincidentally, that report came out in the days following the paperback release of her memoir, "All My Life." The book contains a new chapter where the respected actress reveals her not so positive true feelings about ABC Daytime's top brass. This Friday, the stunning 64-year old actress talked to NPR about her career and her future with "AMC." Lucci revealed that she is still in negotiations with Prospect Park and is currently "waiting for a response" to terms she has put on the table. The popular actress shares that she'd love to continue with the soap that she help put on the map. She asserts that "[her] heart is there with Agnes Nixon, Erica Kane, [the] viewership, [the] fans."
Michael E. Knight, on the other hand, appears to be settling in for a long break from Pine Valley. Earlier this week, he revealed to Michael Fairman that the men behind Prospect Park reached out to him "hard and fast" early on in the game with a respectful and generous offer for a long-term contract. Knight turned that offer down. The Daytime Emmy Award winner reveals he certainly feels a responsibility to the soap opera he joined in 1982 and to its loyal fans, so he has told Prospect Park executives, Rich Frank and Jeff Kwatinetz, he'd be willing to "go forward on a recurring basis, or short-term, or whatever." The exhausted actor feels the character of Tad Martin has been put in a corner in terms of storyline and appears to be, respectfully, enjoying having a choice in term of his future after years of dealing with a demanding and demeaning ABC Daytime brass. Knight does not rule out a contract return to the soap at some point in the future.
Frustrated with the writing for her once spitfire character, Greenlee Smythe, Rebecca Budig initially appeared to be ready to jump ship before Prospect Park even imagined extending an offer. This week she revealed to TV Line that she has met with Prospect Park and they're "still talking."
As previously reported, one of Budig's best friends and her former co-star, Alicia Minshew found herself in a similar situation to both Knight and Budig; ready to move on and only willing to remain with the show within a limited capacity. After beginning talks with Prospect Park, though, the actress appears to feel more positive about ultimately being able to work something out.
Prospect Park is currently doing its best to get "AMC" back to viewers through the internet with new content by January 2012.  The production company still has to iron out deals with the actor's union, AFTRA, and work out tentative deals with enough actors to get "AMC" and "One Life to Live's" ships sailing.
(SoapOperaNetwork.com) — "All My Children" Episode Recap – Friday, September 23, 2011.
IT HAPPENED TODAY…
"All My Children's" final network airing begins with a shot of the birth of the one and only Erica Kane. The audience is treated to flashbacks and current shots of the parents of Pine Valley with their children. Spike, AJ and Miranda recite a poem written by "AMC" creator Agnes Nixon (pictured) that is familiar to millions of fans: The Great and the Least, The Rich and the Poor, The Weak and the Strong, In Sickness and in Health,In Joy and Sorrow, In Tragedy and Triumph, We (You) are All Your (My) Children.
Cara and Angie try to convince Jesse to release David. Adam arranges for David to be released on bail. David arrives at the mansion to see Adam. Adam thanks David and hands him a envelope full of cash. Dixie confronts David about the female patient that was in the room with her. David only hints that she wouldn't believe it even if he told her who the other patient is and takes his leave.
Randi reveals to Frankie and the Hubbard's that she may be pregnant.
Stuart and Marian share an emotional reunion. Brooke reveals to Adam that she used her inheritance from her aunt Phoebe to save the Chandler mansion from foreclosure. Adam is deeply touched. Brooke and Adam throw a party in Stuart's honor. All of Pine Valley attends to celebrate the return of one of Pine Valley's finest. Everybody gets reacquainted. Adam proposes to Brooke. She accepts. It's an emotional moment as Tad makes a toast to Pine Valley.
Opal tells Erica she's underestimated just how upset Jackson is. She tells her best bud she found Jackson at the penthouse packing up his things. Erica is determined to fix things with Jackson. Jackson in unimpressed when Erica presents him with a plane ticket to join her in California. Erica admits to Jackson that she doesn't want to get married. Jackson tells Erica their journey together is over and walks away from her … this time for good? Erica chases Jackson through the full Chandler parlor and pleads for him not to leave her. She needs him. Jackson channels Rhett Butler and tells his long time love "frankly, Erica, I don't give a damn what you need" and he walks out of her life. Erica swears she'll get Jackson back.
JR continues to unravel despite his family's best efforts. JR lashes out at Dixie. Dixie and Adam agree that maybe JR going away is for the best. JR lurks through the mansion tunnel with a gun watching the events unfold. An armed JR continues to lie in wait for his shot as Erica races after Jack. A shot is fired.
On the Next All My Children…
"All My Children" is scheduled to return with new episodes on the internet in 2012. Soap Opera Network will keep you informed of the future developments as production company Prospect Park works to bring Pine Valley back to its many fans.
Susan Lucci has portrayed Erica Kane for 41-years – debuting during the shows 10 episode in January 1970 according to her book "All My Life," and along with millions of viewers across the country she watched the soap that launched her career end its run on ABC earlier this afternoon. Ever the relevant personality (despite what ABC says), Lucci shares her thoughts with her Facebook friends and followers on the final episode of "AMC" and gives some minor hope as to what lies ahead for the soap opera in the coming months.
I just finished watching the last episode of All My Children – a very emotional time for me. I am so grateful to "The View" and ABC for their beautiful tribute show for 'All My Children' and Agnes Nixon. And to Agnes and to ABC for the incredible opportunity to play the amazing Erica Kane. At the center of all my gratitude is you, the fans. Thank you from the bottom of my heart for always being there for us, for spending all those days with us in Pine Valley and for bringing so much sunshine into my life.

Let's hope we all get to see more of Pine Valley and the beloved characters Agnes Nixon has created. Today's episode ended with quite a cliff hanger – and I really want to see what happens next!
(SoapOperaNetwork.com) — "General Hospital" Episode Recap – Friday, September 23, 2011.
IT HAPPENED TODAY…
Jason and Sam awake as a married couple. But Franco has other goals for the blissful pair. Jason and Sam's reception is different than what was planned.
Kristina and Molly surprise Alexis with a wedding date, plus more.
Sonny invites Kate to be his date at Jason and Sam's wedding.
Robin and Patrick bond at Jason and Sam's wedding.
With Ethan's help, Lulu prepares a romantic dinner for Dante. Dante interrupts Johnny in Sonny's warehouse – and someone gets shot.
Lucky tries to pack Siobhan's belongings but struggles against his addiction.
On the Next General Hospital…
(SoapOperaNetwork.com) — "One Life to Live" Episode Recap – Friday, September 23, 2011.
IT HAPPENED TODAY…
The residents of Llanview wake from vivid dreams, revealing their hidden hopes, fears, and suspicions.
Bo finds John at Rodi's, having spent the night. He recalls that the last time John went on a bender like that was after his wedding. It doesn't take Bo long to realize John is thinking about Natalie. Meanwhile, Natalie has a dream that she can't quite shake: seeing paternity test results indicating that John is Liam's father. At EOD, Natalie goes to see John at Rodi's. She has something to tell him.
Blair stops by to check on Téa. The two women go over their doubts concerning both Todd and Jack. Blair devises a plan to get the truth out of Jack. Téa opens a box of Victor's belongings from his office at The Sun among those belongings is a copy of Natalie's original paternity test.
At Llanview High, Shane overhears Jack reiterate his version of what happened the night Victor was murdered.
At EOD, a hopeless Todd has a visitor.
On the Next One Life to Live…
Tina is on her way back home.
Victor's estate is settled.
Téa visits Todd's jail cell.
On Sunday, September 25 at 10:00 PM ET/PT, E! debuts new reality series "Dirty Soap," which follows the real lives of soap stars. Below is a clip of the upcoming premiere courtesy of E!
(SoapOperaNetwork.com) — After 41 years on television (41 on ABC and 11 on ABC and SOAPnet), "All My Children" has closed its final chapter in broadcast television history with an ending that may please many or anger a lot, but its ending did one thing that was impossible for a soap to accomplish just a few short years ago – tracking the reactions of viewers as it came to a close.
Thanks to the power of social networking service Twitter, "All My Children" and Erica Kane (portrayed by Susan Lucci) found themselves both trending across the United States shortly after the last episode of the drama series aired today on the ABC Television Network for the final time. Also trending was the word "Erica" in some cities across the country.
For a soap opera that was deemed irrelevant by its network after research data found daytime viewers wanted more talk shows, the end of the drama series and its connection to relevant aspects of everyday life such as Twitter only shows that research can be miscalculated and misleading. All it takes is some time and effort and something old can become new again. A good example of this is Ford, which discontinued its flagship Taurus brand a few short years ago due to lack of sales only to re-design the product and find sales as good as ever.
What follows are just a few examples of the cities across the United States that were talking about the soap after its final scene aired: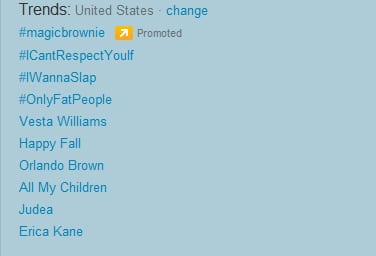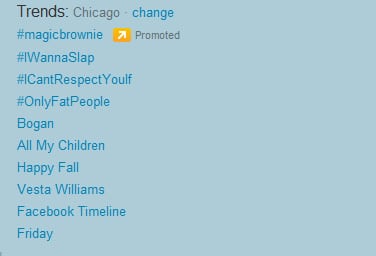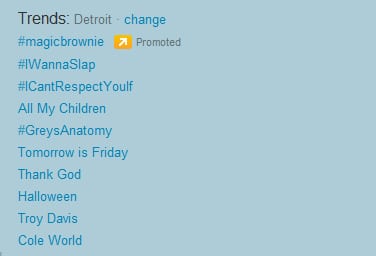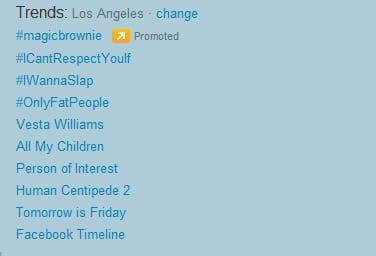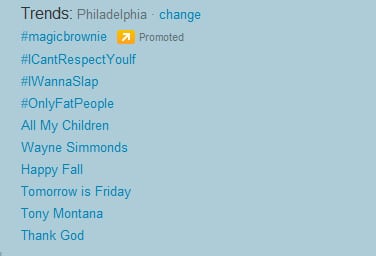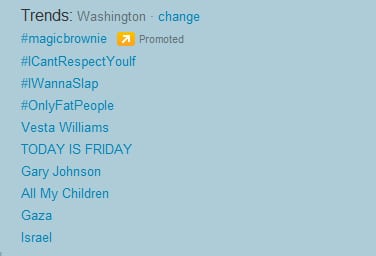 (SoapOperaNetwork.com) — It's with a sad heart that Soap Opera Network brings you "All My Children's" final episode count for its run on network television. We wish "AMC" and "One Life to Live" success in their future incarnation. We will continue to cover each soap. Visit SON's Episode Count Archive where we've kept track of how much your favorite – or least favorite – daytime stars have aired going back to 2005. A special thank you goes out to SON Message Board posters "Adam" and "alexisfan07″ for their contributions to the "AMC" episode counts through the years.
CREDIT IF COPYING AND PASTING…
Key: C is Contract; (C) is formerly on Contract; R is Recurring; (R) is formerly Recurring; G is for Guest Appearances
2011 Episode Count
185 Episodes from Monday, January 3 – Friday, September 23
—– 80% or 4 out of 5 Episodes (148) —–
01..Alicia Minshew [Kendall Hart Slater]…130
-C- 13/13/17/19/16/12/14/19/7
02..Jordi Vilasuso [Dr. Griffin Castillo]…126
-C- 11/13/17/18/15/12/13/18/9
03..Lindsay Hartley [Dr. Cara Castillo]…119
-C- 7/14/18/14/9/13/13/21/10
04..Michael E. Knight [Tad Martin]…117
-C- 8/13/14/14/9/14/13/21/11
—– 60% or 3 out of 5 Episodes (111) —–
05..Cameron Mathison [Ryan Lavery]…106
-C- 14/14/10/10/14/9/10/17/8
06..Vincent Irizarry [David Hayward]…103
-C- 11/9/6/4/7/13/16/22/15
07..Rebecca Budig [Greenlee Smythe]…102
-C- 13/12/11/7/14 /11/8/19/7
08..Jacob Young [J.R. Chandler]…100
-C- 13/11/12/7/7/14/16/11/9
09..Susan Lucci [Erica Kane; 82 & Jane Campbell; 34]…96
-C- 9/10/9/10/16/12/12/9/9 [Jane Debuted on 5/12; Exit on 7/22; Appeared on 8/11]
10..Ricky Paull Goldin [Dr. Jake Martin]…94
-C- 9/13/15/8/10/14/10/8/7
11..Sarah Glendening [Marissa Chandler]…91
-C- 13/12/12/8/8/13/11/8/6
12..Christina Bennett Lind [Bianca Montgomery]…88
-C- 6/8/9/12/16/13/11/9/4
13..Walt Willey [Jackson Montgomery]…85
-C- 7/11/8/10/16/11/10/6/6
14..Chrishell Stause [Amanda Dillon Martin]…81
-C- 7/9/16/6/8/13/10/7/5
**..Darnell Williams [Jesse Hubbard]…81
-C- 6/9/9/13/6/5/8/13/13
—– 40% or 2 out of 5 Episodes (74) —–
16..Eddie Matos [Ricky Torres]…63
-(R)- 3/11/13/19/16/1/0/0 [Last Aired on 6/2]
17..Stephanie Gatschet [Madison North]…62
-C- 9/9/10/4/12/9/4/1/4
18..Daniel Cosgrove [Scott Chandler]…61
-C- 9/9/10/4/11/6/5/2/5
19..Debbie Morgan [Dr. Angela Hubbard]…60
-C- 3/0/7/9/5/7/8/10/11 [Returned full-time from sick leave on 3/14]
20..Jill Larson [Opal Cortlandt]…59
-C- 4/4/8/8/5/9/8/7/6
21..Bobbie Eakes [Krystal Carey]…58
-C- 5/4/10/6/8/6/5/5/9
22..J.R. Martinez [Brot Monroe]…50
-C- 5/5/8/9/3/3/6/5/6
23..Cornelius Smith Jr. [Dr. Frankie Hubbard]…47
-C- 4/2/5/3/9/5/8/3/8
24..Jamie Luner [Liza Colby]…46
-C- 10/6/4/3/7/3/3/5/5
25..Natalie Hall [Colby Chandler]…45
-C- 9/8/6/2/2/5/1/6/6
26..Mariah Buzolin [Maya Mercado]…44
-R- 0/0/2/8/5/7/6/9/7 [Debuted on 3/30]
**..Cady McClain [Dixie Cooney]…44
-C- 0/0/0/0/1/4/12/18/9 [Returned on 5/17]
28..Trent Garrett [Asher Pike]…43
-C- 9/8/7/7/4/4/2/1/1
29..Michael Nouri [Caleb Cortlandt]…42
-C- 6/6/8/10/5/4/2/0/1
—– 20% or 1 out of 5 Episodes (37) —–
30..Tate Berney [AJ Chandler]…37
-R- 5/0/7/2/3/5/6/4/5
31..Jake T. Vaughn [Spike Lavery]…32
-R- 4/6/1/4/6/4/0/3/4
32..Uncredited Child Actors [Lucille Hubbard]…31
-R- 0/0/2/9/3/1/4/5/7
33..Danielle Parker [Emma Lavery]…28
-R- 2/5/6/6/6/1/0/0/2
34..Melissa Claire Egan [Annie Chandler]…27
-(C)- 12/10/2/0/0/0/2/1/0 [Last Regular Airing on 2/15; Official Exit on 3/18; Appeared on 7/28, 7/29, 8/5]
**..Denise Vasi [Randi Hubbard]…27
-C- 3/2/7/2/1/6/1/1/4
36..Thorsten Kaye [Zach Slater]…26
-C- 0/0/0/0/0/0/0/17/9 [Returned on 8/5]
37..Ella Thomas [Diana Holden]…24
-(R)- 0/4/12/6/2/0/0/0/0 [Debuted on 2/18; Exit on 5/20]
38..Mackenzie Aladjem [Miranda Montgomery]…23
-R- 1/0/3/4/5/6/0/0/4
39..Dannika Northcott [Kathy Martin]…20
-R- 2/0/4/1/2/2/3/5/1
40..Emerson Brooks [Ben]…17
-(R)- 0/0/0/0/5/5/7/0/0 [Debuted on 5/4; Exit on 7/22]
41..Michael & Brody McMackin (15) & Dylan & Jordan Duszynski (2) [Trevor Martin]…17
-R- 2/2/1/2/1/2/3/1/3
**..Britton Reeder [Ian Slater]…17
-R- 3/2/1/3/3/0/0/1/4
43..Ellah Miller [Gabrielle Montgomery]…15
-R- 1/0/3/2/2/3/0/0/4
44..Shannon Kane [Natalia Fowler]…14
-G- 5/2/2/1/0/0/0/1/3 [Departed on 2/4; Appeared on 3/28, 3/31, 4/1, 8/26, 9/13, 9/19, 9/23]
45..Real Andrews [Agent Trumbull]…10
-(R)- 0/4/4/0/1/1/0/0/0 [Debuted on 2/18; Exit on 6/17]
**..Trai Byers [Mookie]…10
-(R)- 0/0/0/0/0/1/5/4/0 [Debuted on 6/30; Exit on 8/16]
**..Finn Wittrock [Damon Miller]…10
-(C)- 9/1/0/0/0/0/0/0/0 [Exit on 1/26; Appeared on 2/21]
48..Darby Jo [Jenny Martin]…9
-R- 2/0/4/1/1/0/0/0/1
49..Kate Collins [Janet Green]…8
-G- 0/0/0/0/0/0/3/5/0 [Appeared on 7/25, 7/28, 7/29, 8/1, 8/4, 8/5, 8/8, 8/10]
50..Jennifer Bassey [Marian Chandler]…5
-G- 0/0/0/0/0/0/2/1/2 [Appeared on 7/28, 7/29, 8/5, 9/22, 9/23]
**..Ray MacDonnell [Dr. Joe Martin]…5
-R- 0/0/3/0/0/0/0/0/2
**..John O'Hurley [Kit Sterling]…5
-G- 0/0/0/0/0/0/0/0/5 [Appeared on 9/9, 9/12, 9/20, 9/22, 9/23]
**..Elena Campbell-Martinez [Leticia Castillo]…5
-(R)- 0/0/5/0/0/0/0/0/0 [Debuted on 3/3; Exit on 3/9]
54..Julia Barr [Brooke English]…4
-G- 0/0/0/0/0/0/0/0/4 [Appeared on 9/16, 9/21, 9/22, 9/23]
**..Lee Meriwether [Ruth Martin]…4
-R- 0/0/2/0/0/0/0/0/2
56..David Canary [Adam & Stuart Chandler]…3
-G- 0/0/0/0/0/0/0/0/3 [Appeared on 9/21, 9/22, 9/23]
**..Eva La Rue [Dr. Maria Santos]…3
-G- 0/0/0/0/0/0/2/0/1 [Appeared on 7/19, 7/20, 9/21]
58..Justin Bruening [Jamie Martin]…2
-G- 0/0/0/0/0/0/0/0/2 [Appeared on 9/21, 23]
**..Carol Burnett [Verla Grubbs]…2
-G- 0/0/0/0/0/0/0/0/2 [Appeared on 9/6, 9/7]
**..Josh Duhamel [Leo du Pres]…2
-G- 0/0/0/0/0/0/0/2 [Appeared on 8/4, 8/5]
**..Alexa Havins [Babe Carey]…2
-G- 0/0/0/0/0/0/0/0/2 [Appeared on 9/20-21]
**..Jason Kincaid [Sam Brady]…2
-G- 0/0/0/0/0/0/0/0/2 [Appeared on 9/7, 9/9]
**..Agnes Nixon [Agnes Eckhart]…2
-G- 0/0/0/0/0/0/0/1/1 [Appeared on 8/31, 9/1]
64..Sarah Michelle Gellar [Patient]…1
-G- 0/0/0/0/0/0/0/0/1 [Appeared on 9/21]
**..Cheryl Hulteen [Winifred]…1
-G- 0/0/0/0/0/0/0/0/1 [Appeared on 9/23]
**..Wanda De Jesus [Mayor Iris Blanco]…1
-(R)- 1/0/0/0/0/0/0 [Last Aired on 1/13]
**..Esta TerBlanche [Gillian Andrassy]…1
-G- 0/0/0/0/0/0/0/1 [Appeared on 8/24]
2011 NUMBER ONES:
January: Ryan (14/20)
February: Ryan (14/19) Cara (14/19)
March: Cara (18/23)
April: Kendall (19/21) Ricky (19/21)
May: Kendall (16/21) Ricky (16/21) Erica/Jane (16/21) Jack (16/21) Bianca (16/21)
June: JR (14/22) Jake (14/22) Tad (14/22)
July: JR (16/20) David (16/20)
August: David (22/23)
September: David (15/16)
September 2011 Episode Count
16 Episodes from Thursday, September 1 – Friday, September 23
01..Vincent Irizarry [David Hayward]…15
02..Darnell Williams [Jesse Hubbard]…13
03..Michael E. Knight [Tad Martin]…11
**..Debbie Morgan [Dr. Angela Hubbard]…11
05..Lindsay Hartley [Dr. Cara Castillo]…10
06..Bobbie Eakes [Krystal Carey]…9
**..Thorsten Kaye [Zach Slater]…9
**..Susan Lucci [Erica Kane]…9
**..Cady McClain [Dixie Cooney]…9
**..Jordi Vilasuso [Dr. Griffin Castillo]…9
**..Jacob Young [J.R. Chandler]…9
12..Cameron Mathison [Ryan Lavery]…8
**..Cornelius Smith Jr. [Dr. Frankie Hubbard]…8
14..Rebecca Budig [Greenlee Smythe Lavery]…7
**..Mariah Buzolin [Maya Mercado]…7
**..Ricky Paull Goldin [Dr. Jake Martin]…7
**..Alicia Minshew [Kendall Hart Slater]…7
**..To Be Determined [Lucille Hubbard]…7
19..Sarah Glendening [Marissa Chandler]…6
**..Natalie Hall [Colby Chandler]…6
**..Jill Larson [Opal Cortlandt]…6
**..J.R. Martinez [Brot Monroe]…6
**..Walt Willey [Jackson Montgomery]…6
24..Tate Berney [AJ Chandler]…5
**..Daniel Cosgrove [Scott Chandler]…5
**..Jamie Luner [Liza Colby]…5
**..John O'Hurley [Kit Sterling]…5
**..Chrishell Stause [Amanda Dillon Martin]…5
29..Mackenzie Aladjem [Miranda Montgomery]…4
**..Julia Barr [Brooke English]…4
**..Stephanie Gatschet [Madison North]…4
**..Christina B. Lind [Bianca Montgomery]…4
**..Ellah Miller [Gabrielle Montgomery]…4
**..Britton Reeder [Ian Slater]…4
**..Denise Vasi [Randi Hubbard]…4
**..Jake T. Vaughn [Spike Lavery]…4
37..David Canary [Adam & Stuart Chandler]…3
**..Shannon Kane [Natalia Fowler]…3
**..Michael and Brody McMackin [Trevor Martin]…3
40..Jennifer Bassey [Marian Colby]…2
**..Justin Bruening [Jamie Martin]…2
**..Carol Burnett [Verla Grubbs]…2
**..Alexa Havins [Babe Carey]…2
**..Jason Kincaid [Sam Brady]…2
**..Ray MacDonnell [Dr. Joe Martin]…2
**..Lee Meriwether [Ruth Martin]…2
**..Danielle Parker [Emma Lavery]…2
48..Trent Garrett [Asher Pike]…1
**..Sarah Michelle Gellar [Patient]…1
**..Cheryl Hulteen [Winifred]…1
**..Darby Jo [Jenny Martin]…1
**..Eva La Rue [Dr. Maria Santos]…1
**..Agnes Nixon [Agnes Eckhart]…1
**..Dannika Northcott [Kathy Martin]…1
**..Michael Nouri [Caleb Cortlandt]…1