What follows is the Fall 2012 Key Art for the new CBS primetime series "Elementary," "Made in Jersey," "Partners" and "Vegas."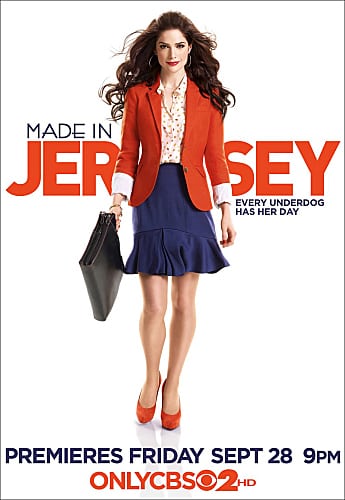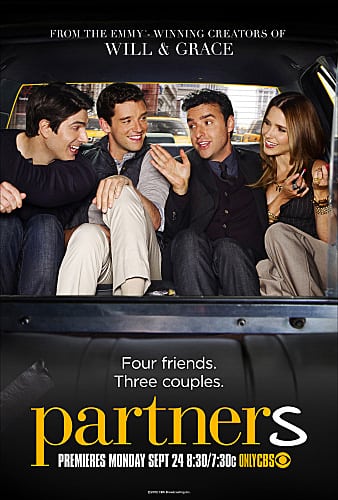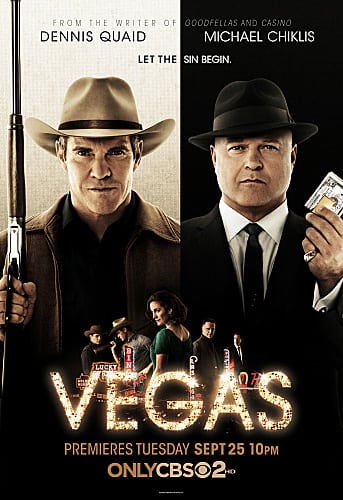 Back in March of 2011, Carlos Pelz, a former hairstylist of CBS' "The Bold and the Beautiful," filed a lawsuit against CBS Television, Bell-Phillip Television Productions and "B&B" senior supervisors Ron Weaver and Jody Lawrence-Miller, claiming defamation after learning of a March 2010 internal memo that cited him as "lazy, ambivalent, produced poor-quality work, was incompetent and was unfit to continue as 'key' hairstylist for the show," according to The Hollywood Reporter. Last week, Pelz lost his case after the overseeing judge dismissed his claims on summary judgment.
Pelz, who won two Daytime Emmy Awards for Outstanding Achievement in Hairstyling for a Drama Series in 2009 and 2010 for his work on the show, claimed "libel, emotional distress, anxiety, embarrassment, shame and humiliation" as grounds for the lawsuit. He added that his consecutive Emmy wins proved he produced quality work. Unfortunately, the judge did not agree and sided with CBS, which stated in its defense that the internal memo was privileged communication under a portion of California Civil Code (§47 c).
"Although Plaintiff presents evidence that multiple other employees thought highly of Plaintiff, this evidence does not undercut the testimony showing that Lawrence-Weaver was reasonable in relying on other sources of evidence showing that Plaintiff's job performance was subpar," the judge said in his ruling.
"This is a victory for California employers, who should not be deterred by the threat of defamation lawsuits from criticizing employees' performance if they have a reasonable basis for doing so," said Jeremiah Reynolds, one of the lawyers representing the defendants, in a statement.
Pelz worked at "The Bold and the Beautiful" for 22-years as a hairstylist (1988-2010), according to his IMDb page.
Earlier this year, CBS won another case brought against "The Bold and the Beautiful" when New York's infamous "The Naked Cowboy" claimed the show infringed on his trademarked brand after featuring the character Oliver Jones (Zack Conroy) in a pair of briefs and a cowboy hat, while playing the guitar, in scenes that aired in 2010.
Where have we been? In June, Texas Battle (Marcus Forrester, "The Bold and the Beautiful") released his 2013 Calendar, which features numerous sexy poses by the actor that will never be seen on the CBS Daytime soap, unfortunately. Fortunately, you can snag your copy today by either purchasing the standard edition for $14.99 (includes calendar and a poster) or the special edition for $19.99 (includes an autographed version of the calendar, poster, special behind the scenes footage, a Q&A, and a "B&B" screen test scene) at TexasBattle.com.
Sunday, August 19 is United Nations World Humanitarian Day, and in anticipation of the world wide initiative, Beyoncé Knowles has released her new music video "I Was Here," which was filmed on Friday, August 10 at the United Nations General Assembly in New York City.
While not specifically soap opera related in nature, I'm known for saying to people that life is a soap opera, so with this initiative being about humanity and the world not being such a cut and dry place, I thought it was fitting to present to you all "I Was Here." In the video, Beyoncé features civilization coming together during times of devastation, hunger, and prosperity, and the mark we make on the lives of those we come across.
Soap Opera Network has learned that Susan Flannery (Stephanie Forrester, "The Bold and the Beautiful") has been added to the "Young and Restless Life of William J. Bell" book signing being held today from 2:00 PM to 4:00 PM at Barnes & Noble located at 4820 Telephone Road  Ventura, CA 93003.
As previously reported, Ronn Moss (Ridge Forrester, "The Bold and the Beautiful"), Doug Davidson (Paul Williams, "The Young and the Restless") and Tracey E. Bregman (Lauren Fenmore, "The Young and the Restless") will join co-authors Lee Phillip Bell and Michael Maloney at the wristband required event (see full details below).
Per a representative for the book store:
Books to purchase and wristbands will be available at our cash-wrap on the first floor. The line for the event and the event will be upstairs on the second floor.
Our cashiers will begin handing out wristbands when we open at 9:00 am. To get a wristband a customer must either purchase a copy of the book, or bring a receipt with their book to show the cashier. Books purchased ahead of time and from other vendors are acceptable with a receipt. Customers may begin lining up by wristband number at 1:00 pm.
Please note that while the event is listed as being from 2:00 pm to 4:00 pm we may not keep the authors & cast all the way until 4:00 pm if they finish signing earlier. This means customers should arrive towards the beginning of the event so they don't miss out.
Questions or Concerns? Call (805) 339-0990 to speak to a customer service representative.
As we have been reporting for the past week, "Days of our Lives" actress Melissa Reeves (Jennifer Horton) has been embroiled in a controversy over a recent tweet she made to her followers about free speech. "Chick-fil-a today!!!! Loved every bite of it;)!! Land of the free and home of the brave. Love that we all appreciate free speech, right?" said Reeves on Tuesday, August 1. Since that day several people, including fans of Reeves, and of her show, have bombarded the actress with responses that either agree with her comment, call for her to apologize and/or clarify her statement, or used unmentionable language against her. Some of her daytime brethren have also spoken out on the issue, but not as harshly. On Thursday, August 16, Reeves finally responded by deleting her Twitter account…but not before making a bold statement.
A week after word leaked that Ronn Moss (Ridge Forrester) opted not to renew his contract, CBS' "The Bold and the Beautiful," now in its 26th season, has worked overtime to not lose another member of its "core four" (the soaps four original cast members).
Katherine Kelly Lang (Brooke Forrester), who revealed on her Twitter page that she was crying when she found out Moss would be leaving the soap, has released a statement (posted by Soap Opera Digest) that she has signed a new two year contract with the daytime drama series.
"I'm very happy to tell you that I have re-signed my contract with 'The Bold and the Beautiful' for two more years," said Lang. "Brad [Bell, Executive Producer/Head Writer] has come up with an exciting new storyline for Brooke that I think the fans are going to love."
Lang, along with Moss, Susan Flannery (Stephanie Forrester) and John McCook (Eric Forrester) are the only four remaining original cast members of "B&B." They've appeared on the soap ever since its launch on March 23, 1987.
With Moss departing, the "core four" now becomes the "core three." The actors last airdate is scheduled for Friday, September 14.
via Press Release

NBC ANNOUNCES 'THE NBC PRIMETIME PREVIEW SHOW' TO SHOWCASE NEW FALL SEASON
HOSTED BY MATTHEW PERRY ('GO ON'), SPECIAL PROVIDES WIDE SPECTRUM OF ACCESS ON BROADCAST AND ONLINE PLATFORMS FROM AUGUST 18 THROUGH SEPTEMBER 30
UNIVERSAL CITY, Calif. – August 17, 2012 – NBC pulls back the curtain with an exclusive backstage pass of the network's new and returning series for Fall 2012, hosted by Matthew Perry and the cast of NBC's new comedy "Go On," in "The NBC Primetime Preview Show."
The fast-paced entertainment special will showcase exclusive scenes of various series to be delivered across a wide horizon of NBCUniversal media platforms. The program is estimated to be distributed more than 500 times over broadcast, and across a variety of the NBCUniversal family of cable channels as well on digital platforms. The preview also will be made available to the affiliates' and owned stations' websites.
"The NBC Primetime Preview Show" will focus on NBC's new shows for fall 2012, including the broadcast preview/premieres of "The New Normal" (September 11), "Guys with Kids" (preview on September 12 and regular time period premiere on September 26), "Revolution" (September 17) and "Chicago Fire" (October 10). Following additional previews of "Go On" and "Animal Practice" on August 21, "Go On" will premiere in its regular day and time on September 11 while "Animal Practice" makes its regular day and time period debut on September 26.
In addition, NBC's other fall series premieres include "The Voice" (September 10); "Parenthood" (September 11); "Grimm" (regular day and time period premiere on September 21); "Up All Night," "The Office" and "Parks and Recreation" on September 20; "Law & Order: Special Victims Unit" on September 26 (two-hour debut); "30 Rock" on October 4; "Whitney" and "Community" on October 19.
The annual Fall program will run from August 18 through September 30 and will be offered to NBC's 235 television stations (check local listings) as well as a variety of the NBCU family of cable channels, NBC2Go, on-demand and broadband. NBC stations will also make it available on their websites while NBC.com will feature it as well. In addition, the program will be screened on selected American Airlines flights (estimated to be shown on approximately 11,000 flights).
"The NBC Primetime Preview Show" is produced by NBC Custom Content Marketing.
Fans are able to engage via MyNBC and their existing Facebook and Twitter profiles. Please follow us on http://www.facebook.com/nbc and at http://twitter.com/nbc.
NBC.com continues to offer full episodes and interactive experiences for all of its popular series at www.nbc.com.
Soap Opera Network wishes "The Young and the Restless" star Bryton James a very happy birthday as the 2007 Daytime Emmy Award winner for Outstanding Younger Actor in a Drama Series turns 26 years-old today.
Joining the cast of "Y&R" in April 2004, James portrays the role of Devon Hamilton on daytime's number one drama series.
The actor got his start on television when he portrayed "Little Richie" on the phenomenally popular primetime comedy series "Family Matters." The program premiered on ABC in 1989 as part of the networks TGIF lineup. The series moved to CBS for its ninth and final season in 1997.
Next week Investigation Discovery invites you to spend your afternoons with Josh and Reva Shayne ("Guiding Light"), or at least with their portrayers Robert Newman and Kim Zimmer, as the network launches "Days of our Knives," a programming initiative aimed at Women 25-54.
"With ID being the #4 network in daytime for Women 25-54*, we realized that soap fans already love 'The Young and the Restless' so let's give it to them ID-style: the young and the reckless!" said Henry Schleiff, president and general manager, Investigation Discovery upon announcing the new daytime lineup earlier this month.
According to the ID network, each week "Knives" will follow a specific theme that introduces soap stars from past and present into the homes of viewers as they introduce the true-to-life programming based on their scandalous soap opera personalities.
The daytime block debuts on Monday, August 20, when Newman and Zimmer host "Tainted Love" week.
"Days of our Knives" will air Weekdays from 1:00 PM – 4:00 PM ET/PT on Investigation Discovery.
*Source: The Nielsen Company, NHI Calendar, 12/26/11-7/22/12, Daytime M-F 9a-4p, L+SD data, W25-54 delivery, Time Period Based Dayparts, Ad-supported cable. Excluding kids programming.