Back in March of 2011, Carlos Pelz, a former hairstylist of CBS' "The Bold and the Beautiful," filed a lawsuit against CBS Television, Bell-Phillip Television Productions and "B&B" senior supervisors Ron Weaver and Jody Lawrence-Miller, claiming defamation after learning of a March 2010 internal memo that cited him as "lazy, ambivalent, produced poor-quality work, was incompetent and was unfit to continue as 'key' hairstylist for the show," according to The Hollywood Reporter. Last week, Pelz lost his case after the overseeing judge dismissed his claims on summary judgment.
Pelz, who won two Daytime Emmy Awards for Outstanding Achievement in Hairstyling for a Drama Series in 2009 and 2010 for his work on the show, claimed "libel, emotional distress, anxiety, embarrassment, shame and humiliation" as grounds for the lawsuit. He added that his consecutive Emmy wins proved he produced quality work. Unfortunately, the judge did not agree and sided with CBS, which stated in its defense that the internal memo was privileged communication under a portion of California Civil Code (§47 c).
"Although Plaintiff presents evidence that multiple other employees thought highly of Plaintiff, this evidence does not undercut the testimony showing that Lawrence-Weaver was reasonable in relying on other sources of evidence showing that Plaintiff's job performance was subpar," the judge said in his ruling.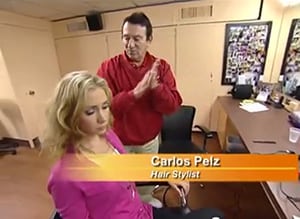 "This is a victory for California employers, who should not be deterred by the threat of defamation lawsuits from criticizing employees' performance if they have a reasonable basis for doing so," said Jeremiah Reynolds, one of the lawyers representing the defendants, in a statement.
Pelz worked at "The Bold and the Beautiful" for 22-years as a hairstylist (1988-2010), according to his IMDb page.
Earlier this year, CBS won another case brought against "The Bold and the Beautiful" when New York's infamous "The Naked Cowboy" claimed the show infringed on his trademarked brand after featuring the character Oliver Jones (Zack Conroy) in a pair of briefs and a cowboy hat, while playing the guitar, in scenes that aired in 2010.