UPDATE, 9:43 PM ET: Should Burton ultimately depart "GH," as rumored… Soap Opera Network is hearing rumblings of the actor heading to "The Young and the Restless" now that Jill Farren Phelps is EP'ing the CBS soap. Phelps had been the executive producer of "GH" from 2001-2011.
PREVIOUS, 8:48 PM ET: Daytime Confidential is reporting that ABC's "General Hospital" and Steve Burton (Jason Morgan) may part ways as the show has been unable to broker a new deal with the actor.
"Steve and ABC have been negotiating for quite some time and it doesn't look like he's going to stay," said a source to DC.
Should Burton depart "GH," it would mark the end of a nearly two-decade long career at the drama series. First joining the cast in 1991, Burton left the series in 2000. He returned in 2002, and has remained at the show ever since. He also appeared on the "GH" spinoff, "General Hospital: Night Shift," during the SOAPnet original series' first season.
A representative for "General Hospital" was unavailable for comment at press time.
"One Life to Live's" Matt Walton (ex-Elijah Clark/Elijah Kent) and "Passions" actress Erin Cardillo (ex-Esme Vanderheusen) have come together for a new comedy at the Pasadena Playhouse.
Beginning next month "Under My Skin," a comedy that finds New York's most eligible bachelor (Walton) and a single working mother (Cardillo) as they experience all the trials and tribulations of each others lives, hits the stage for a one month engagement (September 11 – October 7, 2012). The story tackles such hot topics as sex, love and healthcare.
UPDATE, MONDAY, AUGUST 27, 2012 5:20 PM ET: Rumor no more, Ian Buchan has returned to ABC's "General Hospital."
PREVIOUS, THURSDAY, AUGUST 23, 2012 7:20 PM ET: Rumor has it that Ian Buchanan, who just completed his run on NBC's "Days of our Lives" yesterday as Ian McAllister, is heading back to ABC's "General Hospital" after a 23-year absence. Buchanan was last seen in 1989 as Duke Lavery on the soap, but the character was killed off in 1990 while portrayed by actor Greg Beecroft.
When asked by a fan on twitter if he was returning, Buchanan said, "My tweets are sealed."
A "General Hospital" spokesperson was unavailable for comment at press time.
via Press Release
ABC FAMILY CONTINUES ITS ORIGINAL PROGRAMMING MOMENTUM
WITH NEW PILOT PRODUCTION

Greenlit Pilots Include "The Fosters," to Be Executive-Produced by Jennifer Lopez,
And "Socio," to Be Executive-Produced by Gavin Polone

BURBANK, CA (August 23, 2012) – ABC Family, the millennial-skewing network, has greenlit two new drama pilots, "The Fosters" (working title), from executive producer Jennifer Lopez, and "Socio," from executive producer Gavin Polone. Summer to date, ABC Family's current crop of original series have made ABC Family cable TV's #1 network in Prime in Women 18-34, and the #2 cable TV network in Females 12-34 and Female Teens.

"ABC Family continues to find and develop original programming that adds new dimension and depth to the storytelling we offer," said Kate Juergens, executive vice president, Original Programming and Development, ABC Family. "Both these shows are headed by wonderful executive producers who know the millennial space well and know how to connect with audiences."

From executive producer Jennifer Lopez ("American Idol," "What to Expect When You're Expecting," "The Back-Up Plan") and created by Bradley Bredeweg and Peter Paige, who will also serve as writers and executive producers, "The Fosters" is a one-hour drama about a multi-ethnic family mix of foster and biological kids being raised by two moms. Simon Fields and Greg Gugliotta will also serve as executive producers. The series is produced by Nuyorican Productions, Inc., and Prodco, Inc.

"Socio" is a one-hour drama centered on a charismatic 16-year-old alleged sociopath who recently reconnected with his two female best friends from childhood, and who becomes the prime suspect when a fellow student is murdered. The series will be executive-produced by Gavin Polone ("Gilmore Girls," "Zombieland," "Curb Your Enthusiasm," "My Boys," "Jane by Design). Adam Milch (Greek), who wrote the pilot, will also serve as co-executive producer. The series is produced by Prodco, Inc.

Part of the Disney/ABC Television Group, ABC Family is distributed in over 97 million homes. ABC Family features programming reflecting today's families, entertaining and connecting with adults through relatable programming about today's relationships – told with a mix of diversity, passion, humor and heart. ABC Family's programming is a combination of network-defining original series and original movies, quality acquired series and blockbuster theatricals. Emmy® Award-winning ABCFamily.com provides a variety of interactive entertainment and community features, from rich, fan-centric programming – including blogs, viewing parties, webisodes, full episodes of the network's hit programming, along with sneak peek exclusive previews and behind-the-scenes clips. ABC Family is also the destination for annual Holiday events with "13 Nights of Halloween" and "25 Days of Christmas." ABC Family. A New Kind of Family.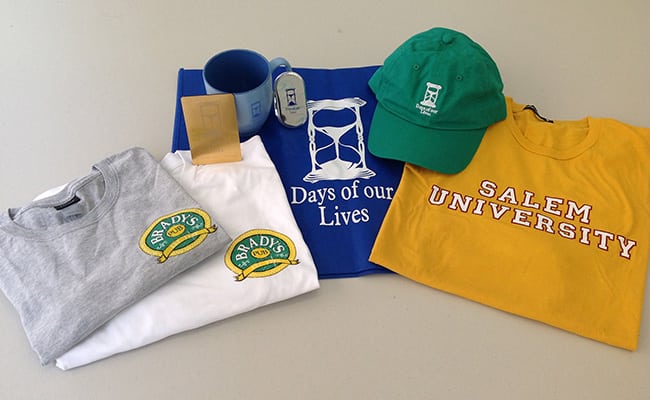 "Days of our Lives" is presenting a fan giveaway and Soap Opera Network is pleased to be asked to take part! Beginning Today, August 23 at 6:00 PM ET and running through 11:59 PM ET on Thursday, August 30, fans of the NBC Daytime drama series can enter to win an assortment of prizes including a "DAYS" tote bag, coffee mug, picture case, mirror compact, t-shirt and a "DAYS' hat.
"I want to stay," said Christel Khalil in an interview with MSN TV. "I heard a rumor someone said I was deciding to leave, but it's not really working that way. There's something I want that they don't want to give to me. It hurts. I thought I would be worth what I thought I was worth to them, but I guess I'm not."
On Wednesday, August 22, it was announced that Khalil would be departing "The Young and the Restless" after portraying the role of Lily Winters Ashby off-and-on for the past decade. Her website confirmed her ouster when it said, "Rumors can be such an ugly thing so here is the answer floating about the internet. Christel Khalil is indeed leaving 'The Young and the Restless.' It is not her decision to leave. An agreement could not be reached during contract negotiations. I have confirmed this information with the source." That source of course was Khalil herself, who added in her MSN interview, "it seems like negotiations are over."
Khalil's contract with "Y&R" is set to expire in September. Should the series and the actress part ways, the soap is prepared to recast the role immediately. On Tuesday, August 21, the soap put out a casting call for the role of "Sally Tate," who is described as a woman in her mid-20s who is "vivacious, energetic, ambitious. She's a mom balancing work and family. She's had her share of tough times, but always bounces back from even the most trying situations. Sexy, romantic, fun-loving, with a delightful sense of humor and an eternal twinkle in her eyes." The role, now known to be that of Lily Winters Ashby, comes with a contract attached.
A CBS spokesperson has previously stated that the show "does not comment on contracts, rumors or storyline information."
"General Hospital" DVR Alerts for the Week of August 27, 2012.
GENERAL HOSPITAL: DVR ALERTS
Monday, August 27: Anna comes face to face with the mystery patient. Jerry makes his demands clear to the people of Port Charles. Joe Jr. promises to protect Tracy.  Can he be trusted?
Tuesday, August 28: Todd makes a confession to Carly about his feelings. Will Patrick's suspicions about Ewen put Elizabeth in danger? Jax tries to reason with his brother. Starr and Michael try to stop Trey and Kristina from making a bad decision.
Wednesday, August 29: Will Elizabeth's actions put her in further jeopardy? Carly comforts Jax. Sonny pulls a gun on Joe Jr. Michael asks Kristina an important question.
Thursday, August 30: Port Charles awakens to a dire situation. Todd pays Jerry a visit. Luke and Anna make love.
Friday, August 31: Will John be able to stop Jerry before it's too late? Will Jason be able to save Elizabeth? Luke opens up to Anna.
The Huffington Post is reporting that Lisa Rinna is departing NBC's "Days of our Lives" nearly nine months after returning to the set of the daytime drama series in the role of Billie Reed, which she originated back in 1992.
"She's leaving so she can do all of the 500 other things she loves to do. [She's working on] her Belle Gray line for QVC, she's writing another diet and fitness book, plus she's developing a vitamin supplement line and lingerie line," an anonymous friend of Rinna's told the Post. "She's also in talks to do a panel-type talk show."
Rinna began filming again at "DAYS" in December, but didn't hit the air until early March as the series currently films three months ahead of airdate. In announcing Rinna's return last October, the Post said, "Lisa is doing a James Franco," referencing Franco's guest role on "General Hospital." "There is something full circle about bringing her back to the role that made her famous and now harnessing her celebrity to secure the future of the show." Unfortunately for Rinna, her return left her with not much to do as her character was given very little material to work with, especially as evidenced by the recent DAYSaster that took place before the Olympic break.
A "Days of our Lives" representative was unavilable for comment at press time.
via Press Release
'DAYS OF OUR LIVES' EQUALS EIGHT-MONTH HIGHS AMONG WOMEN 18-49 AND 18-34
MATCHING ITS TOP RATINGS SINCE NOVEMBER, 'DAYS' TIES FOR #4 FOR THE WEEK IN WOMEN 18-49 AND TIES FOR #2 IN WOMEN 18-34
UNIVERSAL CITY, Calif. – August 23, 2012 – "Days of our Lives" has returned from its two-week Olympic break to match the show's highest women 18-49 and women 18-34 ratings in more than eight months.
For the week of August 13-17, "Days of our Lives" averaged a 0.9 rating, 6 share among women 18-49 and a 0.6 rating among women 18-34, to tie for #4 among network daytime series in the women 18-49 demographic and tie for #2 in the week's women 18-34 race. The only network daytime series to top "Days'" 0.6 rating in women 18-34 last week was NBC's "Today Show II," which averaged a 0.7 from 9-10 p.m. ET
For the August 13-17 week, "Days" equaled the show's highest women 18-49 and women 18-34 ratings since the week of November 21-25, 2011 (1.1 in women 18-49, 0.8 in women 18-34).
Season to date, "Days of our Lives" is tied for #6 in the women 18-49 category and tied for #1 in the women 18-34 demo.
Ratings reflect "live plus same day" data from Nielsen Media Research unless otherwise noted. Season-to-date figures are averages of "live plus seven day" data except for the two most recent weeks, which are "live plus same day."
Soap Opera Digest is reporting that Marshall Hilliard will appear for eight episodes as a new officer at the Port Charles Police Department. "I call him Officer Marshall," the actor joked to Digest.
"I've shot eight episodes so far and I'm working with Michael Easton [John McBain]," Hilliard said. "And let me tell you, they run a great production over there. Frank [Valentini, executive producer] is so artistic."
Last seen in 2011 as Dylan on NBC's "Days of our Lives," Hilliard is probably best known as Hart Jessup #4 on CBS' "Guiding Light" from 1995-1996. He was soon replaced by actor Frank Grillo, who held the role until 1999. Hilliard appeared in a 2010 episode of TNT's "Hawthorne." His first airdate on "GH" is scheduled for Thursday, August 30.