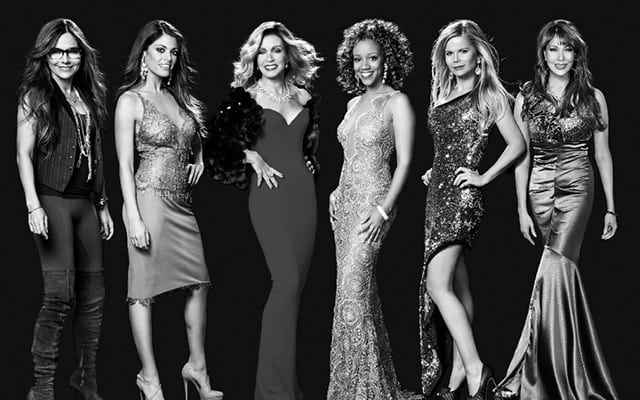 First announced in October of last year, Pop is ready to release their "Queens of Drama" as soap stars Lindsay Hartley ("All My Children," "Days of Our Lives," "Passions"), Crystal Hunt ("Guiding Light," "One Life to Live"), Vanessa Marcil ("Las Vegas," "General Hospital"), Chrystee Pharris ("PSNS," "GH") and Hunter Tylo ("The Bold and The Beautiful") are joined with special appearances by Donna Mills ("Knots Landing," "Melrose Place" and "GH") in their new reality series debuting Sunday, April 26 at 10:00 PM, ET/7:00 PM, PT, immediately following the network's exclusive live broadcast of "The 42nd Annual Daytime Emmy Awards."
[quote_box_center]Pop to Broadcast Daytime Emmys from Historic Warner Bros. Studios Lot[/quote_box_center]
6 Soap Opera Stars Join Forces to Reboot the Primetime Soap

In your first look of the series, which follows the six divas as they reign supreme and take control of their careers to produce and star in a new serialized drama, fans of the actresses can expect to see plenty of drinking, glass throwing, shade and much more. All of which has become a staple in reality programming.
"'Queens of Drama' features a powerful, all-star cast of soap's leading ladies, while tapping into the sensibility of female empowerment, taking charge and having it all," said Paul Adler, Senior Vice President, Programming, Pop, in a statement announcing program's launch. "We're excited to give fans a new perspective of these women with a reality series that debuts immediately following Pop's exclusive live broadcast of the Daytime Emmys."
A production of ThinkFactory Media, with Adam Reed, Adam Freeman, Aaron Fishman, Tim Laurie, and Leslie Greif, serving as Executive Producers, "Queens of Drama" moves to its regularly scheduled time period of Wednesdays at 8:00 PM, ET/PT, beginning Wednesday, April 29.
The half-hour series, which received a 10-episode order from Pop, will also feature a guest appearance by Dame Joan Collins ("Dynasty") in one of the episodes.