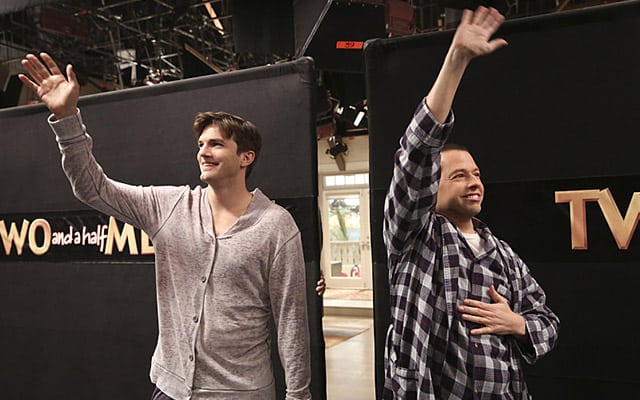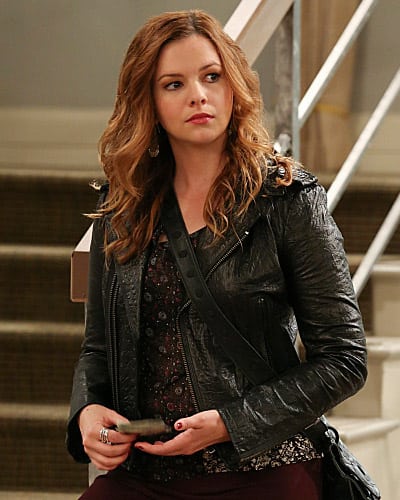 On Thursday, February 19, "Two and a Half Men," one of television's longest running and most successful comedies, will conclude its 12th and final season with a special one-hour series finale, CBS recently announced. In addition to "Men," CBS also announced that "The Odd Couple" remake, starring Matthew Perry as endearing slob Oscar Madison and Thomas Lennon as uptight neat freak Felix Unger, will precede the "Men" finale when the series premieres following a brand new episode of "The Big Bang Theory" on the same night. Repeats of "The Big Bang Theory" will replace "Men" beginning Thursday, February 26. It will lead into "Mom," which moves to 9:30 PM, ET/PT.
Starring Ashton Kutcher and Jon Cryer, "Men" received a creative bump in its 11th season with the addition of former "General Hospital" star Amber Tamblyn (ex-Emily Quartermaine) as Jenny Harper, the long-lost illegitimate daughter of Charlie (Charlie Sheen), who showed up at Walden's (Kutcher) beach house to connect with Alan (Cryer), following the passing of her dad some years back.
"Two and a Half Men" will air its series finale on Thursday, February 19 from 9:00-10:00 PM, ET/PT on CBS.
Below is a schedule breakdown of what CBS' Thursday lineup will look like beginning in late February:
CBS Thursday, Feb. 19
8:00-8:30 PM THE BIG BANG THEORY
8:30-9:00 PM THE ODD COUPLE (P)
9:00-10:00 PM TWO AND A HALF MEN (One-Hour Series Finale)
10:00-11:00 PM ELEMENTARY
CBS Thursday, Feb. 26
8:00-8:30 PM THE BIG BANG THEORY
8:30-9:00 PM THE ODD COUPLE
9:00-9:30 PM THE BIG BANG THEORY (R)
9:30-10:00 PM MOM (New Time Period)
10:00-11:00 PM ELEMENTARY