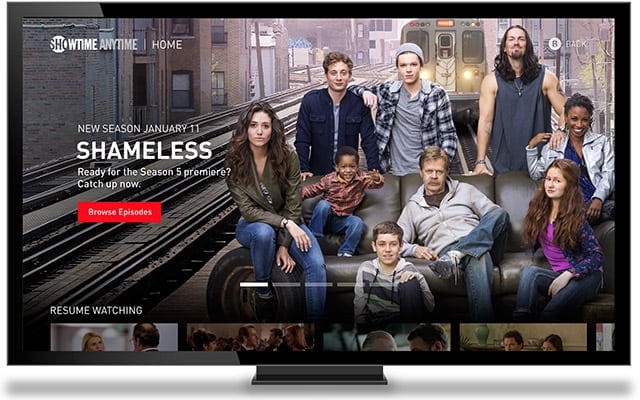 If you're a fan of dramas "Homeland," "The Affair," "Shameless," "Ray Donovan," "Penny Dreadful" or uber popular "Dexter," and you also happen to have an Xbox One in your household, you're in luck: Showtime Networks announced that Showtime Anytime is now available on the next generation console from Microsoft.
"Access to Showtime Anytime on Xbox One is available for free to all Xbox Live® members in the U.S. who subscribe to Showtime through participating television providers, giving them unlimited on demand access to hundreds of hours of programming, as well as the live broadcast of the network's East and West Coast feeds," the company said in announcing the release last week. "With its Xbox One app, Showtime is introducing a new user interface for Showtime Anytime on the television, making it effortless for subscribers to marathon view series or resume programs where they left off. Additionally, Xbox One users can select their favorite Showtime series, movies or boxing matches and 'pin' them to their Xbox One Home screen. This announcement comes after the launch of Showtime Anytime on Xbox 360® earlier this year," the release added.
Currently available nationwide to subscribers of AT&T U-verse, Bright House Networks, Cablevision's Optimum TV, Charter, Comcast Xfinity, Cox Communications, DIRECTV, Time Warner Cable and Verizon FiOS, among others, the Showtime Anytime app on Xbox One supports voice and gesture controls using Kinect® for Xbox One, enabling users to browse and watch their favorite Showtime programming without the use of a controller or remote. All Xbox Live members will also have the ability to preview the Showtime Anytime service and watch select episodes of Showtime series for free on the console.