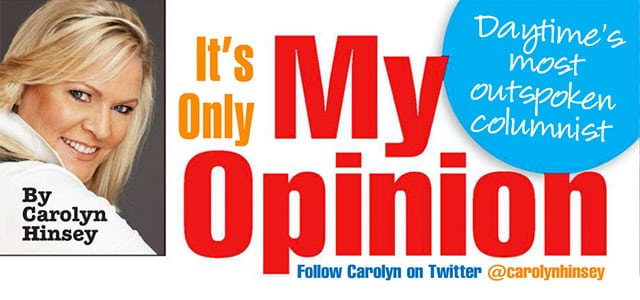 "In the immortal words of Cher, you better sit down, kids," wrote soap columnist Carolyn Hinsey, who has penned her final "It's Only My Opinion" for Soap Opera Digest magazine, which appears in the January 5, 2015 issue. "I've taken another job, which means I have to give up this column and I am really sorry about that."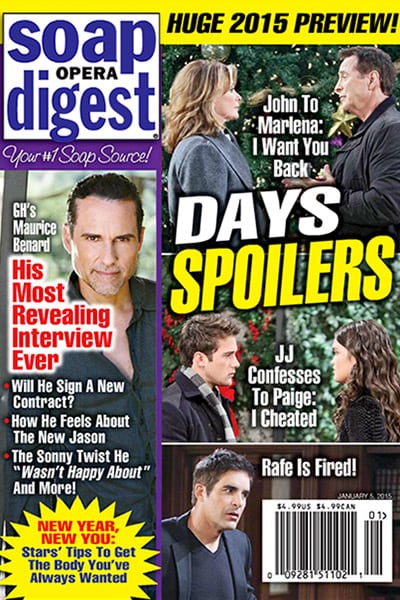 While highlighting some of her career accomplishments and noteworthy experiences throughout her more than 22 year career at Digest, writing about all the soaps, particularly ABC's "All My Children," "General Hospital," "Loving" and "One Life to Live," Hinsey recalls one date that'll forever be with her.
"…I will never forget March 17, 2011, when I went to the 'One Life to Live' set to celebrate Erika Slezak's 40th anniversary as Viki, and an ABC exec whispered to me confidentially that 'AMC' and 'OLTL' were both about to be canceled. That seemed impossible – 'OLTL' was the best it had been in years! A month later the horrible news was confirmed and the industry was changed forever. When I started my job at Digest there were six soaps being produced in New York City. Now there are none."
In an interview with Daytime Confidential, Hinsey reveals that she's taken a full-time job as a general editor at In Touch Magazine, which would conflict with her freelancing gig at Digest, considering In Touch is published by Bauer Publishing Group, publishers of ABC and CBS Soaps In Depth, and Digest is published by American Media.
"I had been freelancing at Digest the last few years which gave me the time to write my book and work on 'Tainted Dreams' and do some traveling. But it was time for a full-time job again. I had hoped I could keep my Digest column while working full-time at In Touch, but the owners of Digest said it was a conflict."
Despite her career change, don't expect her departure from Digest to spell the end of Hinsey's soap opera connection.
"What will change is that I will now watch soaps just for fun. Oh, sure, I'll still Facebook and tweet and blog about them, but I won't be writing 1,000 words a week for Digest with a theme and a message. I'll miss that. But I will never miss watching my soaps, because as long as they're airing, I'll be watching. And I know that is not only my opinion," said Hinsey to close out her final column for Soap Opera Digest.
Good luck and congrats, Carolyn!