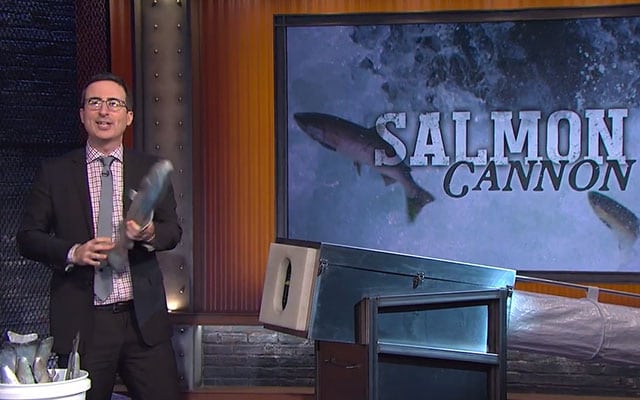 "Last Week Tonight with John Oliver" has been entertaining millions of late night talk show fans since debuting earlier this year as an escape from late night talk shows. The premise of the HBO series is that host John Oliver takes a closer look at the happenings of the past week in terms of news, politics and social media, and culls it altogether into one half hour of entertainment that seeks to empower and inform its viewers. In a segment highlighting a "CBS This Morning" report on a device known as the Salmon Cannon, Oliver, who was so in awe of the Salmon Cannon concept, gives viewers insight into the purpose (it helps push the Salmon that typically get caught in hydroelectric dams over said dams) and decided to make his own, which resulted in the flying fish hitting several of television's biggest stars including "The Young and the Restless'" Sharon Case (Sharon Newman) during a made up "Y&R" scene featuring co-star Joshua Morrow (Nicholas Newman) as the two fight over Sharon's hidden secrets.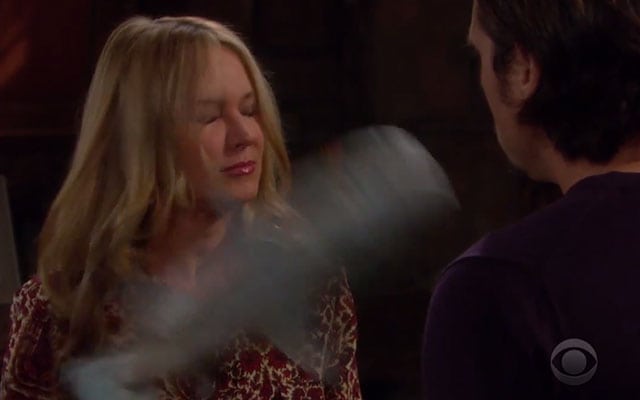 Additional people hit with the fish at the end of the tube include: Jon Stewart (host, "The Daily Show with Jon Stewart"), Jimmy Fallon (host, "The Tonight Show Starring Jimmy Fallon"), NBA Basketball player Dwight Howard (Houston Rockets), sportscaster Michelle Beadle (ESPN2's "SportsNation"), Seth Meyers ("Late Night with Seth Meyers"), Anderson Cooper ("Anderson Cooper 360"), actor Tom Hanks, Homer Simpson ("The Simpsons"), Joel McHale ("The Soup"), comedian Wanda Sykes, David Letterman (host, "The Late Show with David Letterman"), Mario Batali (co-host, "The Chew"), Wayne Brady (host, "Let's Make a Deal"), Meredith Vieira (host, "The Meredith Vieira Show"), R2-D2 (robot, "Star Wars"), writer and director J.J. Abrams, and many more.
The Salmon Cannon was created by Whooshh Innovations, which Oliver noted composed a music video set to classical music to provide an example of how their product works.