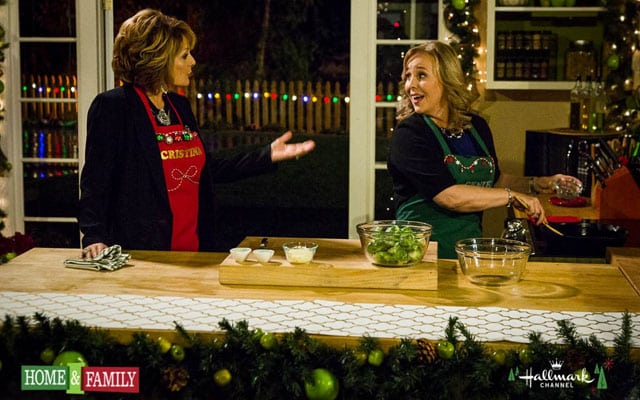 On Monday, November 24, daytime icon and soap legend Genie Francis ("General Hospital," "Days of our Lives," "All My Children") will appear alongside "Home & Family's" Mark Steines and Cristina Ferrare for a primetime holiday-themed edition of the popular Hallmark Channel talk show. In the special, Francis stops by with her own side dish of Brussel's sprouts with pancetta.
The special finds Steines and Ferrare sharing an intimate evening with special guests, music, dance performances, holiday DIYs and of course the spirit of the holidays.  In addition to Francis, look for Lacey Chabert, Candace Cameron-Bure and Marilu Henner to spend time with the "Family" for all the joys the holidays bring. Shirley Bovshow, Kym Douglas, Paige Hemmis, Matt Iseman, JJ Levenstein, Debbie Matenopoulos, Tanya Memme, Laura Nativo, Jeanette Pavini, Matt Rogers, Sophie Uliano and Kenneth Wingard will also appear.
Highlights include:
Cristina Ferrare brings special guests into the kitchen to prepare a special holiday feast.
Matt Rogers is joined by other "American Idol" stars; Blake Lewis, Elliott Yamin, Nadia Turner, Brandon Rogers, Mikalah Gordon and Vonzell Solomon for holiday carols.
The elite acrobatic group Acro Army (finalists on "America's Got Talent") treats us with their inspirational and visual acrobatic performance. 
Acclaimed Australian vocalists Aria will perform "O Holy Night" and "Hallelujah."
The holiday special, airing Monday, November 24 from 8:00 PM, ET/PT – 10:00 PM ET/PT, will also include all the cooking, crafts and DIY tips you need to prepare your home and your family for the holiday season.