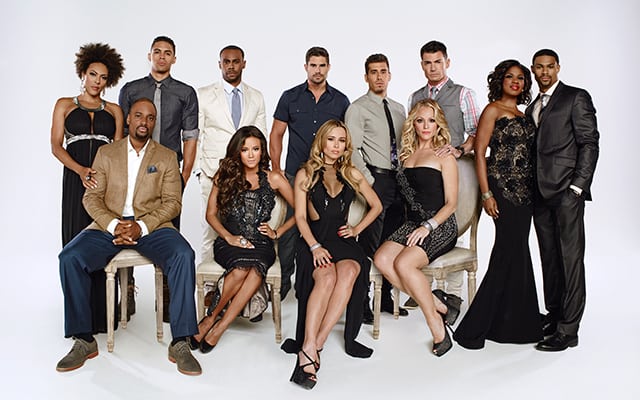 Soap Opera Network teased that OWN's new Tyler Perry series, "If Loving You Is Wrong," is hot, but the series is way more than that: It's literally on fire!
According to an official press release, the show's debut episode last night brought in 1.93 million viewers — making it the most watched series premiere in the network's history! The opening episode delivered a 1.47 rating in the key W25-54 demo up triple digits (+206%) vs. one year ago, and built every quarter hour among W25-54 climbing +13% over the course of the hour.
Meanwhile, the second episode at 10PM delivered 1.92 million viewers and a 1.48 rating in W25-54, marking the second-highest W25-54 rating in the time period in OWN history.  The second episode also delivered triple digit growth in the key W25-54 demo, up +185% vs. one year ago.
The steamy series "takes viewers into the lives of a group of husbands, wives and friends that live and love in the same middle class neighborhood.  On the surface they are true-to-life, relatable people – raising children, working jobs, finding and maintaining romance – but just below the veneer of happiness, their lives are entangled by heartbreak, deceit and lies that threaten to destroy everything. Throughout the season, 'If Loving You Is Wrong' follows Alex (Amanda Clayton, "John Carter"), Kelly (Edwina Findley, "Treme"), Marcie (Heather Hemmens, "Hellcats"), Esperanza (Zulay Henao, "Single Mom's Club") and Natalie (April Parker-Jones, "Jericho") on their quest to find love in the midst of managing very complex lives. For these women, love is an ever-present necessity in spite of the high price that sometimes must be paid."
"If Loving You Is Wrong" also stars former "Days of our Lives'"star  Joel Rush (ex-assistant manager), former "One Life to Live" star Charles Malik Whitfield (ex-Ben Price), and former "All My Children" star Aiden Turner (ex-Aidan Devane).