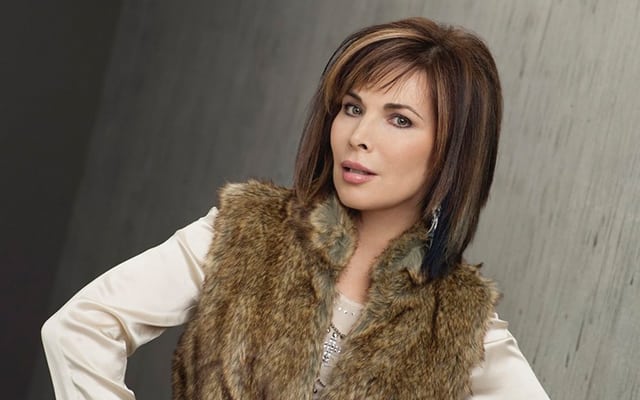 There's never a dull moment on "Days of our Lives," especially where Kate Roberts is concerned. And rumor is, this fall will prove to be even more of an emotional journey for the Mad World Cosmetics CEO! Soap Opera Network caught up with the character's portrayer, Lauren Koslow, to get the scoop on what's to come as the days in Salem — and the town's residents — get colder!
Kate is no stranger to having adversaries, having gone head-to-head with the likes of Stefano (Joe Mascolo), Sami (Alison Sweeney) and EJ (James Scott). But her latest foe — Chrishell Stause's Jordan — has proven to be much stronger than she ever thought possible. "She doesn't feel intimidated by Jordan, no, she doesn't. But I think she probably thought by this point that she would have dealt with her. Jordan is nothing if not persistent. She's hanging in there, and that's a different kind of thing," Koslow explains. "it's a situation that she thought she would have taken care of more easily and sooner, and she hasn't, and that's why she has to bring out the big guns!"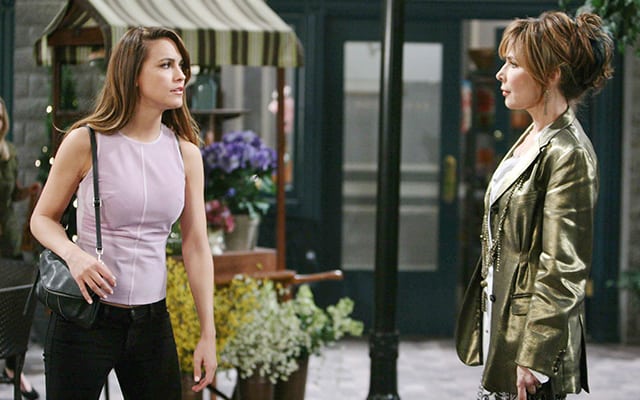 Some have suggested that perhaps the Jordan/Kate relationship is meant to try and fill the void of the Sami/Kate relationship once Sweeney exits the canvas. It's quite possible that's what the writers have in mind, and the actress admits it's an interesting concept. "That's a hard one for me, because no one can really replace Sami: Sami is who she is and Ali is who she is," she says. "It's been fabulous, and [Stause] and I have had a great time together. But… this is definitely a new relationship that you have, these two characters who are diametrically opposed to each other, and I think just the fact that Kate thought she could just deal with her and she'd be gone and she wasn't, she's like, 'What?!' So definitely there have been catfights in the past. We know that Sami and Kate have had a million of them, so… there's a seed of something there for sure. We'll see how the audience responds to it."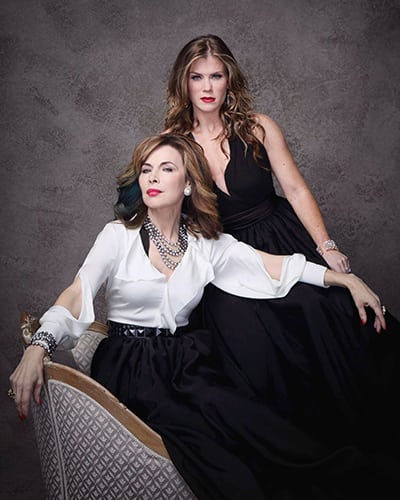 While Koslow says that nobody can ever fill the shoes of Sweeney (nor those of Scott, who's also departed the series), the reality is that the show will go on and new characters will rise into their coveted front burner positions. "I said that nobody can be replaced, but actually, everyone can be replaced!" she notes. "Because it's just the nature [of the business], and it's such a wonderful thing about the kind of stories that we tell and about these continuing dramas. Certainly, you can look around at the pictures on set of the people who were here before us: Stories come and go, characters come and go, and even the people who have been on the show for over 20 years, I mean, you have hot points in your story and other times when you don't work as much, so there's always someone on the ascend, and new couples are created. Who knows where they'll come from, and that's what interesting.
"I don't think it's fun when it's predictable, like, 'Oh, we know that couple is going to take their place,'" she continues. "That's not as much fun. It's much better, I think, when it surprises you. Almost like how Kate was surprised by Jordan, like, 'What? I thought I would get rid of her, and I couldn't.' So you never know what's going to happen. Now [Jordan's] family is involved, and I don't know what's going to happen. What's that family going to turn into? And I think we'll find out how the audience responds, and certainly the same thing with romantic couples. You never know. Galen [Gering, Rafe] and I had never really worked together, and then all of a sudden, you saw them in bed together. And who would have guessed?! It was unpredictable, and I think that's a good thing."
Speaking of Gering, viewers are keen to know what exactly is going on between his Rafe and Koslow's Kate — a couple that was never really given a chance to flourish. "When Kate broke it off with him, she did it for really good reasons, and she really believed in doing it and thought it was the right decision," Koslow recalls. "And then, when things heated up between Jordan and Rafe, she definitely did have concerns about it and she still is concerned about it… because the more she found out about Jordan, the more suspicious it made her. It was kind of worse than she really thought. And that kind of kept her involved in the Rafe world. And the more she was involved in it, the more she kind of realized she was maybe premature in ending it.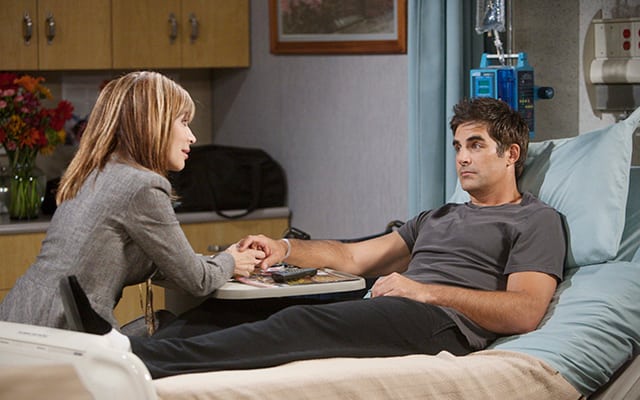 "But Kate is not always in touch with her true feelings when it comes to romantic relationships," the actress continues. "She's just not. And so many times, her relationships involve a lion's den, and they're about power and advancement. And this one really, they came together in a sexy way and also in a sweet way, that they were both going through a lot and they were there for each other and it was all good, but I think her feelings were deeper than she really knew, and I think she's starting to realize that. But also on the other hand, she's very pragmatic about these things now, because she's had so many relationships that have just blown up, that she doesn't really believe anymore in true love or a soul mate or all of that. Not to say that couldn't happen for her, but she stopped living for that, because it's just been so bad. So I think that's why it was very comfortable with Rafe. They both enjoyed being together, they enjoyed their romantic time together, but they really were friends to each other, too, and were very accepting. So that's starting to be a more precious thing to her."
But does she see the two having a chance at a real romantic future, if not soon, then ever? "I have no idea!" she says with a laugh. "I do know that I, just as an actress, didn't necessarily think we'd be doing this story over a year from [their initial romantic connection], and it's really amazing how they have realistically written it out. So she's really still in involved with him, even though their relationship has changed. And there is some really interesting stuff coming up that involves this whole idea of where their relationship has gone, and it's been up and down, and I think for both of them, they realized that maybe there are things there that they didn't realize between them. And that's going to be addressed, for sure."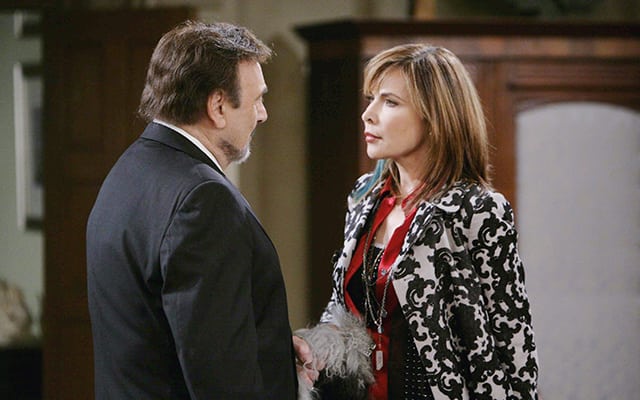 Meanwhile, she has the pesky Stefano situation to deal with — but Koslow is pretty certain Kate is up for the challenge. "Sami and Kate did manage to corral him outside of Salem, but we all know Stefano: He's going to do everything he can to get out of that corral!" she says with a sly smile. "And definitely, that relationship has changed a lot too, the dynamic, really, really a lot, and Kate likes where it is now. And she's going to work very hard to keep it where it is, for sure."
Though she can't get specific regarding storyline details, Koslow did tease that Kate's blue streak is coming back — and that should tell you something, considering the history of the unusual hair choice! "It was actually originally my choice [to put the blue streak in] during the period when Kate was going after Chloe [Nadia Bjorlin] big time and poisoning apples," the actress shares. "That was a cray cray time for Kate, like major cray cray, and I was having difficulty as an actor with some of it, figuring it all out for myself. And I just got this little bit of a wild streak going, and I decided to get a blue streak… Kate was going through so much at the time, and it was just wild and crazy, and it was kind of a symbol, with blue, of power and strength and being able to get through it all, so that was a core thing through it all. But also to remind people that she's a wild child. She's out there."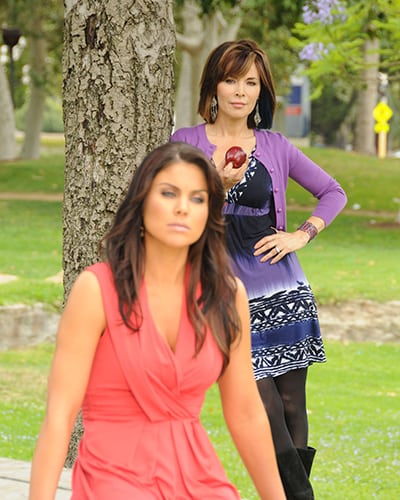 Funny enough, Mascolo wasn't a fan of Koslow's blue hair and tried convincing former executive producer Gary Tomlin to have her remove it! "I was in a scene with Joe Mascolo, and I had my hair up, and we had really forgotten to hide the streak and he saw it, and he was like, 'What's that?'" she recalls with a laugh. "And Joe really didn't like it. He said, 'Tell her! Tell her she must get rid of that!' And Gary Tomlin was so fantastic, and he's so supportive of actors and their choices, and really, if you have it thought out, he was like, 'Oh, it's fine, we just need to add a line for it.' And I think the line was something like, Stefano said, 'I've married a wild woman,' which was kind of perfect. And I kept it in, and that was quite a few years ago. But since then, the writers have written in lines about it, people will routinely mention the blue streak. And then I took it out for awhile when she was having a happier time. I decided to get rid of it for awhile, I think when she was with Rafe. But then recently, I put it in again, and I can't tell you why!"
What she can say, however, is that the next few months of "DAYS" are going to be quite a wild ride for viewers. "We have characters coming that nobody knows about right now, and we're all working together, and it's really interesting what's happening: The dynamic has really changed a lot," she teases. "Ali announced she was leaving, and James left, but it doesn't mean that that is over. Nobody really knows… There are a lot of turning points coming up, and it's kind of amazing. As we were getting our scripts, we were like, 'Wow! That's what's happening next?' It's really good stuff."