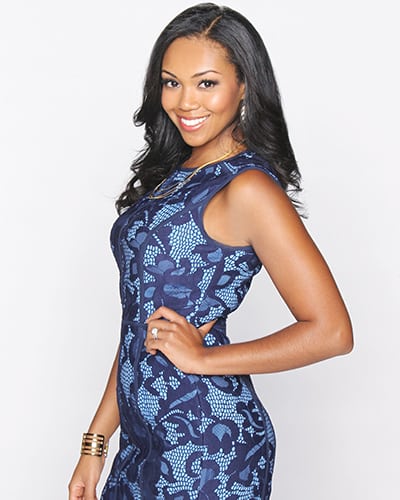 Fall has officially hit "The Young and the Restless'" Genoa City, but the big fall — or rather fallout — you've been waiting for regarding the Neil, Hilary and Devon triangle has yet to descend. But Mishael Morgan (Hilary) says that's all about to change! Soap Opera Network caught up with the actress, who reveals that her alter ego's rendezvous with father/son pair Neil (Kristoff St. John) and Devon (Bryton James) is on the verge of exploding — and it's going to leave one ugly Winters family mess!
When Morgan first joined "Y&R" as Hilary back in June of 2013, she had no idea that just over a year later, she'd be hit with the challenge of onscreen romancing not one but two of her series co-stars. And she certainly had no idea that the two characters her alter ego would be simultaneously hot-n-heavy with would be father and son! "She's so bad!" the actress enthuses of her character with a laugh. "But I'm really happy because it seems like everybody is really enjoying it."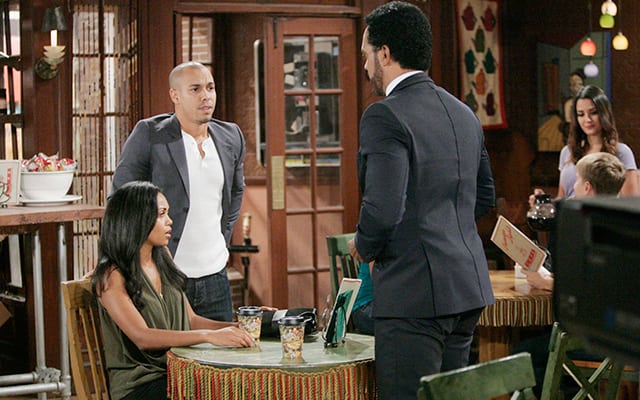 Which is no surprise because what's not to love? You've got a woman who marries a good man, later finds herself falling in love with his equally wonderful son, only to have her husband suffer a life-altering injury that forces her to feel as if she must stay in the marriage, despite being tempted (and later persuaded) to fall into bed with his son. It all makes for a classic, juicy soap story, and Morgan admits that even she is having a hard time choosing which man is the best match for her character! "Neil really gives her the stability and she can see herself having an amazing future with him and having a family and doing all the things that everybody wants to do when you get married," she explains. "But then I feel like Devon is kind of the guy that she maybe envisions always being in love with — but like, having sex on the kitchen floor love! I feel it's a different kind of passion, a different kind of love. Neil is a lot more stable and grounded in his life, and that allows Hilary to kind of bring some of that into her life, and she feels safe with him, but there's that excitement that I feel like Devon brings… It's the adventure that Hilary wants."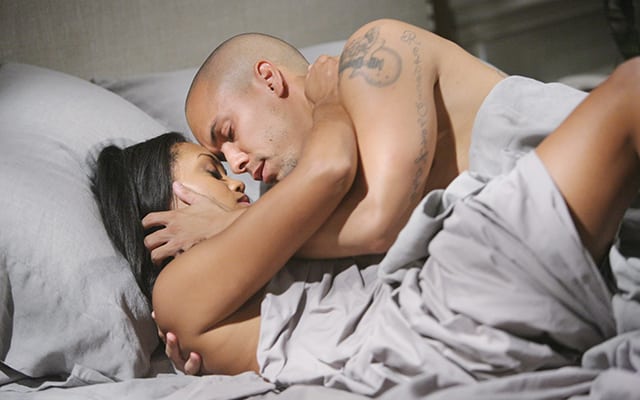 And, as she points out, it seems like the better fit all around. "Just given the way that the entire storyline was written, I feel like it's just a natural thing that Hilary and Devon get together," she adds. "They have invested a lot of time building our relationship, from when Devon first forgave Hilary and started to become her friend and started inviting her to the New Years Eve party, and [the two of them] just having their interactions along the way, which has really solidified the relationship in a lot of people's minds and the characters,' as well. So I definitely feel like that's kind of the more natural path to go, Hilary and Devon."
READ ALSO: 'Y&R's' Bryton James On the Scandalous Father/Son Love Triangle Set to Blow Neil and Devon Apart!
That being said, it doesn't mean that Hilary isn't feeling extremely guilty for betraying Neil the way she has. "She's feeling a lot of guilt, because he has been so amazing to her," Morgan says. "But at the same time, Devon has always been there and been in the back of her mind, even before Neil. I feel if anything, she just feels guilty for jumping in so quickly with Neil and now there just is a lot of regret, and she can't move forward wholeheartedly with the person that she wants to be with."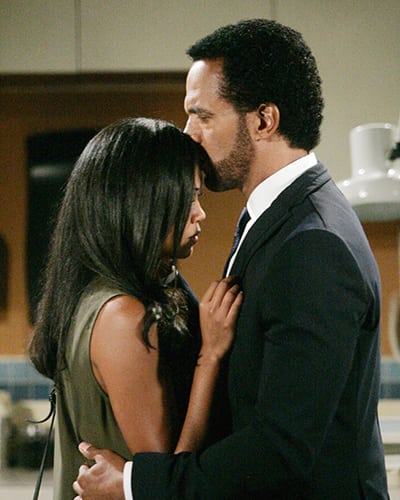 But why not just come clean? Morgan says it ain't so simple! "I think there's a lot of levels to it," she explains. "In the beginning, [not telling him] was purely out of guilt, because he does so much for her. He basically changed her life and saved her life in so many ways, and she couldn't see herself hurting such an amazing man. She never anticipated that she'd find somebody like this, and now, after Neil has been hurt, that's adding an extra layer, because she really had to help her mom through her battles with alcoholism when she was younger. When you go back through the history of when Hilary was talking to Neil about what happened to her mom, Hilary was away at university when her mom got into her accident and passed away, and Hilary definitely still harbors some of that guilt for not being there for her mom when her mom was sick. And now, with Neil being sick as well, I feel like it's really difficult for Hilary to turn away from him, because it reminds her of not being there for her mom when she needed her to be there. That's the level I've added to the whole dynamic."
READ ALSO: 'Y&R's' Kristoff St. John on Neil Losing His Sight, Shemar Moore Returning, and the Decimation of the Winters Family!
And let's not forget Neil's battle with alcohol, which is another slight problem that's making Hilary and Devon feel as if they need to keep their mattress mambos hush-hush! "Hilary is terrified that because Neil is an alcoholic, if she does hurt him like that, it might turn into him going back to the bottle, and that would really, really hurt her heart, because of her whole history with her mom," Morgan notes, adding that the most dramatic path is probably the one that will play out once the truth about Hilary/Devon is revealed. "[Neil is] just such an upstanding guy, that I think everybody is anticipating that he's going to be able to get over it quickly and that he'll be that good guy. But that being said, it is a soap opera, and I can just see that little twist of Neil going kind of a little bit crazy, which will be fun. And I'm sure that would be fun for Kristoff to play; he'd have a blast doing that."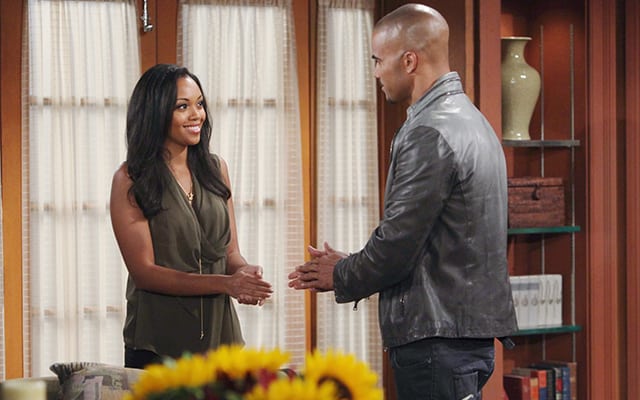 Speaking of Neil hitting rock bottom, Morgan was over the moon when she heard that "Criminal Minds" star Shemar Moore would be returning for a short stint as Malcolm, who gave his brother a hard-hitting reality check. "Working with him was so much fun," she enthuses. "When I saw him on set and I introduced myself, I said, 'I actually have met you three times!' And he was like, 'Really?' And I said, 'Yeah, the first time was when I was 14 and I went to a fan event and I have a picture of you,' and he was so embarrassed, he was like, 'You're aging me!' And then I told him I used to bartend when I was at the University in Toronto, and he'd come to Toronto to two of the nightclubs that I'd worked at and we met while he was there."
"I was just a fan [at the time, so he] was like, 'I don't remember you at all,'" she says with a laugh. "But it's such a small world. He was so much fun and awesome to work with."
As the Hilary/Devon/Neil triangle storyline continues to build, and Hilary and Devon get deeper and deeper into their betrayal, one would think that fan support would start to dwindle. But Morgan says that hasn't been the case — and she's extremely grateful! "I feel like fans have been loving 'Hevon' so much, that I haven't really been getting that much backlash," she reports. "I've been reading the Twitter feeds and stuff, and… me and Bryton talk about it all the time, like, we're really bad, but people still want us together, and it's really weird! In real life, nobody would stand for this. But people are just kind of like, 'No, hurry up, go go! Just forget about Neil and get together!' So they've really been promoting it and making us not feel bad about any of it, and that is cool.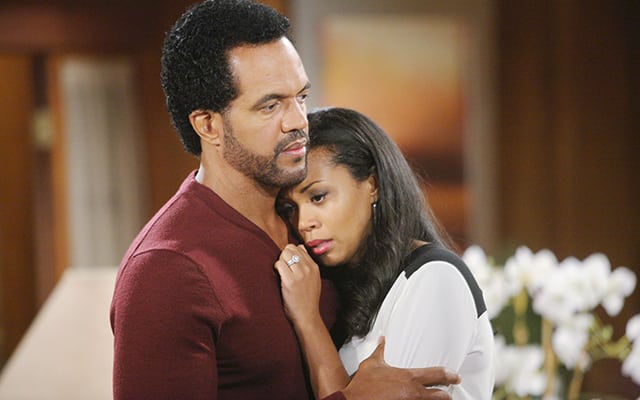 "It's really difficult to find the reasons why Hilary wouldn't just come clean [with Neil]," she continues. "A lot of people, that's what you do in life, you say, 'I'm in love with somebody else,' and you just kind of come clean, especially when it's been a two-week marriage! So it's definitely been fun trying to find those levels, but I think I've found them, and moving forward, I think everybody is going to be happy with the work that we have coming up… and more is coming, so get ready!"