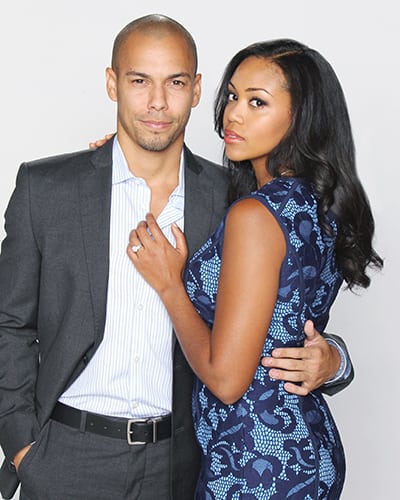 There's a family affair going on over in "The Young and the Restless'" Genoa City, but it isn't of the picnic variety: Neil (Kristoff St. John) has no idea that his wife, Hilary (Mishael Morgan), and his adopted son, Devon (Bryton James), are in love with each other! Will the newly blind man find out about the emotional betrayal? And if so, what does it mean for the father/son pair and the future of the Winters family? Soap Opera Network caught up with Bryton James to get the scoop!
When most people hear about a father/son triangle, the response is usually a mixture of shock and disgust. But if you ask "Y&R's" James, you'll get a chuckle and a casual, "Eh, I'm on a soap opera, so nothing surprises me."  Of course, this may be because his onscreen clan is used to such situations. Neil and his brother, Malcolm (Shemar Moore), have — in one way or another — shared Drucilla (Victoria Rowell), Alex (Alexia Robinson), Sofia (Julia Pace Mitchell) and Olivia (Tonya Lee Williams)! So though Neil and Devon aren't blood related like Neil and Malcolm are, it seems the apple hasn't fallen far from the tree anyway!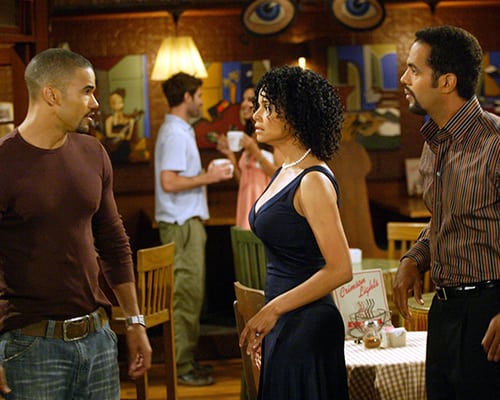 "It's been a recurring thing that's been going on with the family," James jokes. "But Neil and Devon have had such a history on the show, so it's cool that we've reached [a point] where we can have a really juicy, meaty love triangle. I couldn't be more excited."
Especially because the storyline just got a super soapy twist: Neil has lost his eyesight! And that adds a whole new dimension to Devon and Hilary's feelings for one another. "Hilary is now with a person who saved Devon's life by taking him into his home; Neil is the first man that Devon has ever really been able to call his father. But at the same time, he knows that Hilary has true feelings for him, and he knows that those feelings are more real than the ones she's feeling for Neil," James explains of the complicated situation. "I think Devon sees that Hilary kind of feels this pressure to make up for bad things that she's done, so she wants to be that person that Neil thinks he's in love with. And I think obviously, if things would have been said before they got married, if the truth would have come out sooner, it would have been better. But it will eventually, and who knows how long both of them can live with that guilt… And then Neil's blindness makes it all worse. It's an extra layer of guilt!"
The situation makes for good soap opera drama, which the actor says will escalate in the weeks to come. "With the guilt, I think Hilary is going to feel the need to really stand by this man that she's gotten so deep with," he explains. "She's married to him now, even though she has feelings for Devon. And Neil is going to need a lot of help in life right now, a lot of help and support, so she's going to have balance her feelings for Devon and what she feels is right and what she needs to do for Neil. It's going to be difficult, because there are a lot of looks and things that can be shared now around Neil that he won't be aware of. And the more you fight it, the more you try to resist what your heart really wants, makes it more and more difficult."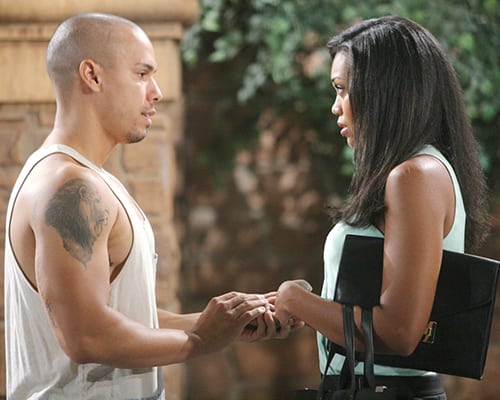 Meaning, the story will most likely go one of two ways: Either the pair will break down and confess how they feel about one another to Neil, or they'll give in to their burgeoning passion and continue to betray him in the worst way possible! "It is a soap opera, so whatever is going to be the most dramatic thing is probably what is going to play out," James says with a sly smile. "But I think it's going to be a mixture of both. I think there are going to be times where the temptation is going to be too much, just like it's already been now. There's really been no difference, when Neil wasn't blind, they still weren't really able to contain their feelings. In close proximity, they've been pretty hot and heavy with each other until something stopped them. So I could see more of that happening, but at the same time, I could see them wanting to not break the news to the family or to Neil about the truth of their relationship until Neil has gotten [better]. The last thing Neil needs right now is the truth that his wife isn't really in love with him, but is in love with his son instead. So I think Hilary and Devon are going to wait it out and try to let this pass, see how Neil's blindness develops."
But no matter how it plays out, James is quite certain that it's going to drive a huge wedge between his alter ego and Neil  — and it might be one that the pair can never get over. "I think this is really going to blow up the Winters family," he teases. "It's going to be the biggest thing Neil and Devon have ever encountered in their relationship. I still don't know how Neil is going to find out or if he is, but my opinion is that when it happens, it's going to take a long time to rebuild that closeness.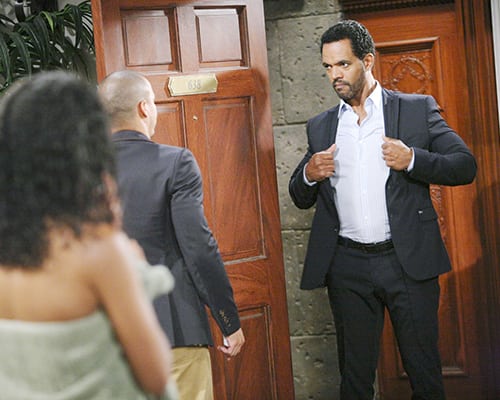 "I was talking to Kristoff about this last week, because with a real father and son, blood related, no matter what is said, no matter is done, you can't change the fact that they're father and son," he continues. "But for Devon and Neil, he's been a father in every sense of the word, but you know, he's not really Devon's dad. And this could be the thing that ends it. Devon is not a kid anymore: He's a grown man who makes his own decisions, so this could be the thing that really tears them apart and really puts a big wedge in the entire Winters family."