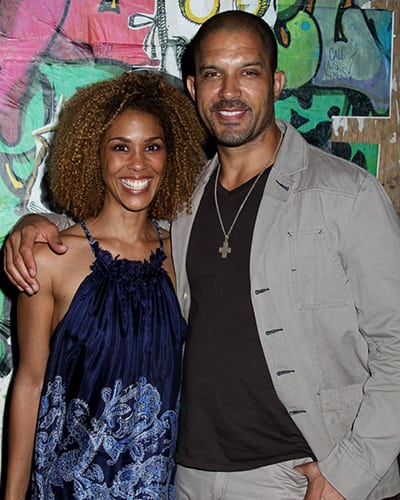 The wait is over: "The Young and the Restless'" Terrell Tilford (Dr. Barton Shelby) and his wife, former "Guiding Light" star Victoria Platt (ex-Vicky Spaulding), welcomed their new daughter into the world this past weekend!
The proud pop took to Twitter on Sunday, August 24, to announce the arrival of his and Platt's new daughter, Marley, who was born that evening. And it was only weeks before that the actor told Soap Opera Network how happy — but also scared — he was to be having a little girl!
"For a couple of hours, I was pissed off at God; I was like, 'Dude, you knew I wanted a boy!'" he told SON with a laugh. "Then I had this really beautiful dream the night we found out it was going to be a girl [in which] she woke me up at about 4:30 in the morning and she took me through all these various stages in her life, and she and I were sitting down and we were just having this… conversation when she was 7, 12 and 16, and 22, and it was really quite beautiful and a bit profound. I woke that morning like, this is going to be amazing because not only as someone who didn't grow up with a present father, you have that desire to want to sort of correct or bring to a young boy what you didn't have in your childhood. What I sort of reflected on with a girl, not only can I do a lot and most of the things I would do with a boy, but with a girl I can even do that much more. There's a lot that I'm going to learn from her and a lot that she's going to try and rule this house as well. Vic and I are two very strong-wheeled people, and we just laugh and are excited at the thought of the little queen coming in and ruling things as well."
Congratulations from Soap Opera Network to the happy couple and their new bundle of joy!