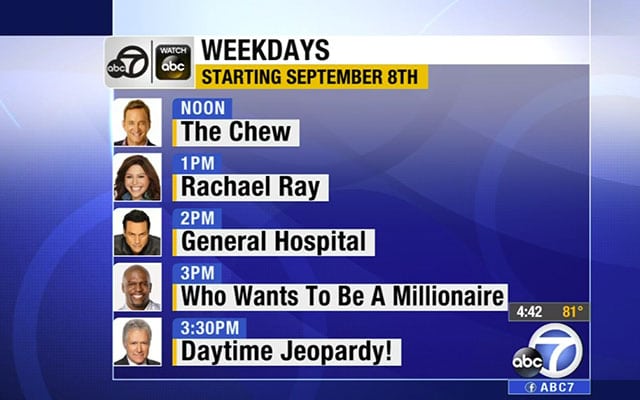 In a clip that aired during the Monday, August 18 broadcast of KABC's "Eyewitness News" at 4:00 PM, reporter George Pennacchio noted time slot changes taking place on the ABC Owned Television (OTV) station beginning Monday, September 8, which finds "General Hospital" returning to its original 25+ year time period of 2:00 PM on the station.
In honor of the change, Pennacchio visited the set of the ABC Daytime drama series to speak with several cast members about what viewers can expect to see in the coming months on the soap. Featured in the report were Dominic Zamprogna (Dante), Sean Blakemore (Shawn), Jason Thompson (Patrick), Laura Wright (Carly), Ryan Paevey (Nathan) and "GH" executive producer Frank Valentini.
READ ALSO: 'General Hospital' Time Slot Switch: The Affected Stations Fall Afternoon Lineups
"There's lots going on. Lots of new things happening on the show," said Zamprogna when asked to share any particulars about what to expect from the soap in the coming weeks and months. Sadly, because the stars have been taught to not say too much when talking about future storylines, Zamprogna could only say, "There's a lot of twists that you think someone's got the upper hand and then they don't. I think it's going to capture a lot of people."
The one person who probably would be able to share more details would have to be Valentini, but even he wasn't revealing too much beyond some little nuggets here and there. "We're interested in pushing the envelope in a way that challenges the audience's ability to accept, understand, appreciate and be entertained by the show," he said. "Some favorite villains will be back in the fall, and I think the fans will be really excited to see what kind of trouble they'll be causing."
When Pennacchio noted that Valentini said "villains" in the plural sense, not only meaning one, the executive was asked if he meant teams of villains. "No, but they'll be male and female villains returning, who are fan favorites, who people really like and will be causing some problems for some of our friends in Port Charles."
Ultimately, romance and adventure will dominate "GH" during the fall. "We have a lot of romance, a little bit of adventure, a little bit of mystery and a thriller thrown in there as well," shared Valentini.
While KABC is moving "GH" back to its old 2:00 PM time period, the drama series will continue airing nationally at 2:00 PM ET/1:00 PM PT on ABC.