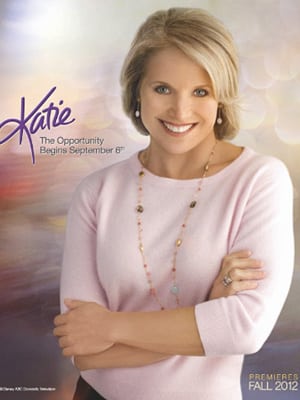 (SoapOperaNetwork.com) — As previously reported, ABC soap opera "General Hospital" will lose its coveted 3:00 PM ET/2:00 PM CT/PT timeslot beginning in September 2012 when the network hands the hour back to its local affiliates. The move will leave ABC's daytime lineup with just three hours left to program with "The View" already secured in the 11:00 AM ET/10:00 AM CT/PT slot. New talk shows "The Chew" and "The Revolution" will go head-to-head with "General Hospital" when it comes to the almighty dollar (ie. which show brings in enough income relative to cost) in a battle for the remaining two hours (1:00 PM ET/12:00 PM CT/PT; 2:00 PM ET/1:00 PM CT/PT). In place of "GH" beginning in September 2012 will be the new Disney/ABC Domestic Television syndicated series "Katie," hosted by journalist Katie Couric, which was just cleared in over 60% of the country just six weeks after the sales period began.
Janice Marinelli, President, Disney/ABC Domestic Television announced via press release that "Katie" has been sold to a number of station broadcast groups including Allbritton Communications, Belo Corporation, Cox Media Group, Gannett Broadcasting, Hearst Television, LIN Broadcasting, McGraw-Hill, Scripps Howard Broadcasting and Young Broadcasting. The talk show was most recently picked up by ABC affiliates WFAA Dallas, WCVB Boston, WSB Atlanta, WJLA Washington DC, WXYZ Detroit, KNXV Phoenix, and WFTS Tampa along with NBC affiliate KING Seattle, among others.
"To have garnered such exceptional clearances in this short period of time is attributable to the enduring strength of the Katie Couric brand and her wide-ranging appeal as one of the brightest, most talented and most dynamic personalities in the business," commented Marinelli. "We are enormously pleased to partner with such a stellar group of stations across the country."
Upon announcing the shows development back in June, Disney/ABC Domestic Television also announced that ABC's Owned & Operated Stations Group encompassing New York's WABC, Los Angeles' KABC, Chicago's WLS, Philadelphia's WPVI, San Francisco/Oakland/San Jose"s KGO, Houston's KTRK, Durham/Raleigh/Fayetteville's WTVD and Fresno's KFSN would immediately begin carrying the show at launch.