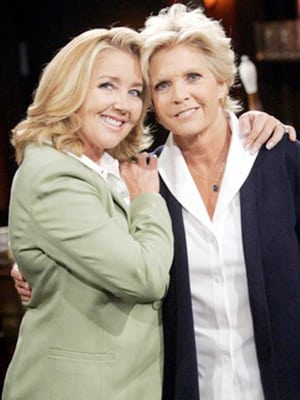 "The Young and the Restless'" Nikki Newman (Melody Thomas Scott) is already getting a blast from the past in the form of booze bottles, but the sauced-up socialite is about to get another: "Family Ties" star Meredith Baxter is hitting Genoa City as Maureen, Nikki's new drinking buddy!
A rep for the show says that the character is a "charming, intelligent, middle-class woman who has always aspired to a more privileged life than she's had. She appears kind and sympathetic, but can be quite manipulative. She is skilled at getting people to do the things she wants them to do by making them think it's their idea!
"When not hitting the sauce with her new drinking-buddy, Nikki," the spokesperson continues, "Maureen will be crossing with several key players on the Y&R canvas."
This won't be the first time that Baxter has experienced a fictional drunkie on set: As famous "Family Ties" TV mom Elyse Keaton, she dealt with an alcoholic brother, played by Tom Hanks.
The actress — who's recently appeared on shows like "Family Guy," "Glee," and "Switched at Birth" — will first appear on "Y&R" on Monday, September 8, and she will continue to pop up throughout the fall, because rumor has it, she's got connections in town!