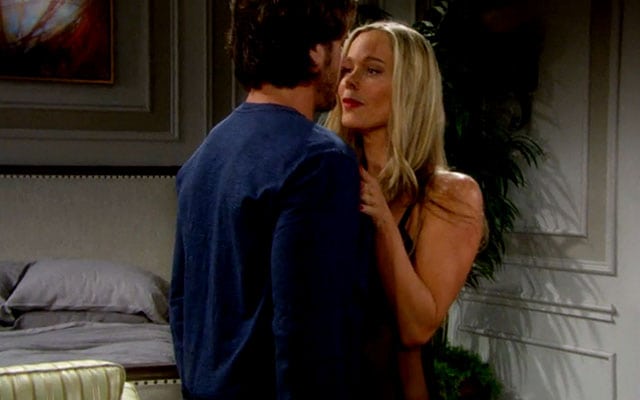 It's been over 10 years since we last saw Grace Turner on CBS' "The Young and the Restless" as played by "The Bold and the Beautiful" star Jennifer Gareis, but anyone who saw the promo highlighting this week's worth of shows where Nicholas Newman (Joshua Morrow) said to a mystery blonde, "It's good to see you," just before she makes sexual advances on him, could tell the woman in question was someone he had intimate knowledge of and not some random new character. In fact, with Grace being in revealing clothing so much during her tenure on the soap back in the day, anyone could recognize Gareis solely based on body and hair style (yes, Grace had plenty of fun with several of Genoa City's hottest men).
So what is she trying to do with Nicholas on the Tuesday, August 19 episode, which was previewed at the end of the Monday, August 18 episode after Nicholas knocked on a door and said, "Thank god you're here" to a mystery person? While the show isn't revealing storyline details just yet (you'll just have to tune in to find out), we're sure Grace has some idea on Mariah's (Camryn Grimes) true identity following the girl's mother recently being recorded saying, "Don't worry, Nick has no idea who Mariah really is."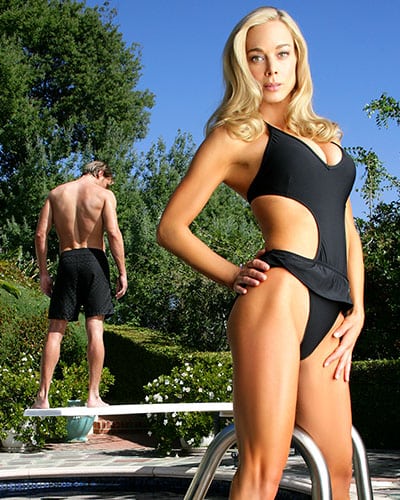 In an interview with Soap Opera Digest, Gareis says of keeping the secret, "I didn't say anything to anyone because they asked me not to." She added, "I felt like, 'Here I am keeping this secret and I can't even tell my best friend [referring to 'Y&R's' Sharon Case, who plays Sharon Newman]!' Then I thought, 'She'll know when she sees the script!' When I have to keep a promise, whether it be work, my friends or family, I take it to the grave." Considering "Y&R" and "B&B" both film in the same building, the question is how did she manage to keep her "B&B" co-stars and crew in the dark? "I saw 'B&B' people in the hallway and they asked, 'What are you doing here?'" she said chuckling. "I was like, 'You never saw me here!' It was kind of funny and I think that made them more suspicious, like, 'What in the world? Why is she acting so weird?'"
To see what Grace has been up to since last being seen in 2004, tune into "The Young and the Restless" on Tuesday, August 19.