Her Worst Nightmare, and How Far Will a Man Go to Uncover a Dark Secret?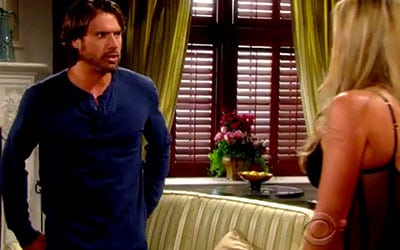 As if pondering who the father of her baby might actually turn out to be wasn't enough, Victoria Newman (Amelia Heinle) is about to be hit with a world of pain next week on CBS' "The Young and the Restless." In a newly released promo, Victoria is hit with stomach pains, which she later tells a doctor, "This is how I felt before… when I lost the baby!" She is of course referring to when she lost hers and Billy's baby shortly after the two were wed a few years ago following a confrontation with her father, Victor (Eric Braeden).
Meanwhile, in his quest to uncover the truth, Nicholas Newman (Joshua Morrow) visits a mystery woman in her least revealing nities and tells her that it's good to see her shortly before she begins to make a sexual move on him. Afterward, Nicholas is heard saying he's only human. Of course, observers will note that he's no longer in the woman's hotel room when he says that.
Tune into "Y&R" next week to learn more about what's happening with the Newman's.