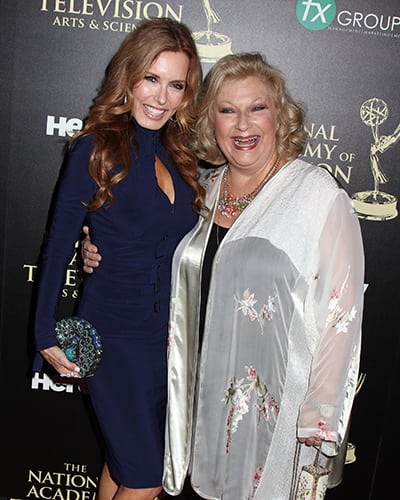 "The Young and the Restless'" Tracey E. Bregman (Lauren Fenmore) and Beth Maitland (Traci Abbott) strolled the red carpet of the 41st Annual Daytime Emmy Awards together, but that's not all the two had in common for the day! Read on to find out the unexpected way the two stars prepared for the glamorous event!
Soap Opera Network: Hello ladies! Who are the designers of your lovely outfits?
Tracey: I'm wearing Sen Couture.
Beth: This is a custom designed Peggy Lutz kimono.
What made you choose these outfits?
Tracey: For me, because I wasn't presenting, I wasn't nominated, I could go a little bit more casual and comfortable.
Beth: And for me, because of the character I play and because I'm a character actress, and I'm over 50, these kimonos are beautiful and flowy and comfortable for the day.
Tracey: And gorgeous!
Beth: Thank you! And we'll be here past midnight, and that's a big, significant thing: Having a good time and feeling great the whole time you're here.
So Tracey, many people have said to me that you were definitely overlooked this year and deserved to be nominated.
Tracey: Oh, really? That's so great to hear! I made it to the prenoms, but not to the noms, so I'm here to cheer on my girls.
Are you cheering for anyone in particular?
Tracey: For the Best Actor category, I'm glad I wasn't actually having to pick the winner, because it was so strong all around. I personally would have picked a three-way tie. And I can't say who, because I don't want to get into trouble with anybody. So I'll just say three-way tie!
Beth: I sort of feel the same way. Tracey and I are both here specifically to root on the members of our cast, people from our show and people from our network. We're so excited to have so many nominations… and we're just so flattered and honored to still be here and be a viable, interesting place for people to go to choose their viewership. So I'm thrilled for everybody, and everybody in my opinion is a winner, everybody who has come this far. Including the attendees! We're industry survivors, which is fantastic.
I couldn't have said it better myself! So can you both take me through your day leading up to the red carpet?
Tracey: I think we both did the same thing! We turned horses out, and I fed chickens.
Beth: I fed horses, yes. We both have beautiful horses at home. So we took care of our animals first, and then my daughter's home from college, so I had a lovely, relaxing morning home with my daughter and then started our gigantic makeup and hair ritual.