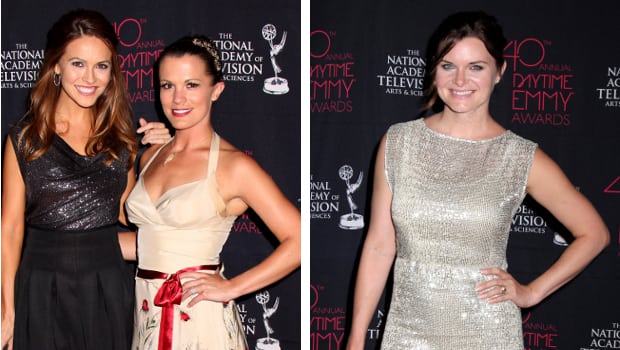 With the 40th Annual Daytime Entertainment Emmy Awards slated to happen today (Sunday, June 16), the entire daytime industry has been abuzz with excitement and preparation. Friday's Creative Arts Emmys kicked off the weekend-long celebration, and some of soap operas biggest stars came out to support the behind-the-scenes teams responsible for bringing "The Bold and the Beautiful," "Days of our Lives," "General Hospital," "One Life to Live" and "The Young and the Restless" to life! Read on for the scoop on that, as well as to find out how some are prepping for today's star-studded event!
"It's so fun to celebrate our crews that work so hard to make our shows what they are," raves Melissa Claire Egan (Chelsea Newman, "Y&R"), who brought her best friend, "Days of our Lives'" Chrishell Stause (ex-Amanda Dillon, "All My Children"), as her date for the night. "We get all of the attention when the crew is doing all of the work! So I will always be here to support them."
And speaking of the besties, both Egan and Stause are getting ready for tonight's main event together. "We're going to be drinking champagne and having some pizza!" Stause says with a laugh. "Because you can only work out and plan ahead so far. The day of, you just have to have fun."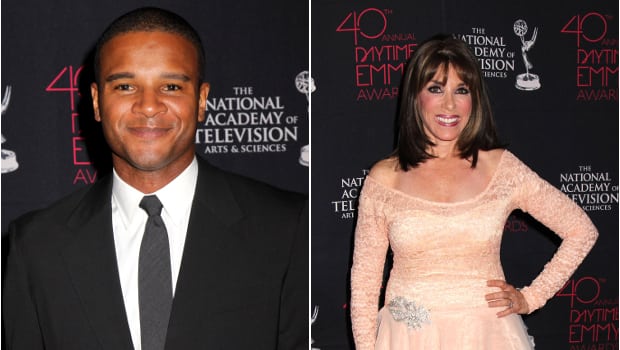 That could be advice to pass on to "General Hospital's" Marc Anthony Samuel (Felix DuBois), who's celebrating his first ever Emmy weekend. But then again, the actor seemed laid back enough when we caught up with him. "Everything has been a wonderful, new experience for me," he says, adding that it was a blessing to be able to support the team behind "GH." "I'll be rooting for anything associated with my show!"
As for "The Young and the Restless'" Kate Linder (Esther Valentine), she knew exactly which department would receive her loudest applause: The show's hair and makeup team! "They do such great work," she raves. "You'll look at someone's face when they're all bruised, like when Fenmore was all bruised, and it looks so real. I mean, it's phenomenal." The soap did win for Outstanding Achievement in Makeup for a Drama Series!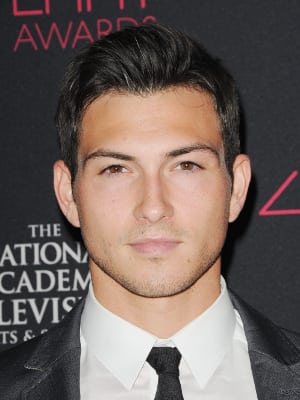 Robert Scott Wilson (Pete Cortlandt, "AMC") didn't have a soap team to root for this year, but he was thrilled to be able to support his "The Price Is Right" castmates and crew. "A lot of those guys were nominated, so I'm really excited for them," he says, adding that the production team behind the show has been very supportive of his "AMC" gig. "They're just a family, they really are. And they understood my career and where it was headed at that point. So far, there have been no [scheduling] conflicts. It's gone very, very smooth. They're really good people, and the same with 'AMC.' I really couldn't have gotten luckier with these two groups of people."
"The Bold and the Beautiful's" Heather Tom (Katie Logan) is no stranger to the Emmy madness, but she did admit that this year has provoked a tad bit of nervousness, considering she's nominated for Outstanding Lead Actress alongside the legendary Susan Flannery (ex-Stephanie Forrester, "B&B"). "It's a little intimidating," the actress admits. "But it's great company, great ladies, and I am so respectful of all of them. They all do such amazing work, so I'm happy to be included."
Speaking of Leading Ladies, Tom had the pleasure of hosting this year's Leading Ladies Lunch, which she says was a blast. "We had so much fun," she reveals. "It was a really nice time, and we were treated wonderfully."
But the thing she's been enjoying most over the course of the weekend is the resurgence of daytime as a whole. "It's interesting to see the difference between the last couple of years and this year," she notes. "There's a real exuberance, and I feel like there's a real resurrection of daytime, which is awesome."
For more Emmy fun, be sure to tune into HLN tonight (Sunday, June 16) at 8PM ET/PT.