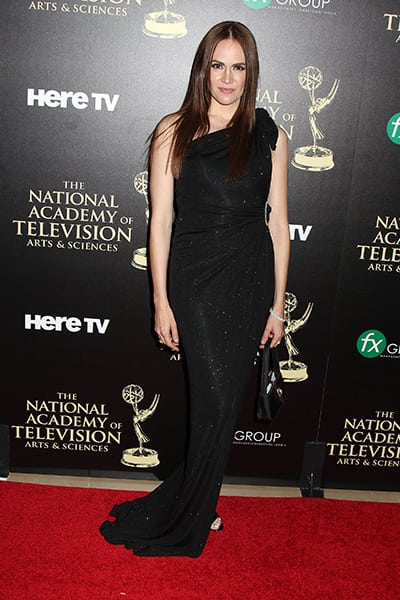 Soap Opera Network's coverage of the red carpet at the 41st Annual Daytime Emmy Awards continues, this time with Natalia Livingston, who was supporting three shows: "Tainted Dreams" (on which she plays Liza Park), "General Hospital" (on which she played Emily Bowen-Quartermaine) and "Days of our Lives" (on which she played Taylor Walker).
Soap Opera Network: You look beautiful! Who's the designer of your dress?
Livingston: The House of Van Miller in Atlanta. I ran into fashion expert Christopher Mackin in Atlanta, and he recommended the House of Van Miller. They made this dress for me, and they're just fantastic. And then Tania Spinelli is a dear friend of mine, and she made these four inch heels. They're very comfortable.
How lucky are you that you ran into a dress designer and have a friend that makes shoes? You got hooked up!
I know! Serindipity. It's the craziest thing, and I have no idea how it happened.
So can you take me through your day leading up to the red carpet?
Well I brought my little nieces, so I have Hannah, Gracie and Allie, who unfortunately they wouldn't let on the red carpet, because it's so crowded. And they're devastated, but they're so sweet, and they'll have a great time. So we just played dress up this morning and did our nails and got our hair and makeup done.
How fun! Sounds like a near-perfect day for them. Is there anyone in particular that you're rooting for tonight?
I don't know everyone who's nominated, but I've worked on "General Hospital" and on "DAYS," so it's hard to choose. I'd be happy for anybody.