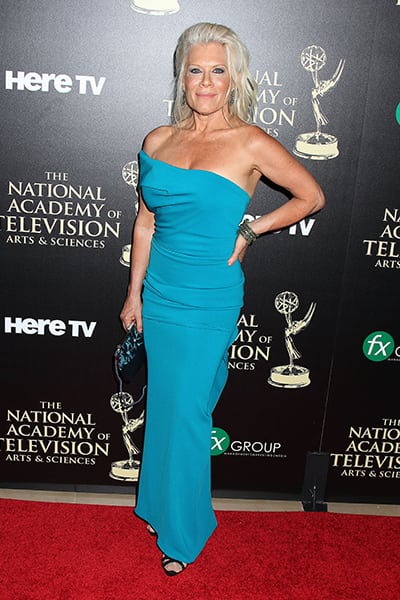 Ilene Kristen may be best known as her quirky character Roxy from ABC's version of "One Life to Live," but the star arrived at the 41st Annual Daytime Emmy Awards in support of the online sudser, "Tainted Dreams," in which she plays Vivian Park.
Soap Opera Network: Hello, Ilene! Nice to see you again. If I recall correctly, you always seem to have a great story that goes along with your gowns: What is it this time?!
Kristen: Ha, well, I bought it from an Israeli woman who said it would look good on me. She was at a shop called Lily's, and I have no idea who designed it, but she said it would look good on me, so I said ok.
I love it! So can you walk me through your day today?
Well I was going to wake up at 7:00, but instead I woke up at 9:00, so I got nine hours of sleep, which was way too much for me. And my friend and I were staying at this other hotel, so we had to come over here, and I had to make him pack really quickly. He said, '"I don't have to check out of here!" And I said, "Yes you do! We've got to get over there — now!"
Haha, so it was a mad rush!
Yeah.
Is there anyone in particular that you're rooting for tonight?
I'm rooting for this woman [producer Sonia Blangiardo], for "Tainted Dreams," because she single-handedly is pushing for a new show, which is really hard to do. So Sonia.
She also worked on "One Life to Live" and "All My Children." And of course, "One Life to Live" is up for  Outstanding Drama Series, which is fantastic! What do you think about that?
I wasn't a part of it, so I feel very divorced from it. But I always root for everybody, so I think it's great.