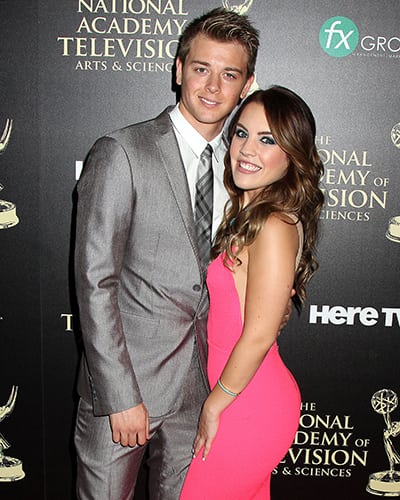 Soap Opera Network's coverage of the red carpet during the 41st Annual Daytime Emmy Awards continues, this time with "General Hospital's" Chad Duell (Michael Corinthos), who was nominated for Outstanding Younger Actor. He didn't end up taking home the Emmy at the end of the night, but he shined like a winner anyway!
Soap Opera Network: Snazzy suit there, mister!
Duell: Thank you! It's Walter Mendez. For once, I got a customized suit. I usually borrow it from my work, but I thought I'd do something different this time.
Is it because you got the nomination again or something else?
Well I've been nominated a couple of times, but I wanted to look extra spiffy. It's my last time being in the younger actor category, so I thought I'd go out in style.
There you go! So take me through your day. You woke up this morning and then what did you do leading up to the red carpet?
I woke up, and I drove my mom to her hotel so she could get changed. It's been chaotic all day, basically. It was a rush job; she had to put her dress on really quick, because she's visiting from Oceanside.
Oh wow: Lucky guy, getting two dates tonight!
Yes, my girlfriend, Kristen [Alderson, Kiki Jerome], who's also nominated. So I have double dates today.
Did you help the ladies get ready?
No, they do their own thing. I was getting ready at my place, she was getting ready at hers, and it was kind of a surprise when I saw her type of thing
Do you have any lucky rituals or any good luck charms on you?
I try not to believe I'm going to win! It helps me be less disappointed. That's pretty much it.