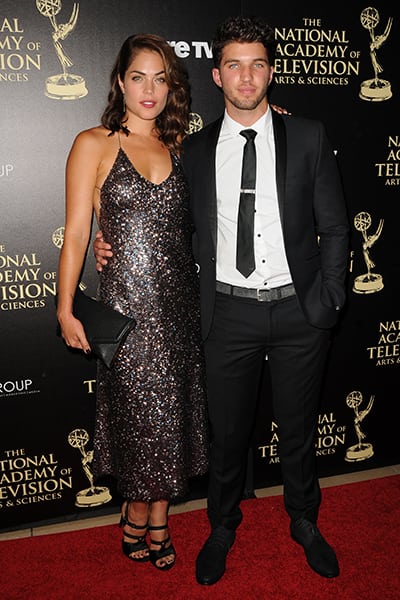 "General Hospital's" Bryan Craig (Morgan Corinthos) was a first time nominee at the 41st Annual Daytime Emmy Awards, and his real-life girlfriend, Kelly Thiebaud (Britt Westbourne, "GH"), made sure her beau had a very special day!
Soap Opera Network: Hello you two! And congratulations, Bryan. Kelly, you look stunning. Who's the designer of your dress?
Kelly: Marc Jacobs.
What made you choose this one?
Kelly: Honestly, this was the best one that I found and I thought it was unique, and Marc Jacobs – you can't really go wrong with that. And the shoes are Balenciaga.
And you, Bryan? Did it take you a long time to get ready?
Bryan: Oh no, I got a suit in a day. I just went to Top Man at the Grove and grabbed a suit and Kelly actually got me this nice tie clip today.
How sweet! So take me through your guys' day today. What did you do leading up to this moment?
Bryan: So she woke up at 6:45, I woke up at about 9:30, and she made pancakes for me and bloody marys and walked the dog and did a lot of laundry, and I just kind of relaxed.
Kelly: But he vacuumed!
Bryan: Yes, I did vacuum! But it was a nice morning. Very relaxing, and she took care of me.