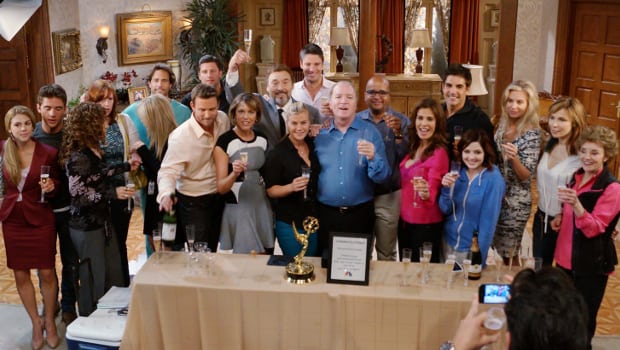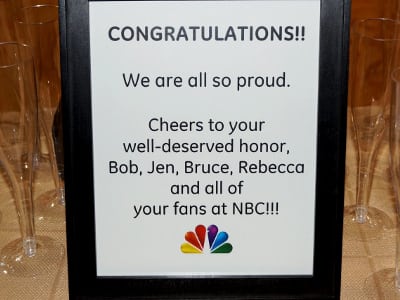 On Monday, June 17, in honor of "Days of our Lives" taking home its first Emmy Award in 35 years for Outstanding Drama Series during the 40th Annual Daytime Entertainment Emmy Awards the night before, the NBC Daytime drama series celebrated its Emmy win in style with cast and crew partaking in champagne. In addition to celebratory words from executive producer Ken Corday, NBC provided the series with a framed congratulatory document that read "Congratulations!! We are so proud. Cheers to your well-deserved honor, Bob, Jen, Bruce, Rebecca and all of your fans at NBC!!!" The document ended with the famous NBC peacock logo.
In case you're wondering, Bob is Robert Greenblatt, Chairman, NBC Entertainment; Jen is Jennifer Salke, President, NBC Entertainment; Bruce is Bruce Evans, Senior Vice President, Current Series, NBC Entertainment; Rebecca is Rebecca Marks, Executive Vice President, NBCUniversal Television Group Publicity. Evans (pictured above, center to the right of Corday) was also on hand for the celebration.
In addition to the on set celebration, the network also released a promo congratulating the soap on its win and actor Chandler Massey on winning his second Emmy for Outstanding Younger Actor in a Drama Series for his portrayal of Will Horton on the daytime soap.