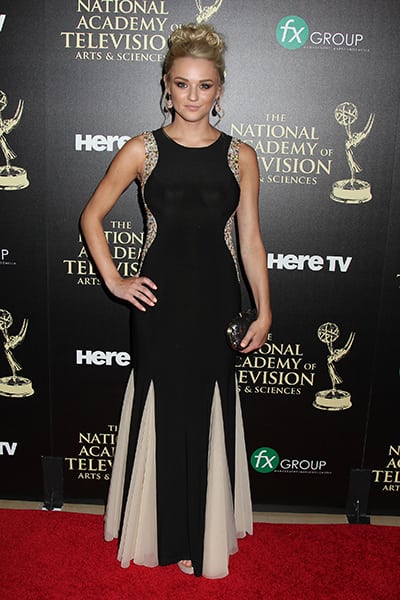 "The Young and the Restless'" Hunter King (Summer Newman) may have taken home the award for Outstanding Younger Actress during the 41st Annual Daytime Emmy Awards, but she certainly wasn't expecting it! Read on to find out what she had to say about her potential speech during her walk down the red carpet!
Soap Opera Network: Love the dress! You look stunning, which is so appropriate for your big night!
King: Thank you! It's Forever Unique.
Well it's certainly unique! Why did you choose this one over all the other dresses in the world?
I was actually trying to stay away from black, because I wore black last year, but immediately, I saw it and thought, "I have to have it!" I'm very girly, so all the detailing on the sides and the beading [caught my attention]. I was very excited for it.
Was getting ready today pretty effortless?
I had a team getting me ready, but to start, I began with a bagel and cream cheese. I had to start with my carbs in the morning to fit into the dress. Doesn't make a lot of sense, but it makes me happy, so whatever! But the whole process was fun. To me, getting ready is the best part. I'm such a girl!
Do you have any good luck charms with you?
I have my mom. She's my good luck charm! I'm really excited to have her here, and as long as she's here, I'm good.
And do you have a speech prepared if you win?
No! I'm not expecting to win, so I don't have anything prepared. And I'm a really awful public speaker, so if I do win by any kind of chance, I don't know what I'll do. I'll freak out and I won't be able to remember my own name!